Victorian Taxidermy
We are always very interested in Purchasing Victorian Taxidermy, please respond via this on-line form of what you have for sale. HERE


The Echalaz Bird Collection
Lieut. Colonel Charles Theodore Echalaz
This book focuses on the current condition of the remaining cases from the Echalaz Bird Collection originally housed at The Waterloo Museum in Liverpool. This was one room of The Carnegie Library totally dedicated to the original collection. This page is dedicated to the work undertaken by Mr A Sailor, who's tireless efforts to locate the remaining collection and to update the original book. most of the taxidermy items featured on this page and within this collection are the work of either Hine of Southport or Bishopp of Oban. All images on this page are sole copywrite to Mr Sailor and are the originals that are included in his book. If you were unable to purchase the book then please review these images.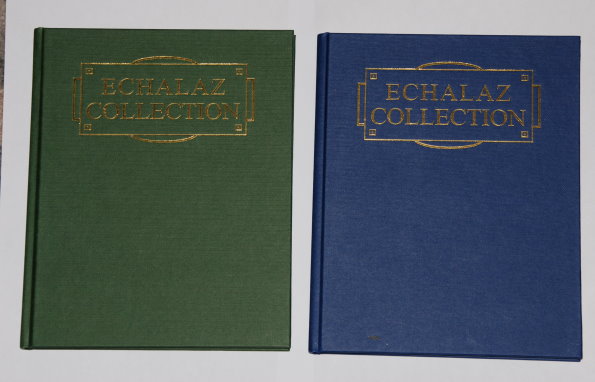 Echalaz book written by Mr Adrian Sailor. It is understood that there are a few remaining books for sale, which are now a collectors item in their own right.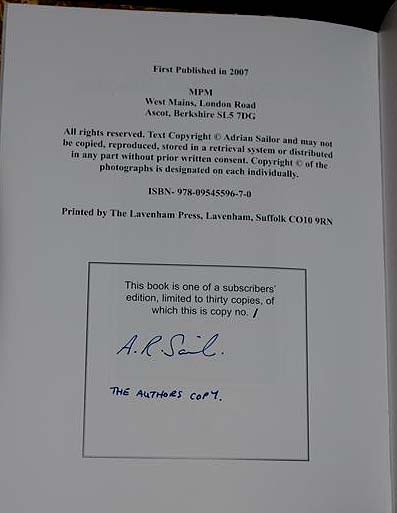 Echalaz book written by Mr Adrian Sailor. First copy of the first edition.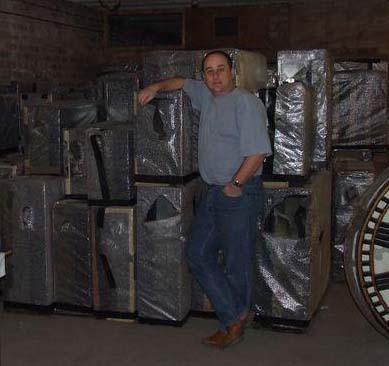 Mr Adrian Sailor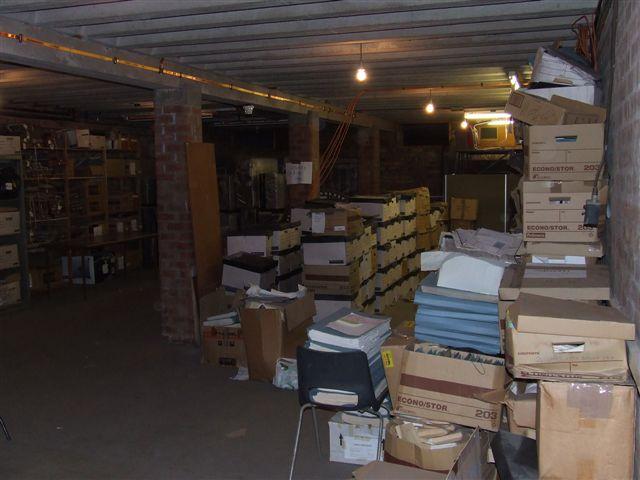 This is where the cases currently reside, in a basement at the back of a store room. They as you can see from the image are located over on the left in bubble wrap. Mr Sailors research enabled these cases to be located and photogrpahed to create this updated book, as to the current condition of the remains of this collection.



The original handbook for the Waterloo Museum was written in 1907 by Lieut. Colonel Charles Theodore Echalaz himself and printed by Roffey & Clark, 12 High Street, Croydon. Having 325 pages and 24 photographs/prints of the cases it is an excellent reference to the birds themselves.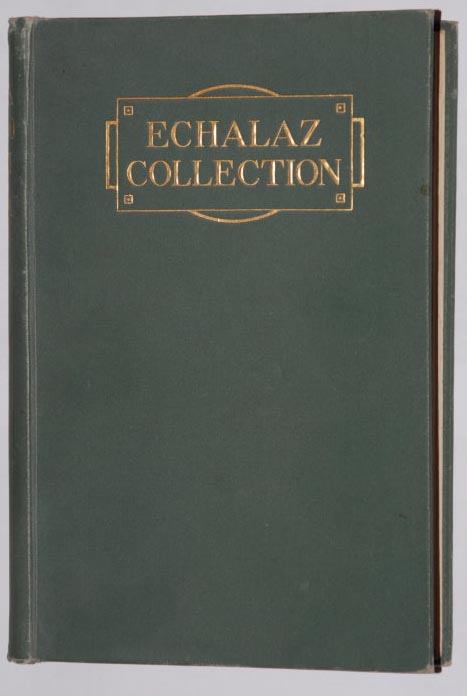 Echalaz book originally written in 1907.
Examples of what remains of this collection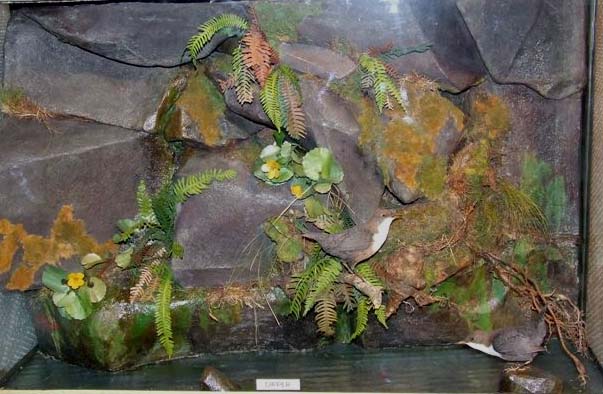 Dippers. According to the authour of this book who has seen this case, it is the finest case remaining in this collection.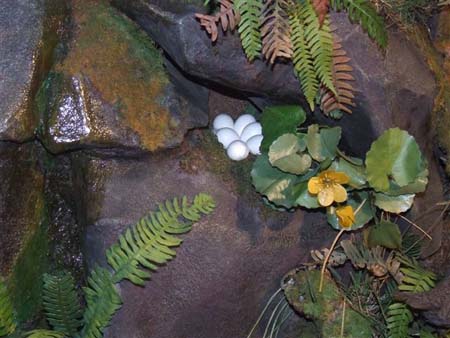 Close up of the Dipper case. According to the authour of this book who has seen this case, it is the finest case remaining in this collection.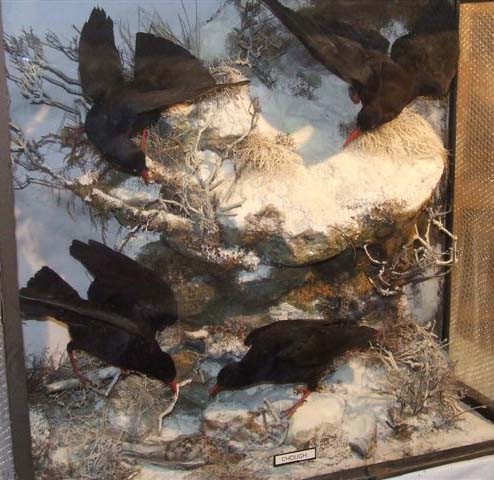 Choughs
Coots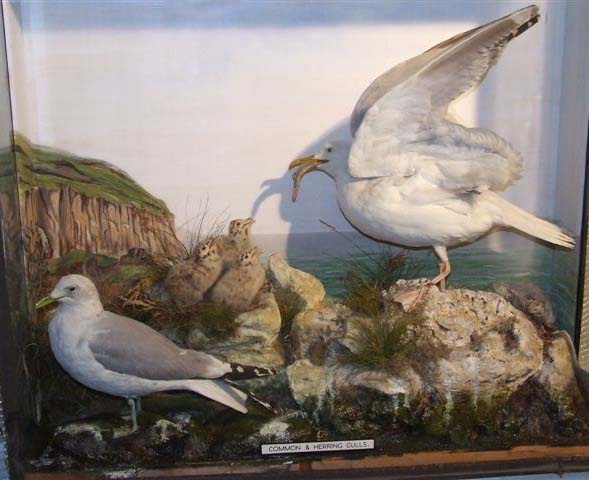 Common Gull and Herring Gull with nest and chicks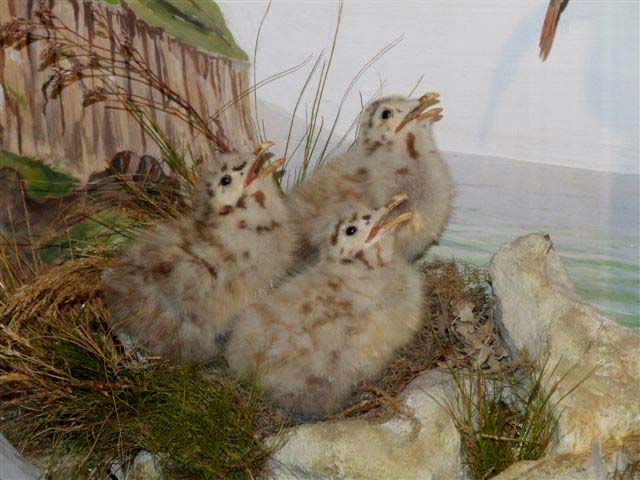 Herring Gull chicks, from the case above.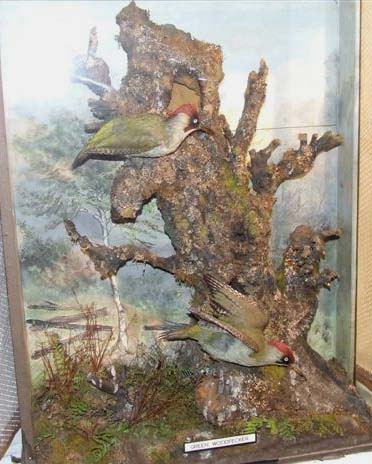 Green Woodpeckers.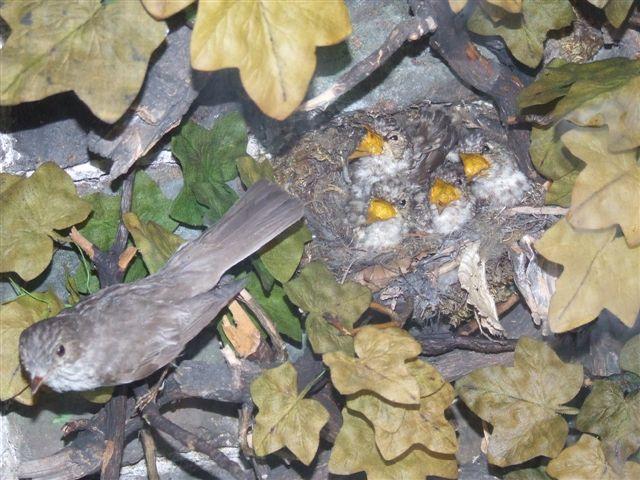 Spotted Flycatchers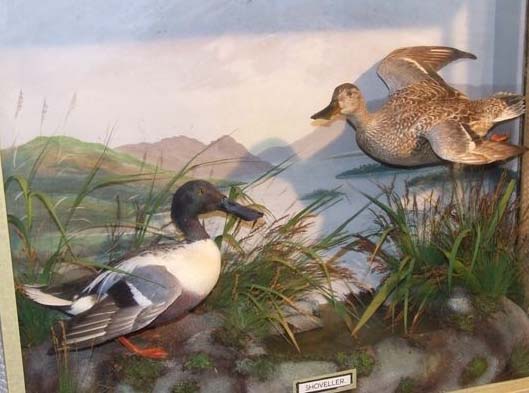 Shovelor Ducks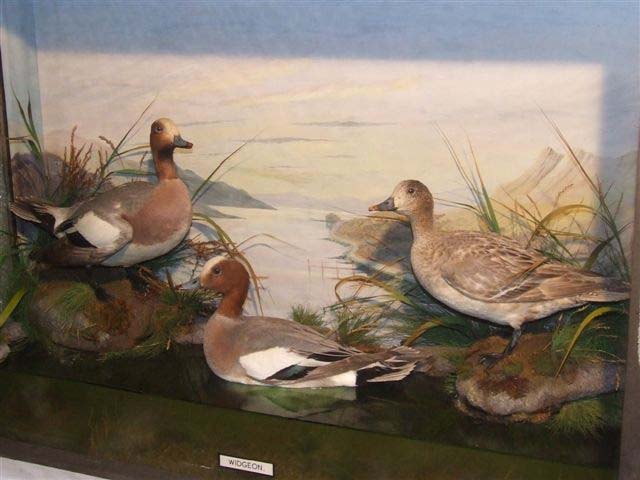 European Widgeon Ducks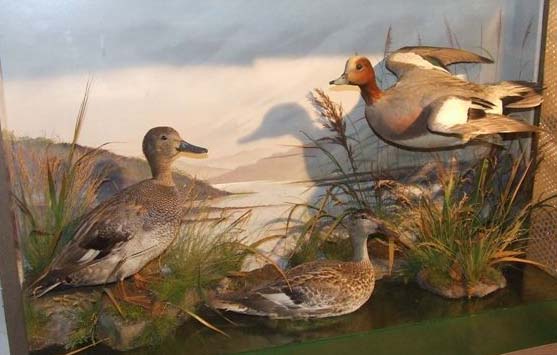 European Widgeon Ducks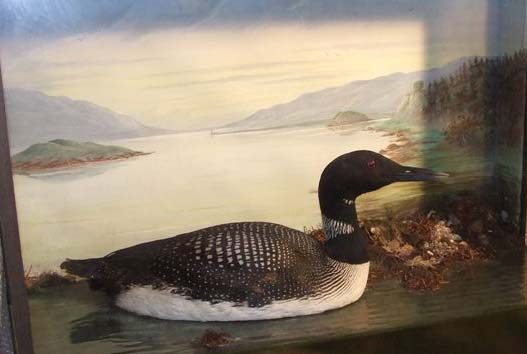 Great Northern Diver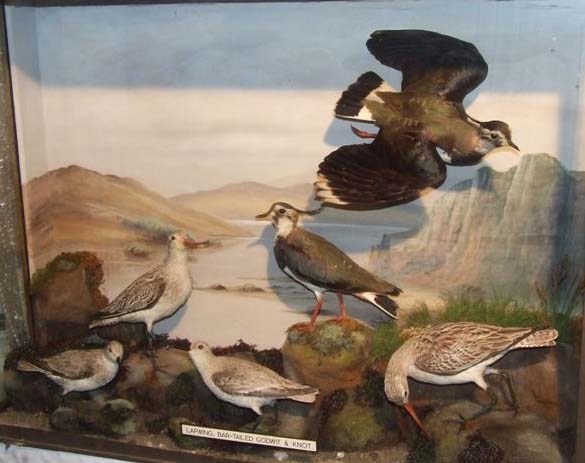 Lapwings, Godwits and Knot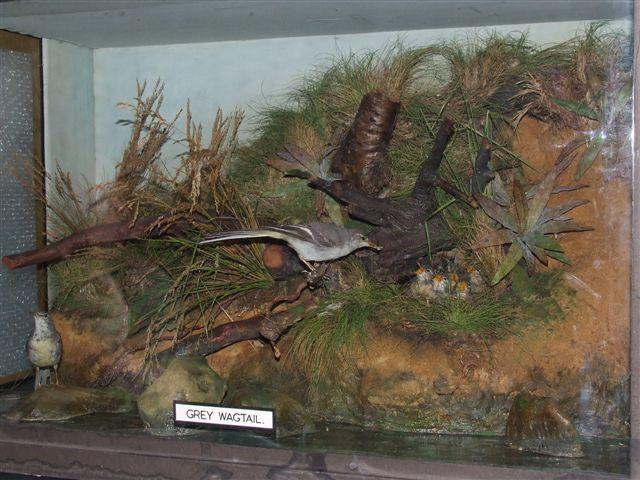 Grey Wagtails and nest scene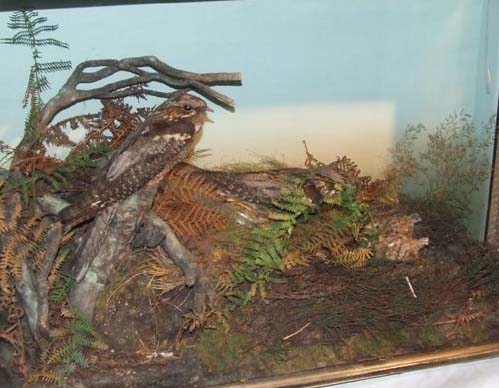 Nightjars with chicks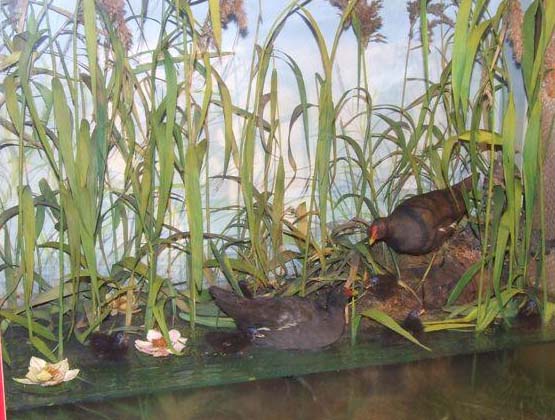 Moorhens
Meadow, Tree and Rock Pippits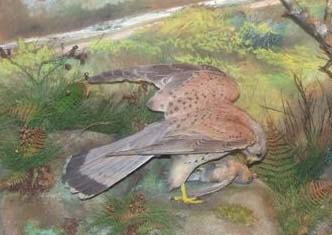 Kestrel with Chaffinch prey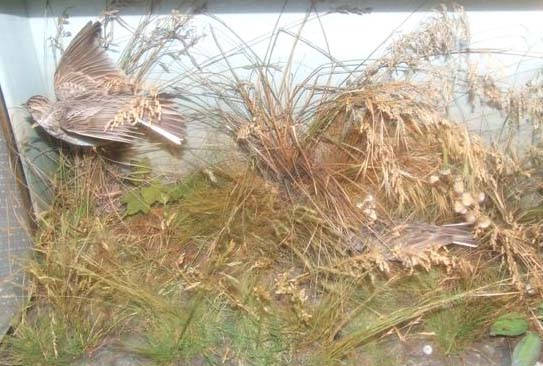 Skylarks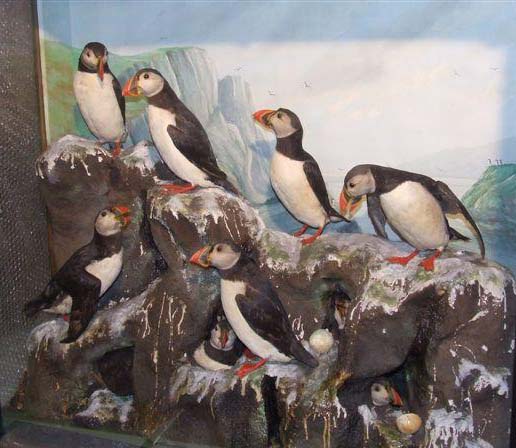 Puffins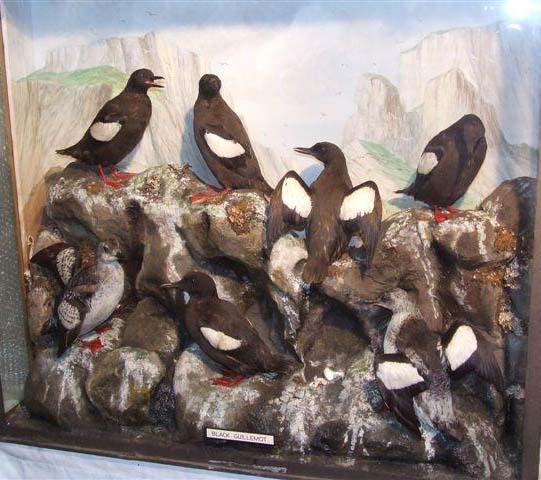 Black Guillemots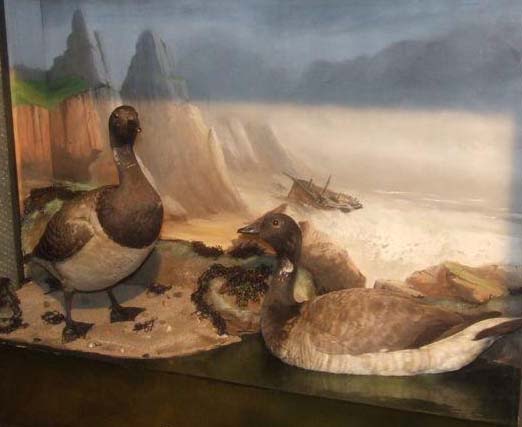 Brent Geese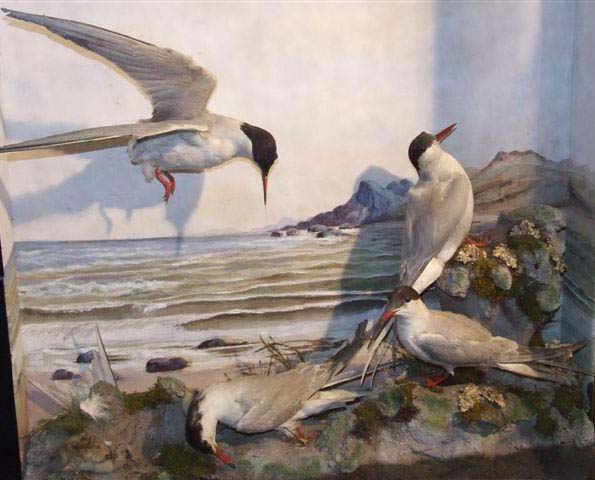 Common Terns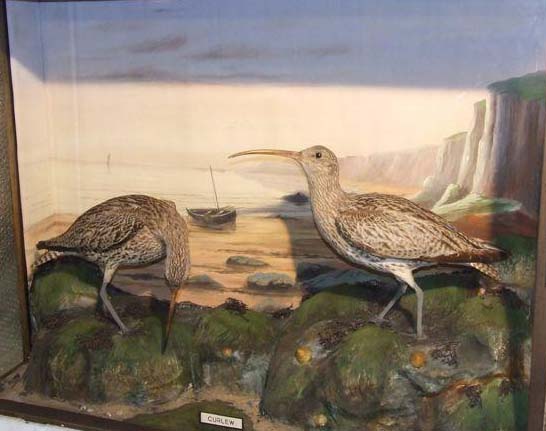 Curlews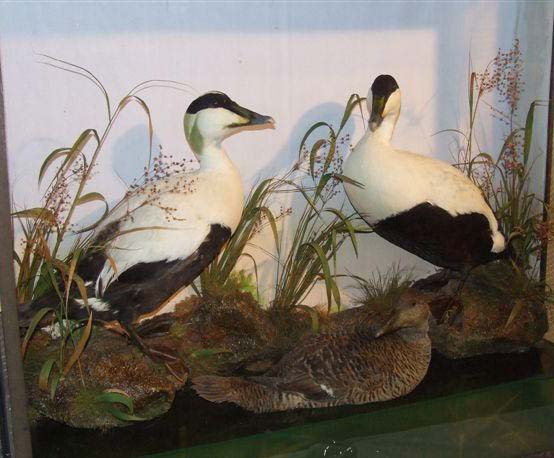 Eider Ducks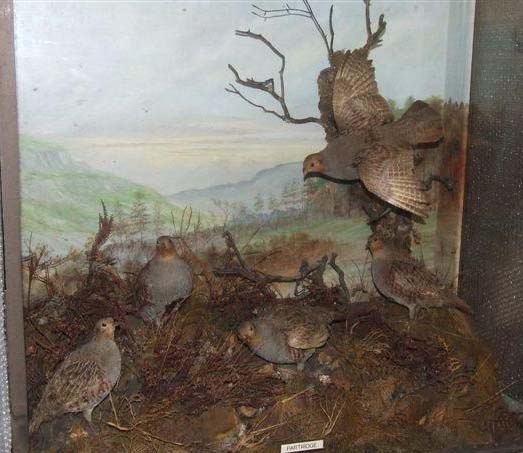 English Partridges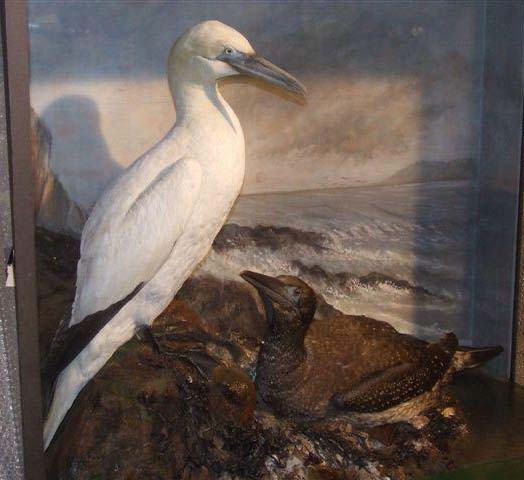 Gannets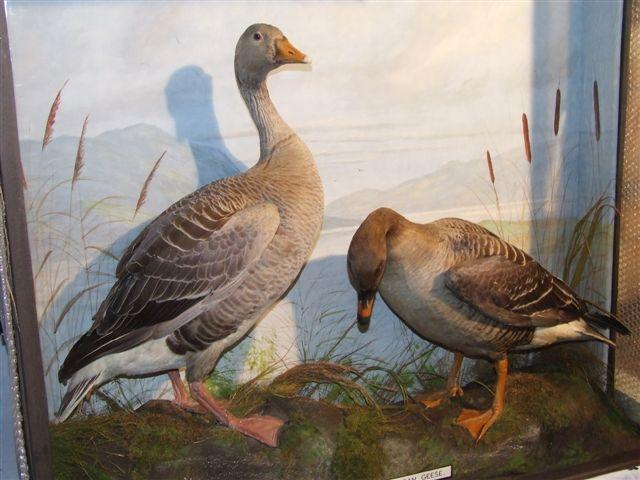 Greylag Geese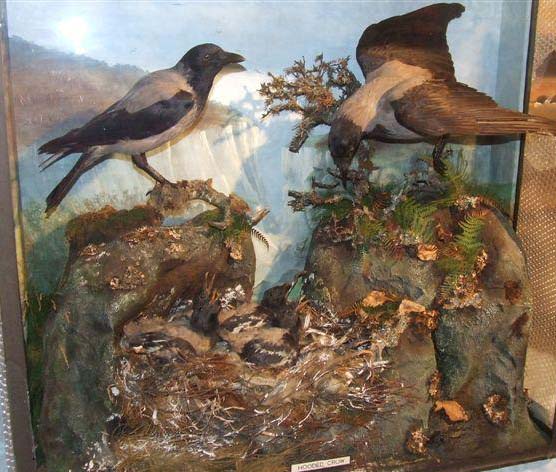 Hooded Crows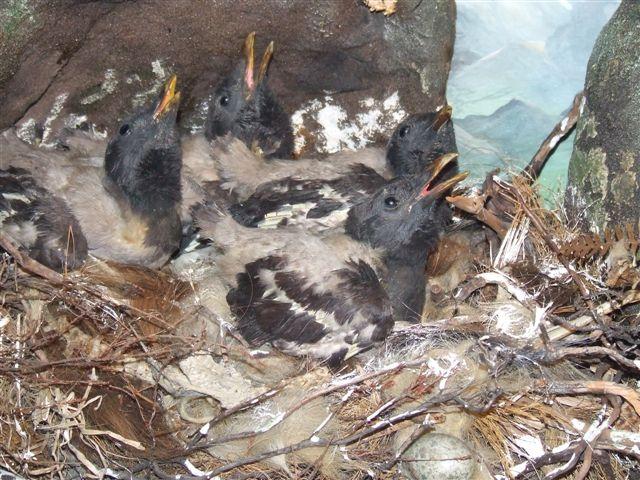 Hooded crow chicks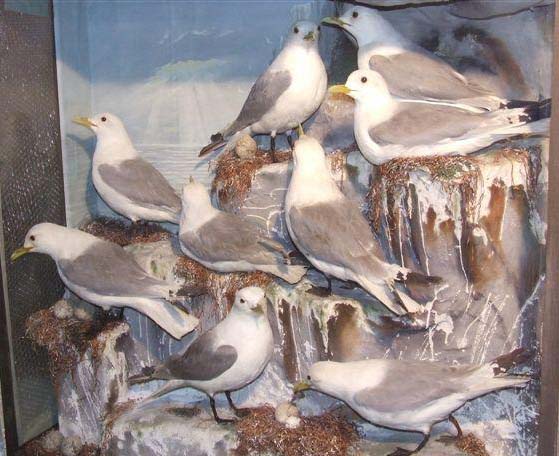 Kittiwakes, nest and eggs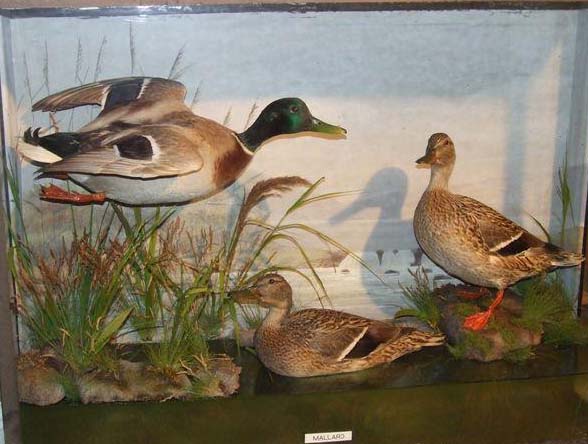 Mallards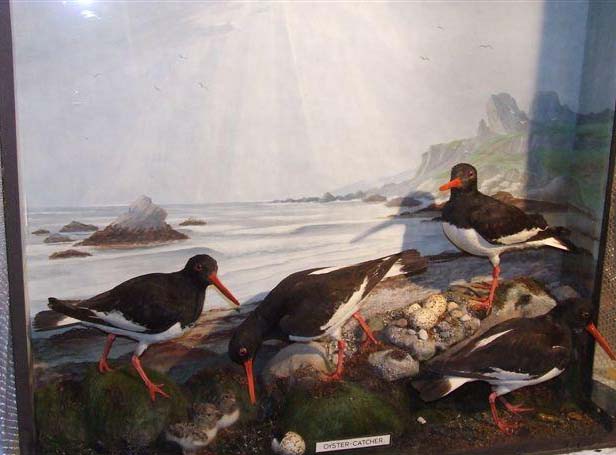 Oystercatchers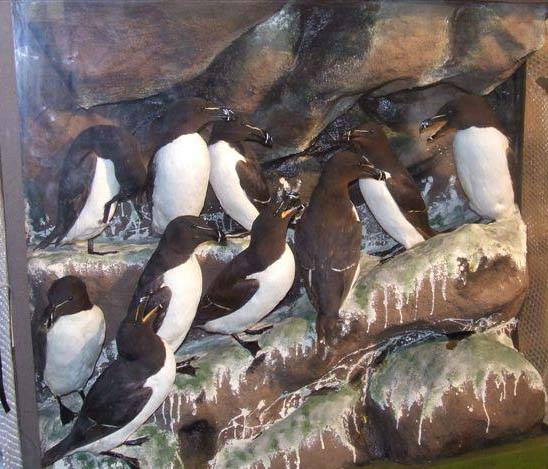 Razorbills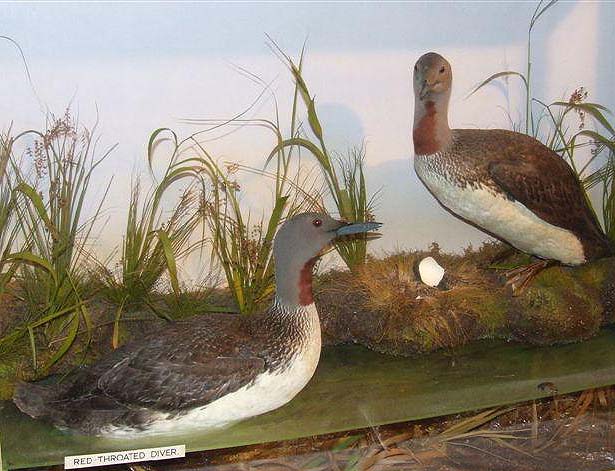 Red Throated Divers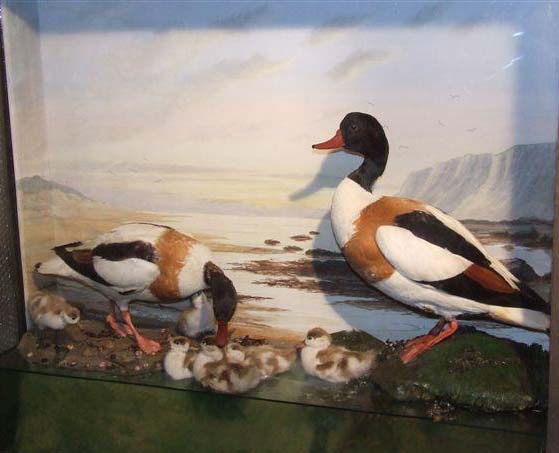 Shelducks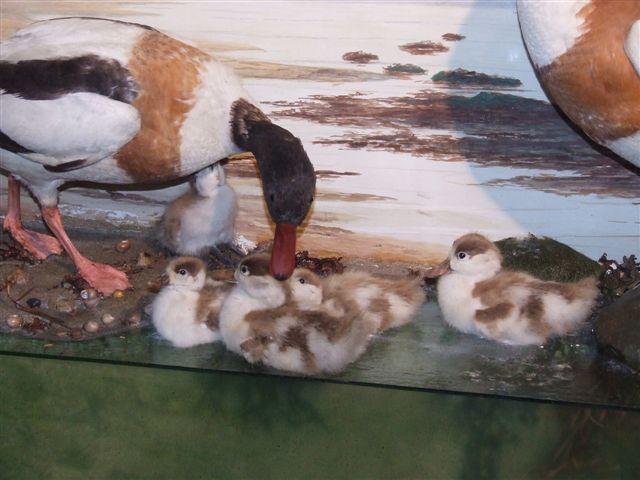 Shelducks in close up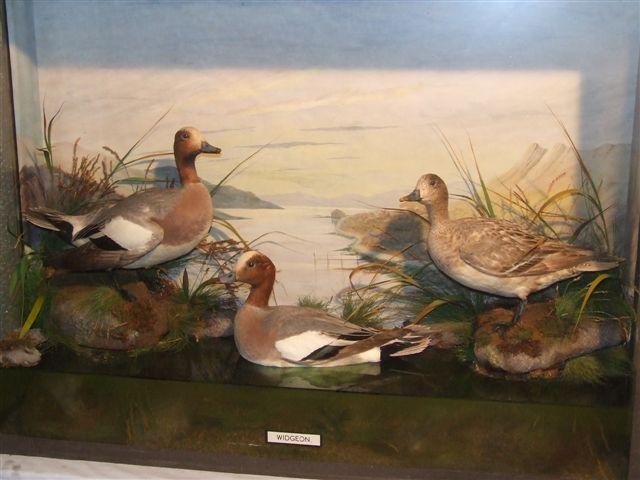 European Widgeon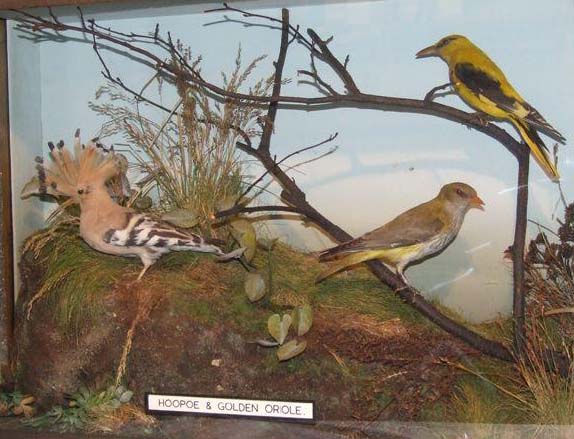 Hoopoe and Golden Oriels.



In some instances extensive information is given on the acquisition of the species. This new book is a photographic record of the condition of the cases in 2007 with a brief description of the contents, condition, taxidermist and in most where they were acquired. It does not detail habitats and information about the birds themselves.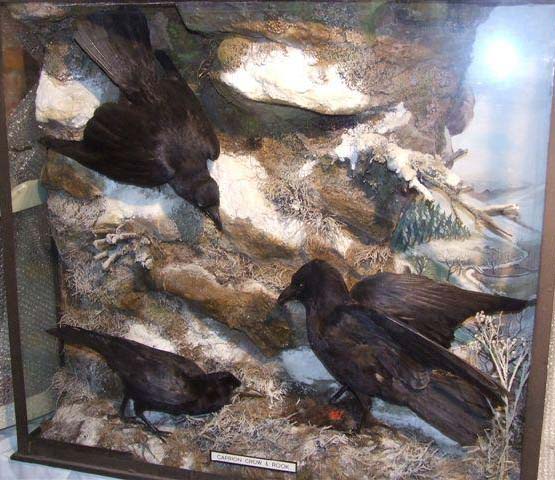 Corvids.
European Heron.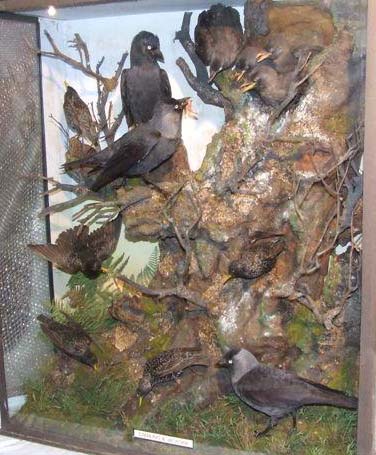 Jackdaws and Starlings.
Water Rails and Corncrakes.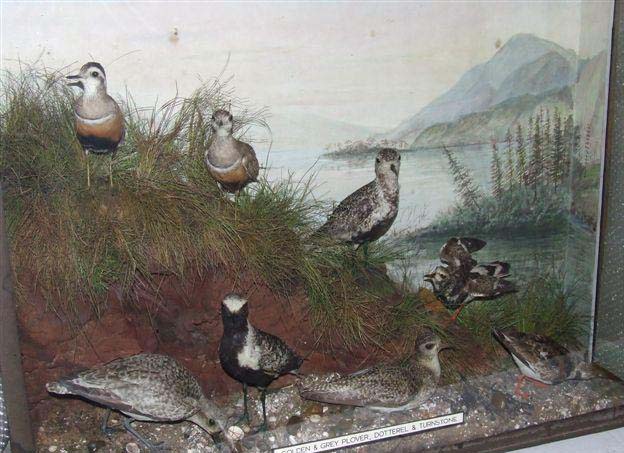 Dotterels and Golden / Grey Plovers and Turnstones.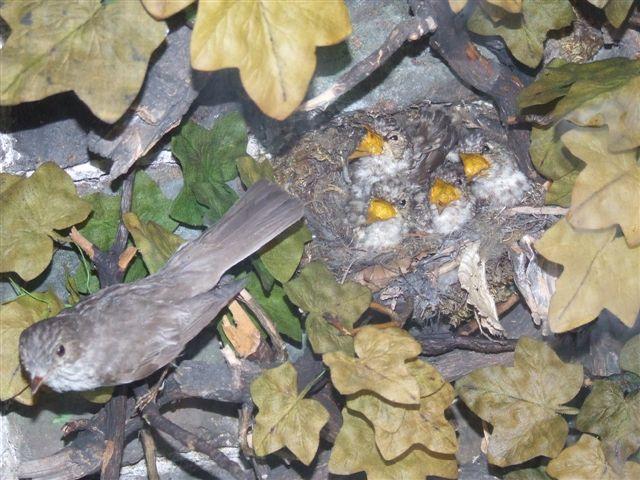 Spotted Flycatchers.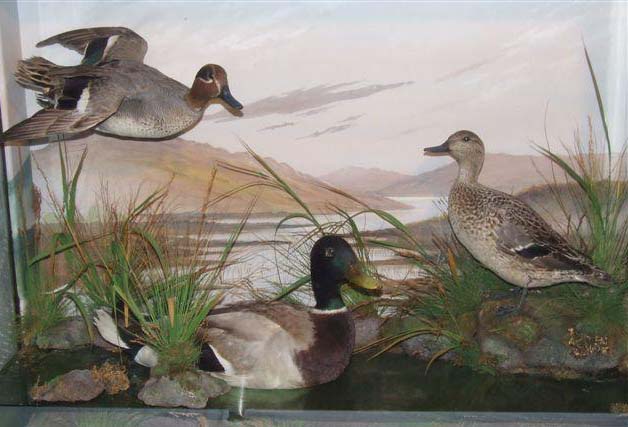 Teal and Mallards.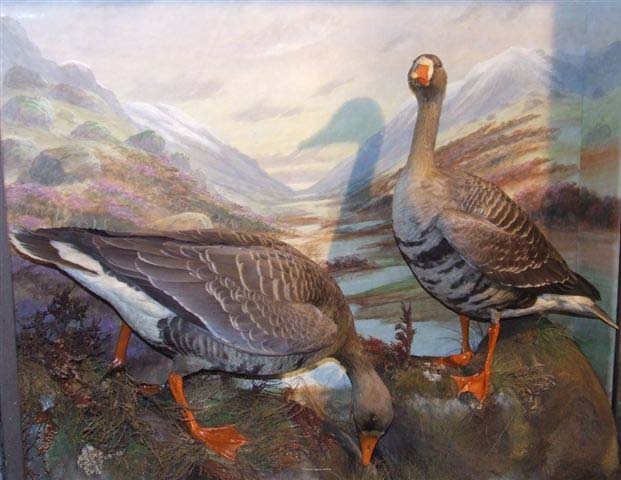 White Fronted Geese.
Red Backed Shrikes and Waxwings.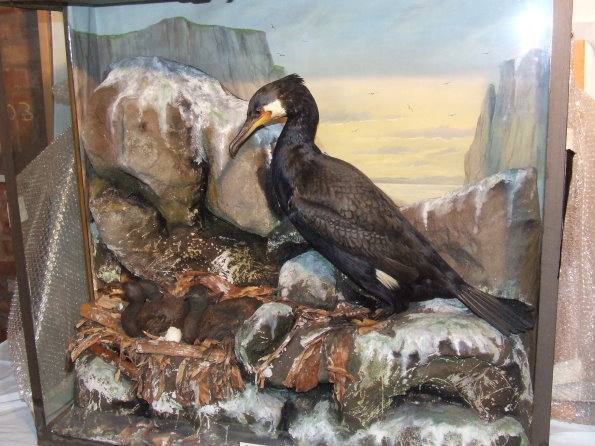 Cormorant.



A second handbook on the collection was published in 1972 by Crosby Central Library and written by Philip N.H.Collins. This gave an overview of the collection and also line diagrams of the cases and birds for identification purposes. An example of this can be seen in this publication. The Carnegie Library opened in 1908, with the Waterloo Museum dedicated to the bird collection. This was one room with a doorway, one bay window and one other window. In 1941 the library took a direct hit from enemy bombs but the Waterloo Museum room was surprisingly untouched. The cases suffered blast damage to the glass, as is still evident with some today. Interestingly the Museum room is still standing today, evident by "Waterloo Museum" carved in stone above the doorway. It is used by the council as a temporary rental unit for various charities.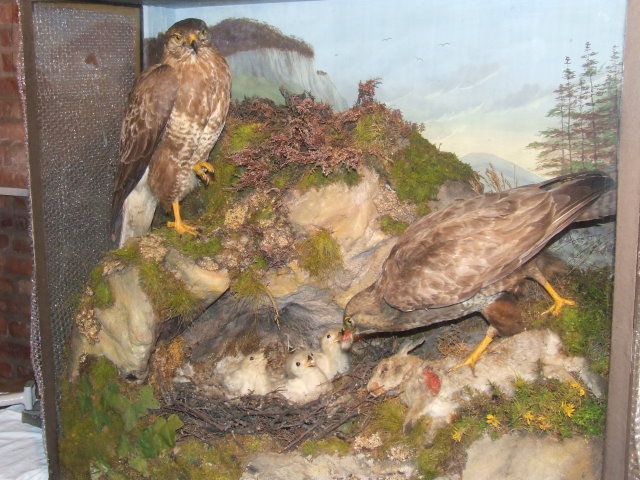 Buzzards at the nest scene.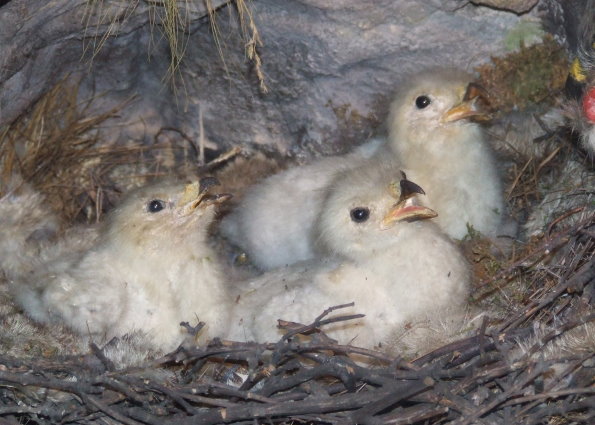 Close up of the case above
Close up of Oystercatcher chicks.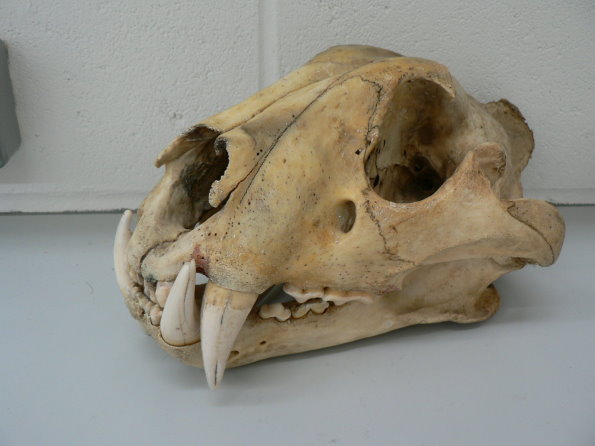 Tiger Skull. It is understood thatLieut. Colonel Charles Theodore Echalaz himself shot this animal. Sadly this is all that now remains of the original taxidermy.



After this time the collection was moved to Stockport and returned to Crosby Library in 1968. Here it was housed in a purpose built room with the cases arranged in a type of fan shape to enable easy viewing. In the 1980's thieves broke in through skylights and some of the birds and eggs were stolen or completely damaged beyond repair. These were generally the Birds of Prey cases.
In the 1990's taxidermy was becoming "politically incorrect" and the costs involved in the upkeep were rising so the collection was moved into storage in the basement of a Town Hall. It was here the photographs were taken.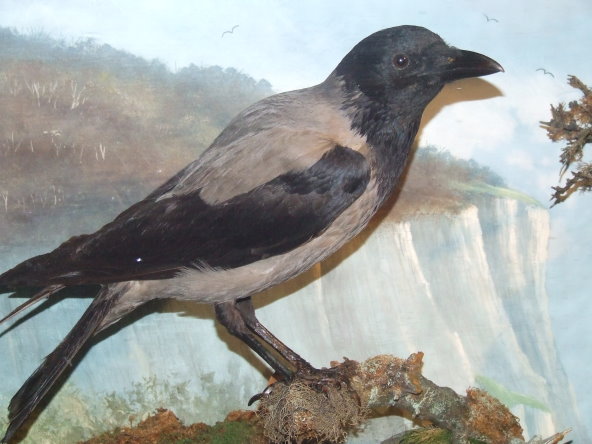 Close up of Hooded Crow.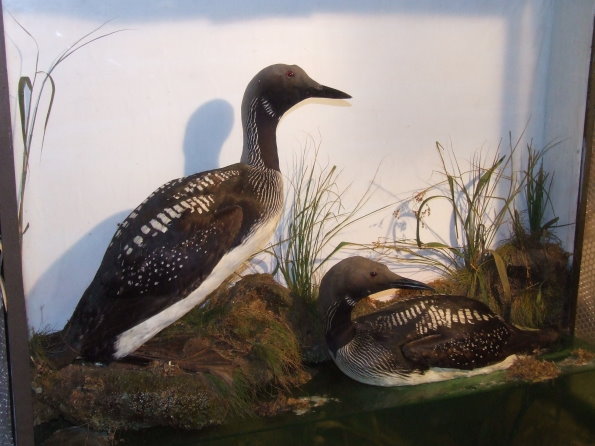 Black Throated Divers.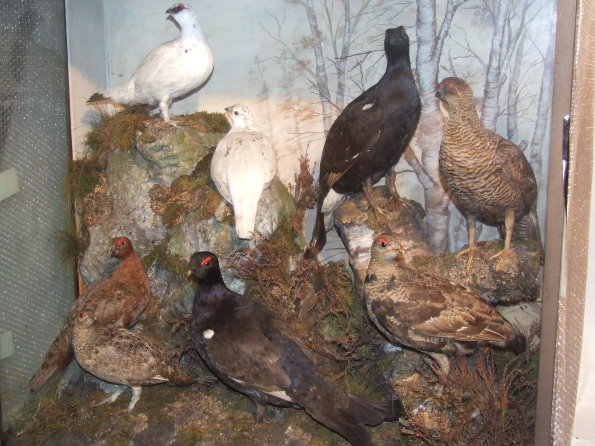 British Game birds.




Copyright TAXIDERMY4CASH 2004. Use of any material contained within this webite (pictures / text / figures) for commercial and non purposes is expressly prohibited unless permission is obtained from the copyright holder.



ITEMS WANTED. Please respond via this on-line form HERE with a description of what you have for sale.



[HOMEPAGE]





Taxidermy Links. Please double click on the Taxidermy link icon below.