Taxidermy Museums
Taxidermy4Cash.com
---
We get asked to recommend Museums containing taxidermy and Taxidermy Resources by our friends , we now include below a list of those we have had favourable feedback on this is not a complete list, if you don't find what your looking for then please feel free to contact us. If you also wish to link to us then your taxidermy information shall only be placed in the appropriate class.



Bird Taxidermy


We have just completed a review of Major European Bird collections. This was partly due to the term "value" being attributed to cases of birds either by certain artists and their rarity in terms of availability. This term has always intrigued, given the fact that taxidermy has been so out of fashion for so long.
The need therefore to understand the number and therefore the potential availability of such items is of interest. We concentrated on "major" collections as to be able to determine the exact number of small collections would be too onerous. Therefore we concentrated on those collections that were once private and are now in public hands. Collections that were obtained principally around 1830 onwards until say 1920.
The figure outlined below also does not include birds eggs, skeletons or nests. Clearly many of the major firms, Ward, Gunn, Spicer, Kirk, Murray, Cullingford etc etc would have been commissioned to undertake the work as it would have been a requirement to ensure that the items were anatomically correct. Anyway the total figure for items of either bird skins or mounts of birds only in the UK, is approximately. 1.2 million items. In museums today clearly we only see a fraction of these on display. Image the task just to ensure that they remain in good condition?. Still think this stuff is rare?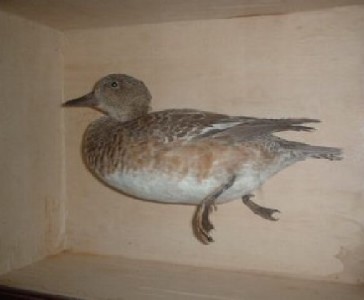 Simply stunning female duck, as if swimming by Cullingford of County Durham.



We are interested in Purchasing Victorian Taxidermy, please respond via this on-line form of what you have for sale. HERE



First British Museum


The first museum in Britain, the Ashmole Museum, began as a cabinet of curiosities donated to the University of Oxford in 1677 by Elias Ashmole. This cabinet comprised of a collection of rare and curios items that Ashmole had received under somewhat controversial means, when he acquired the Tradescant collection by deed of gift. The collection had originally been willed to Tradescants widow upon his death, but in 1659 the collection passed from the Lambeth Museum to Elias Asmole in Oxford.
Known as John Tradescants Ark of Lambeth, it had culminated from the families interest shared by both John Tradescant the Elder (1570-1638) and his son of the same name, in collecting items of curiosities, both cultural and natural history.
As gardeners to royalty, the Tradescants had travelled the continents of the time, in search or rare plants to import back to Britain. The Elder John Tradescant first travelled in 1609 to Europe whilst under the employ of Robert Cecil (who was later to become the first Earl of Salisbury), and brought back varieties of flowers and fruits for the gardens at Hatfield. In later years he was to be involved in further trips to Russia and Algiers.
By 1626 he leased a house in Lambeth where he began to develop his own garden and cabinets of curiosities displaying all things rare and curious he had collected in his travels. It became one of the first museums of its kind in Britain and unlike other collections that were only favoured to the eyes of the socially elite of Britain, its doors were open to people of all social persuasion-- at the price of 6 pence a head.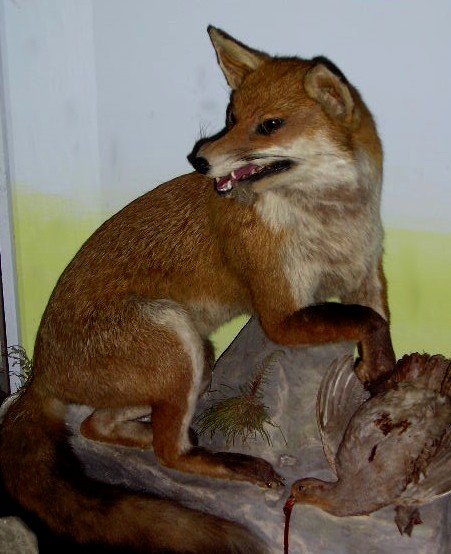 European Red Fox with Patridge prey, by Hutchings.




One of the most notable pieces of natural history to exist from the collection was that of a stuffed Dodo bird, formally an inhabitant of Mauritius, which became extinct in the early part of the 17 th centuary. In 1638 an account of a live Dodo in Britain was given by English theologian, Sir Hamon L 'Estrange . Described as a great fowl, larger than the largest Turkey Cock, and so legged and footed,but stouter and thicker,and of erect shape.
Its keeper described it as being fond of swallowing pebble stones, a trait which was exhibited in front of Hamon and the other witnesses who had accompanied him to the viewing of this strange bird housed in London. Little is further known of the fate of this specimen , though it is speculated that the bird was eventually stuffed and was the same bird that made its way into the hands of Elias Ashmole, and finally the University of Oxford. In that same year of 1638 an account of the Tradescants museum by German traveller Georg Christoph Stern, is given in which a detailed description of items contained within the collection is given . Amongst those items were small mammals of the likes of squirrels and bats, fish, fossils and a reference to samples of birds inclusive of a pelican, goose, grouse and a variety of brightly colored birds from India. No mention is made of the Dodo which was to later become part of the curiosities of the Tradescants Ark.
In 1656 a catalogue of the Tradescants collection was sent to print including with it a record of the contents of both the Ark and its adjacent gardens. Funded exclusively by Elias Ashmole, this catalogue , entitled Musaeum Tradescantianum was the first of its kind published in Britain. The Society of Apothecaries became the first permanent society of naturalists in Britain, and it is recorded that in 1673 this Society acquired the Physic Garden at Chelsea England in which to grow drug plants. The collecting of natural curiosities reached a peak in the eighteenth centuary. In England Sir Hans Sloane was to accumulate one of the most important botanical collections of the period, one that was to eventually form the basis of the British Museum in Bloomsbury England. Sloane described the cocao plant – the fruit of which is used to make chocolate, and was in fact one of the first to recognize the food value of this plant. At the time of Sloanes death in 1753 he had amassed a vast collection of natural history material, comprising of 100,000 specimens, 50,000 books, 3500 volumes of manuscripts and 350 volumes of drawings and illustrated books.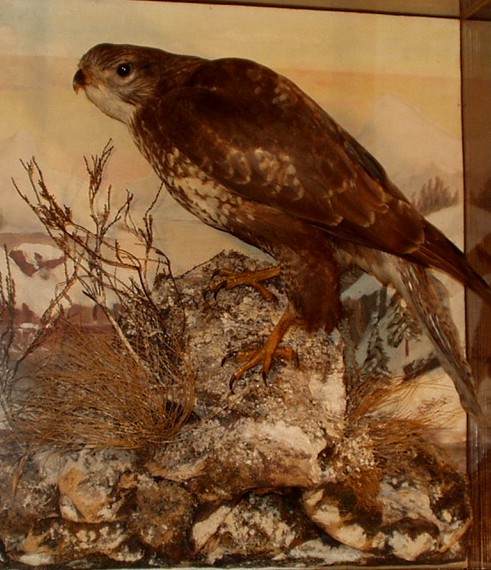 Victorian taxidermy case of a Male Buzzard by Murray



However, it was the 337herbarium volumes of dried plants together with the seeds and drugs that were recognised as the most important part of the Sloane collection. Sloanes collection was purchased by an act of parliament in 1753, and eventually moved to Montague house in Bloomsbury, a rural suburb of London, and in 1759 The British Museum then opened its doors to the public. As the collections of the fifteenth and sixteenth centuries grew in size many became the museums of the seventeenth and eighteenth centuries. Amongst some of these collections was that of Alba Seba, a Dutch collector whos private museum comprised of thousands of specimens of natural history specimens. Sebas collection was eventually auctioned off in 1752 and the specimens dispersed all over the world. Over a century later, twenty-five mammals, one fish and one snake, stored as spirit specimens in bottles from the Seba collection were all purchased by the British Museum. They were recognised as those similar to samples illustrated in Seba's catalogue Thesaurus published in 4 volumes between 1736 and 1765.
1748 was a years in which the French physicist and naturalist, Rene Antoine Ferchault Reaumur was attributed with publishing a paper specifically detailing taxidermy. Reaumur interest as a naturalist is best known for his exhaustive study of insects,( published in 6 volumes 1734-42 ), his work on regeneration in crayfish, and his studies that showed corals to be animals and not plants During the second half of the eighteenth centaury, no branch of science in Great Britain or Europe for that matter developed as rapidly as natural history, a term used from about 1750 to include the animal and plant kingdoms, and, in some popular works the mineral kingdom as well. However the mid to late seventeenth century was a volatile period in British history. Great Britain who had been at war with the Danes, was now at war with France. As a consequence taxes levied at the American colony to pay for military protection by King George 111 were beginning to create hostilities and resentment against the crown, something that was to change the course of history for both Great Britain and America.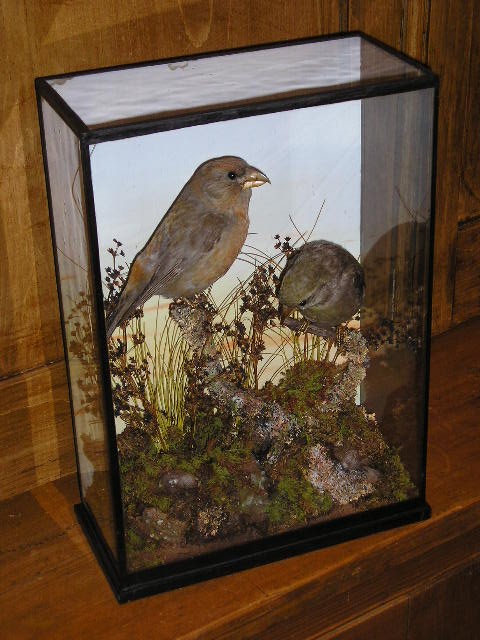 Victorian case of Male and Female Crossbills by FC Waters of Aboyne, Aberdeenshire.
Below are a list of Museums in the UK that contain quality Taxidermy
www.liverpoolmuseums.org.uk
www.hants.gov.uk
www.nnh.co.uk/taxidermy/natural_history.html
www.taxidermy.org.uk
www.ceredigion.gov.uk
www.museums.norfolk.gov.uk
www.boltonmuseums.org.uk
www.nhm.ac.uk/museum/tring/history/history
www.McCleayMuseum, Australia
Taxidermy4Cash does not undertaken taxidermy, rather we are collectors of other people's work, both current and historical we also offer web hosting, a search engine submission service and increasingly one of the larger article resource banks on the net. So if your keen to learn about Taxidermy etc, then you know where to look. We are always interested to here about new resource, if you feel a resource should be listed here then please contact us.


ITEMS WANTED. Please respond via this on-line form HERE with a description of what you have for sale.


[HOMEPAGE]

Taxidermy Links. Please double click on the Taxidermy link icon below.