Victorian Booth Collection of Taxidermy
We are always very interested in Purchasing Victorian Taxidermy, please respond via this on-line form of what you have for sale. HERE


Victorian Antique Taxidermy
We get asked to recommend Victorian Taxidermy and Victorian Taxidermy Resources by our friends. If you also wish to link to us then your taxidermy information shall only be placed in the appropriate class.

The Booth Collection
Founded by Edward Thomas Booth, naturalist and keen on all aspects of Natural History. He was born in 1840, to a moneyed family. Early years were spent in education in Brighton and then on to Trinity College Cambridge where is studied only intermittently, as finally asked to leave having spent more time on the fens shooting and observing birds rather than studying.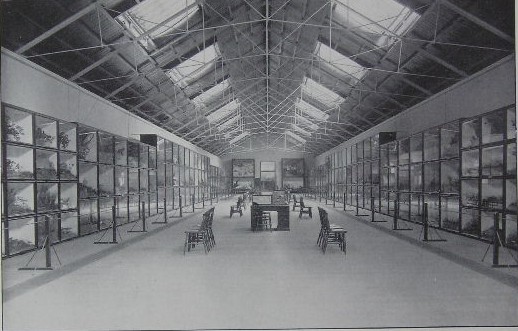 View inside the Booth Museum, Dyke Road as it would have looked in around 1911.


Edward returned to Brighton in 1865 and he created the Booth Collection in 1874. The taxidermy museum was dubbed "home of the dioramas". Being one of the first exponents of observing birds in their natural habitat and then re-creating this as close as practical possible.
His detailed notes and sketches bear witness to this detail. Booth is one of the finest Victorian Natural History bird taxidermy collections in the UK.
Booth like many of his contemporaries was a dedicated naturalist and a genuine "character". He even had is own carriage at Brighton Station to hook up to the next outward bound train whenever a new or rare bird was spotted.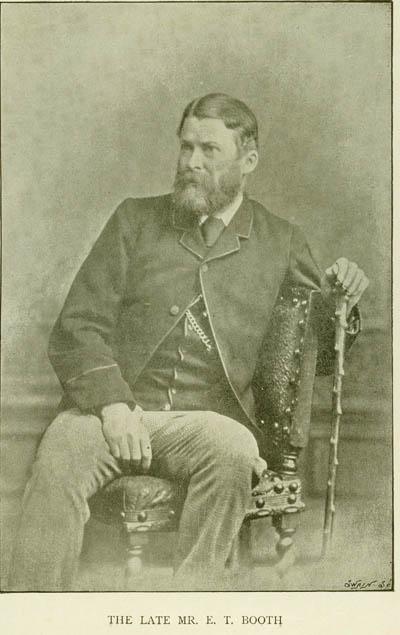 Edward Thomas Booth. 1840-1890. Pictured here holding a walking stick which is in fact a "410" shotgun.





Introduction to the First Edition dated 1876 by Mr. E T Booth in his own words




As a catalogue does not need a Preface, I will simply state by way of introduction that all scientific arrangements has been given up as hopeless in a collection where the chief objection has been to endeavour to represent the birds in situations somewhat similar to those in which they were obtained. Many of the cases, indeed being copied from sketches taken on the actual spots where the birds themselves were shot. The few notes that I have recorded are solely my personal observations and with two or three exceptions (all noted) not a book of reference has been opened. Those who expect to find a long list of rarities I am afraid will be sadly disappointed as in order to avoid exhibiting or describing a specimen with which I was only acquainted by hearsay, I have restricted the collection entirely to birds that have fallen to my own gun during my various excursions in the British Isles.




Light-Ship Newarp


Interesting fact that Booth undertaking scientific studies used to receive wings from the above ship of birds that during migration either died on the boat struck the rigging or collided with the actual light. This boat was stationed in the North Sea many miles from land. The actual distance and location is not given, but around the Norfolk coast line. A summary of wings received during the Autumn of 1872 is as follows and makes interesting reading: Lark 520 Starling 348 Stormy Petrel 45 Brown Linnet 15 Greenfinch 21 Brambling 6 Fieldfare 2 Forktailed Petrel 1 Knot 2 Blackbird 20 Redwing 13 Chaffinch 15 Tree Sparrow 3 Rook 2 Snipe 1 Kittiwake 1 These are just the birds that remained on the boat and collected and takes no account of those that fell into the water and were not collected. One account was of a deckhand upon the Newarp that mistook a brown bird injured on the boat to be a fowl and received a most severe bit as a consequence. The bird turned out to be a Great Skua Booth in 1865 purchased a, then isolated house, on Dyke Road overlooking the sea, which he named "Bleak House". In 1874 when the taxidermy collection outgrew his home, he erected a much large structure in his garden which is now the museum we see today.

As well as creating the taxidermy museum he prepared some of the taxidermy items himself, having been trained by bird stuffer and barber "Kent" of St Leonard's in Sussex. Before preparing the cases, Booth made detailed drawings of how each one should look.
These drawings were based solely on notes made in the field. Silhouettes of each bird was the created, cut to scale and arranged in the cases to create the most lifelike positions possible. Other creatures and plants were also incorporated into the taxidermy cases for additional detail.
However the principle bird taxidermy artists and stuffers who carried out most of the work at the collection were:

• TE Gunn who he knew following his collecting expeditions to the North Norfolk shores
• George Saville, who it was reported was paid £25.00 per week in 1874, who subsequently died in abject poverty in a Birmingham workhouse.
• Pratt of Brighton
• Brazenor of Brighton and
• Swaysland of Brighton

The principle method of obtaining the birds for the collection was to shoot them. This was a legal pastime during the 19th Century. Other methods included trapping, netting and taking both the young and eggs during the brreding season. Meticulous notes were also made where and when the specimens were taken, the date and the location.
Unfortunately most of the taxidermy cases are not signed so it is therefore difficult to distinguish who did what and when. However the cases are of the "best quality taxidermy" and then attention to detail is immense.There are some that bear an internal oak plaque with gilt writing bearing the name "Taxidermists" Pratt and Sons of Brighton. These are wonderfully executed. Edward Booth died early at the age of 50, where upon he commuted the contents of his taxidermy collection to the people of Brighton.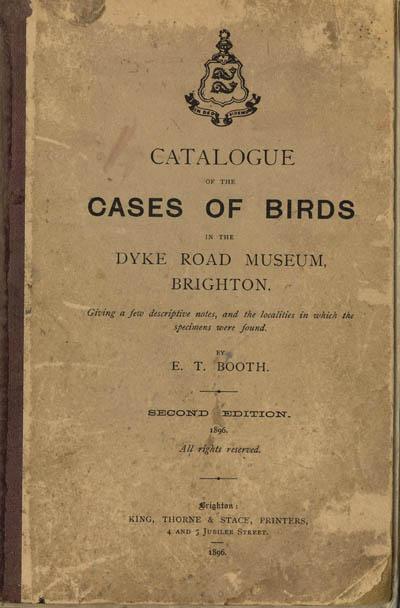 Cases of Birds "Catalogue" Second Edition dated 1896 compiled by A.F Griffith.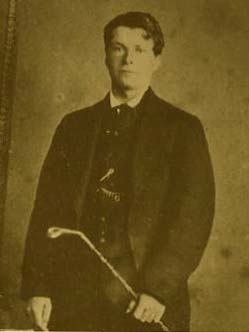 ET Booth as a young man, most likely when he was at Cambridge.

>
Booth should never be regarded as a commercial entity. His taxidermy collection until his death was a private resource. Commercial taxidermists such as Gunn, Pratt, Spicer and Ward produced cases for the mass Victorian market. These were typically small in size and easily displayed in Victorian rooms. The commercial Victorian Taxidermists also created very large dioramas for museums, but Booth wanted a particular type of dispaly, based around his field sketches. Booths collection was housed in a purpose built structure and some taxidermy cases are incorporated into the fabric of the building. Small dislays they are not. However the dioramas are spectacular and show birds in the true habitats.Booth's home has long been redeveloped, no longer is the house on Dyke Road isolated. So much for progress.


I would like to thank Mr Jeremy Adams, Curator at the Museum for his assistance in the preparation of this document and also for permission to use the pictures detailed below: The Booth Museum can be reached on 01273 292 782, for details of opening times. Admission is free; the visit however is priceless if you are interested in this subject. With reference to the descriptive text is from "A Catalogue of Cases of Birds in the Dyke Rd Museum, Brighton, dated 1911". Many thanks to the Booth Museum for this book

Find over half a million insects and animals, 50,000 fossils, minerals and rocks, 30,000 plants and 11,000 books and maps dating back over three centuries at the Booth Museum. The creation of ornithologist Edward Booth, it houses his collection of British birds displayed in recreated natural settings, together with butterflies and beetles, fossil fish and dinosaur bones.

Pictures of the Booth Collection can be found both on this page and and also on this link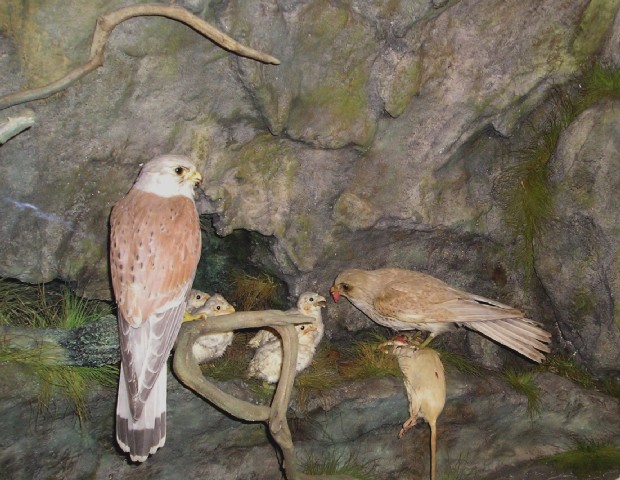 Victorian Kestrels with chicks. Specimens shot / obtained from Canty Bay, East Lothian, June 1867. The case was a direct copy of the nest in the rocks that overhung the road between Kinlochewe and Gairloch in Ross-shire. .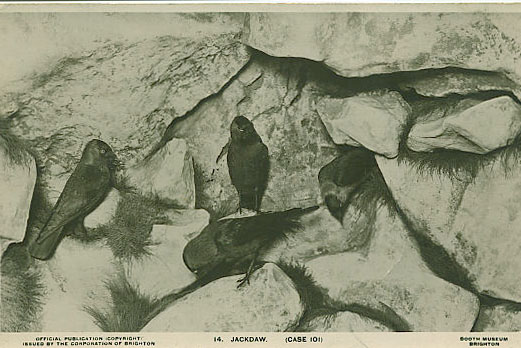 Victorian Jackdaws collected from a chalk pit in Susex near Lewes. This postcard is typical of the many produced for this collection .
Victorian Peregrine Falcons, chicks and Grouse prey in a nest scene. Specimens obtained from hills around Loch Boro, Perthshire, June 1867. Peregrine Under the heading of "Hawks and the Moors" the Peregrine has given rise to many discussions in the sporting papers. Some writers declaring that they but do little damage on the Grouse Moor, being of the opinion that the few birds they take are usually the diseased and weakly, while others class them the very worst of thieves. These discussions evidently being for the most part between falconers on the one side and game preservers on the other, there can be but little doubt that each party takes a rather one sided view of the case. The Peregrine accommodates itself to the district it breeds and preying on Grouse, Plover Ducks and Pigeons in the Highlands: sea birds such as the smaller Gulls and Guillemots on the islands and Partridges and Pigeons and even the young of domestic fowl in the South. It is however impossible for anyone to give a true "bill of fare" of a Peregrine as on examining a dozen nests there will be found the remains of different victims in each. Though certainly an enemy to the game preserver in the North (every Falcon destroying at least two brace of Grouse or other game birds in a day), I should be sorry to see this dashing Hawk "improved" of the face of the Country and in the words of Mr Jorrocks "be to his virtues ever kind be to his faults a leetle blind". The specimens in the case were obtained on the hills above the Lochs of Roro in the North-West of Perthshire in June 1867. The birds were so wary and the position of the nest so exposed in the bare face of a precipice of at least 100 feet in height that it was impossible to get a shot at either of them.. So removing the young, I stumped one down and set a couple of traps each side of it. The female was taken the same evening, but it was at least three days before the male was seen, when upon examination of the traps early in the morning, we found an unfledged duckling in the first trap and the Falcon in the second. He had evidently sprung the prey he had been carrying and then in his vain attempt to drag the duckling trap and all to the young one had been himself caught in the second. During the three days between capture of the parents we had kept the young hawk alive by feeding it with Trout fresh caught from the Loch at the foot of the hill on which it seemed to thrive well.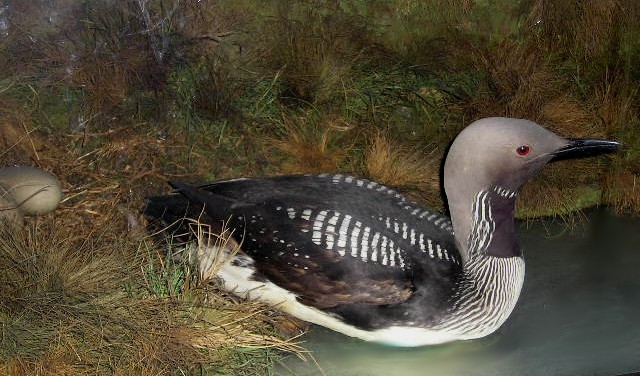 Close up of Black Throated Diver leaving the nest. The attention to detail in the taxidermy groundwork is utterly superb. The grass is either waxed or painted to blend the birds into the groundwork. Very few taxidermists today have the time to create such cases.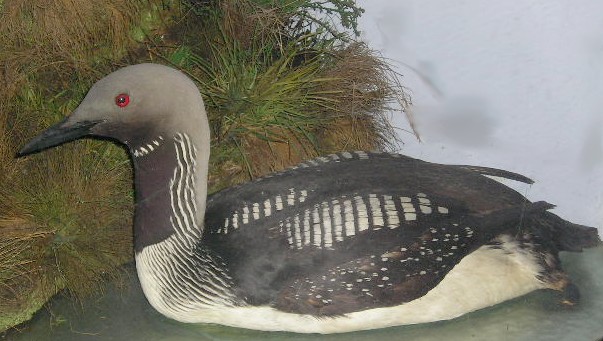 Victorian Black Throated Diver waiting in water for the bird above to leave the nest with 3 eggs. Specimens obtained from Caithness, June 1868.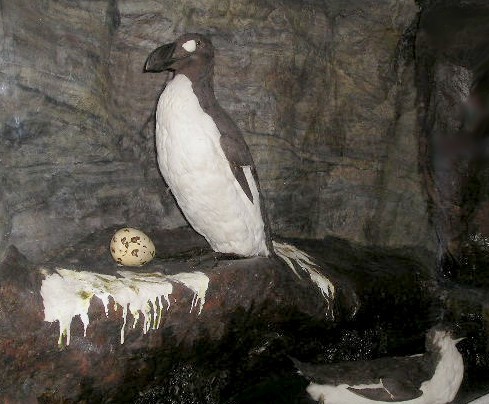 Victorian Great Auks, now extinct. Adult on the rock with egg and young placed in water below. It has been reported that Brazenor family were the taxidermists who stuffed the Great Auks as detailed above. Alfred Ferris Brazenor 1868-1967, also went on to become curator of the Booth Museum also.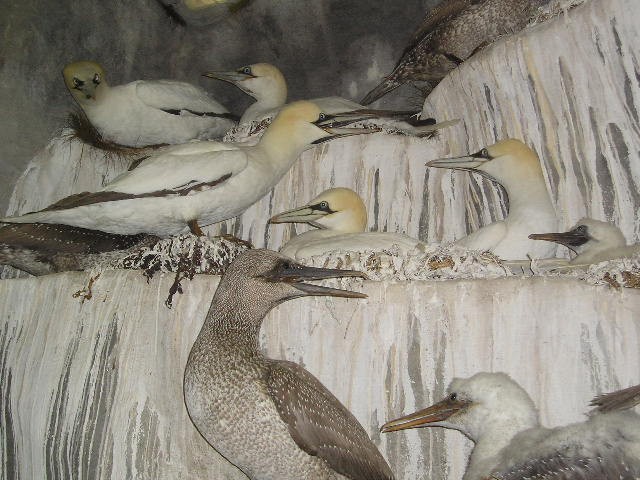 Victorian breeding colony of Gannets in a case which measures 20 feet by 15 feet. Magnificent case. Specimens shot / obtained from Bass Rock, September 1874. Birds were taken from this colony for commercial purposes. They were plucked and sent to Market in Birmingham and Manchester and sold for eating for eight pence and ten pence each. The feathers were then used in bedding, once the smell of guano was removed from the feathers.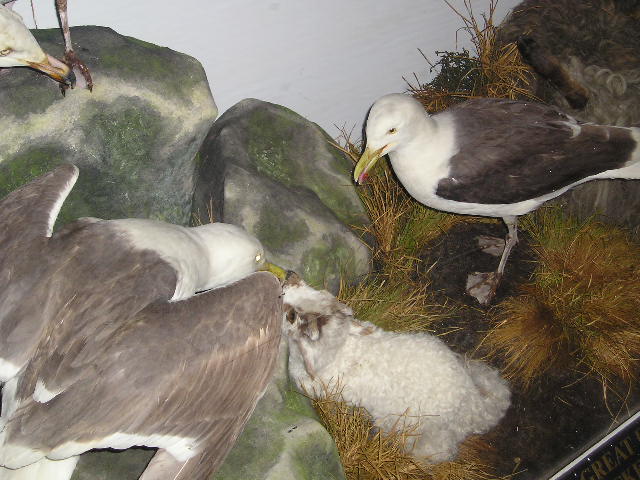 Victorian Black Backed Gulls trying to kill a lamb. Specimens shot / obtained from a sand bank island at Loch Shin,Sutherland July 1868.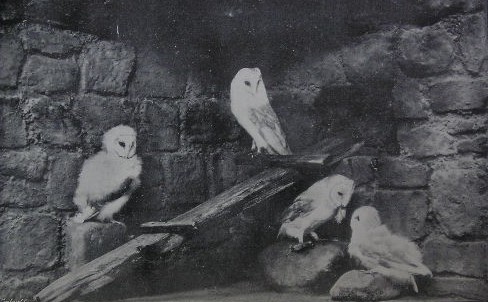 European Barn Owls. The birds and brood were obtained from the neighbourhood of Brighton in June 1872. The case was copied from the bell tower of Chiltington Church, Plumpton, West Sussex.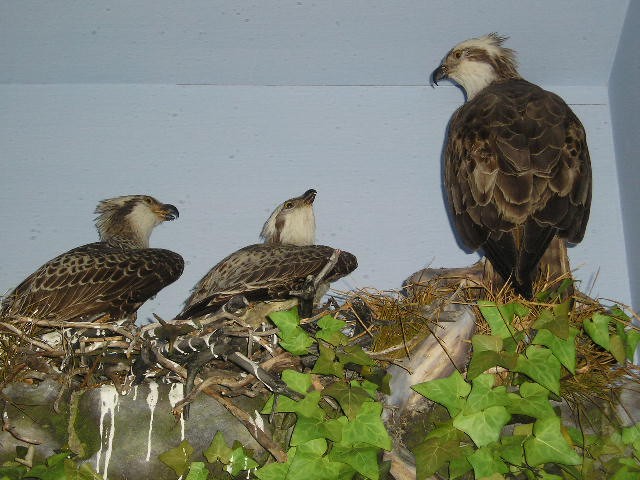 Victorian Osprey with full grown chicks. Specimens shot / obtained from Northern Highland, July 1877
You will note here that the vegetation is not real but in fact waxed and painted linen. Each leaf would have been cut to size, hand painted, waxed and then fixed by wires. This is the same for each case where leaves instead of grasses were used. Surely a testiment to Victorian attention to detail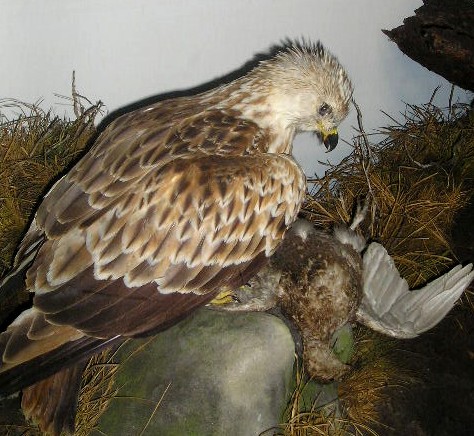 Victorian Red Kite with Grouse prey. Specimens shot / obtained from Perthshire, September 1878.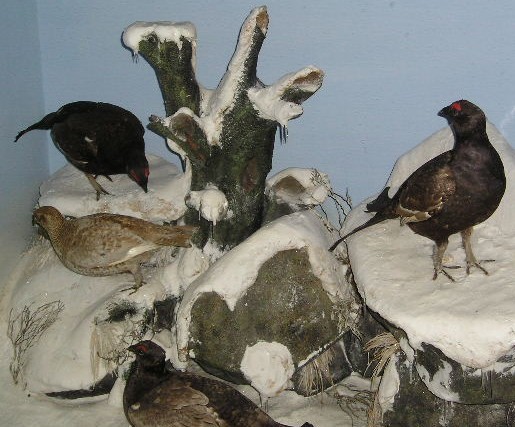 Victorian case of Black Cocks. Specimens shot / obtained from Innerwick Moor in Glenlyon, Perthshire, December 1867.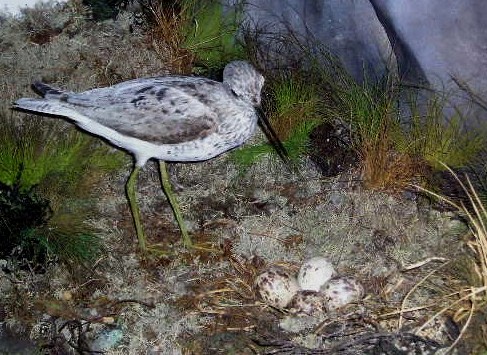 Victorian Greenshank in nest scene. These birds were shot at South Marshes near Yarmouth in August 1871.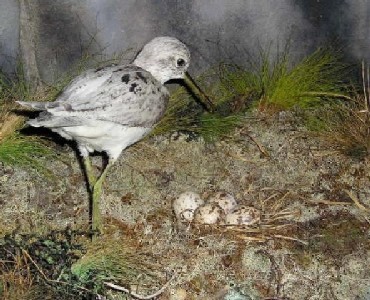 Victorian Greenshank in nest scene.These birds were shot at South Marshes near Yarmouth in August 1871



The collection contains some 308 cases depecting scenes with the fullest attention to detail. These cases contain some 236 species of birds. These cases tend to be uniform in design, colour and size. They are stacked one upon another and resemble a brick wall when viewing
Booth unfortunately died young so was unable to achieve his ambition to collect all UK species of birds and some Winter "exotic" migrants.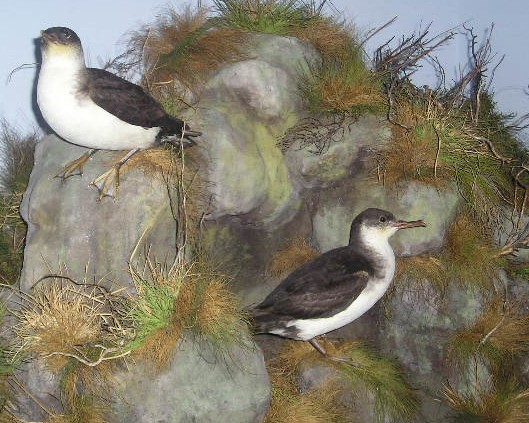 Victorian Manx Shearwaters in nest scene. Specimens shot / obtained from Firth of Forth, August 1874. I have frequently met with this bird during autumn in The North Sea, its curious flight always drawing attention at whatever distance it might be seen.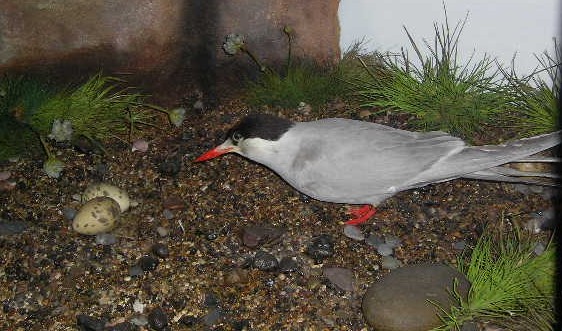 Victorian Arctic tern in nest scene, part of a much larger case. Specimens shot / obtained from Dornoch Firth, Ross-shire June 1869, and the Fern Islands of the same year.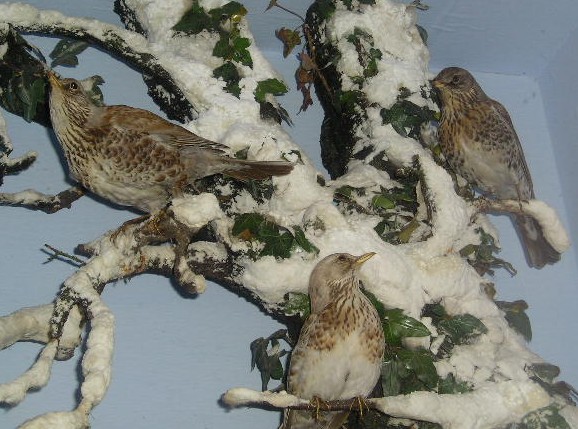 Victorian Fieldfares in Winter Scene. Specimens shot / obtained from Brighton, January 1866.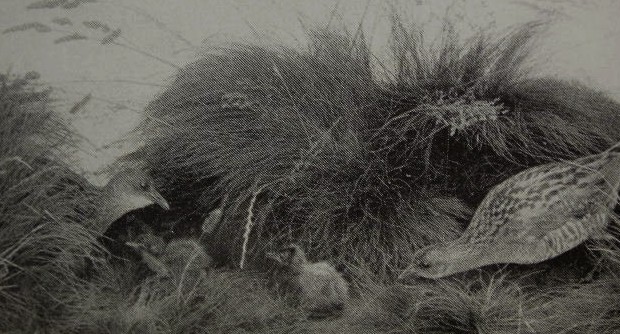 Victorian case of Landrails (Corncrakes). Specimens shot / obtained from Glenlyon, Perthshire, June 1867. The chicks were brought back by Booth's Retriever dog.
Victorian female Golden Eagle with Hare prey. Specimens trapped / obtained from Western Highlands, Spring 1877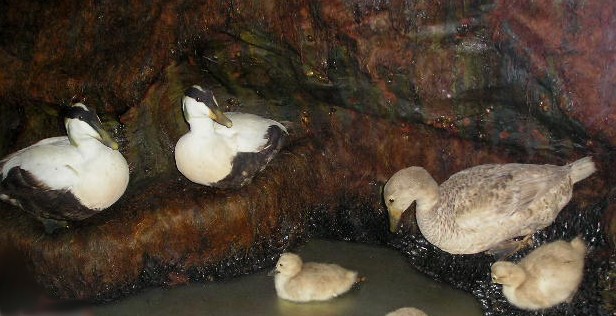 Victorian Eider ducks with young.Specimens shot / obtained from Island of Ebris, Firth of Forth, May 1867.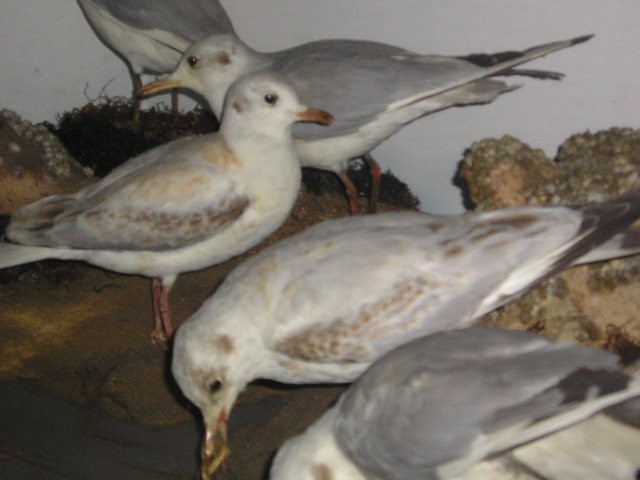 Victorian Black Headed Gulls in Winter plumage. Specimens shot / obtained from a sand bank island at Loch Shin,Sutherland November 1868.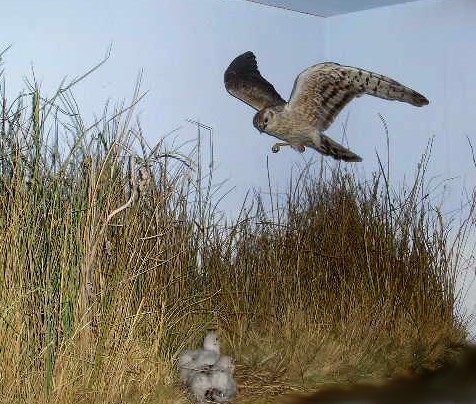 Victorian Montagu's Harrier with two chicks in a nest scene. Specimens shot / obtained from Whittlesea Mere, Hunts, July 1837. Prepared by Taxidermists "Pratt of Brighton"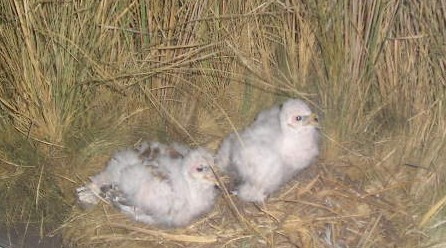 Victorian Montagues's Harrier chicks in detail. Specimens shot / obtained from Whittlesea Mere, Hunts, July 1837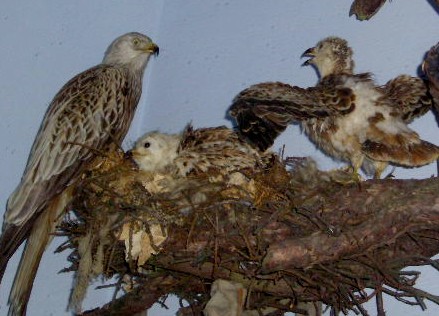 Victorian Red kites in a nest scene. Specimens shot / obtained from Perthshire, June 1878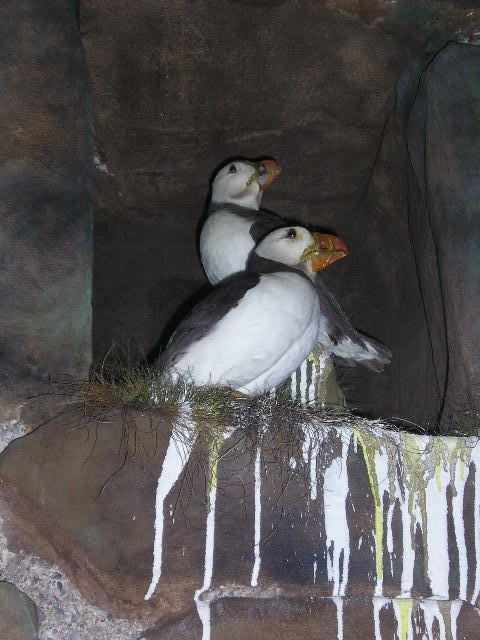 Victorian Puffins in Summer Plumage on a cliff scene. Specimens shot / obtained from Firth of Forth, June 1865.
Victorian Kittiwakes on a cliff scene. Specimens shot / obtained from sea off Brighton, Winter 1870.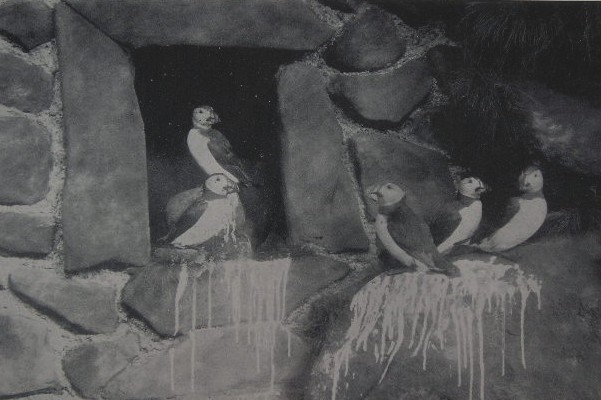 Victorian case of North Atlantic Puffins. Specimens shot / obtained from Firth of Forth, June 1865. The image you see is a copy of the Puffins nest observed by ET.Booth in the crumbling masonary of the battlements on Bass Rock, in the mouth of the Firth of Forth.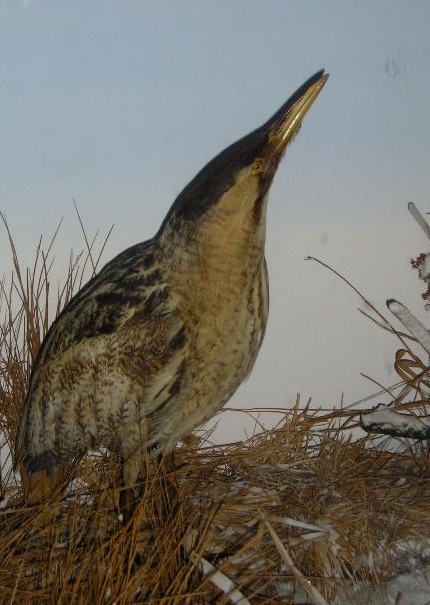 VIctorian Bittern by TE Gunn in a Winter scene.Specimens shot / obtained from Hickling Broad, Norfolk, December 1871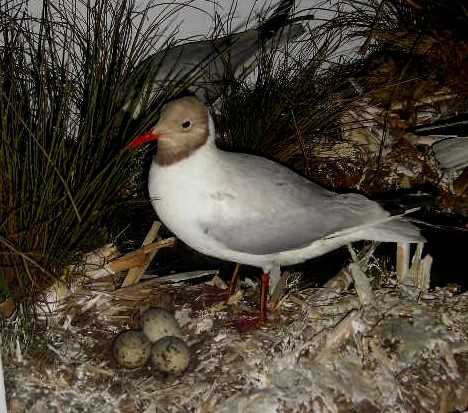 Victorian case depicting breeding Black Headed Gulls. Specimens shot / obtained from Lairg (Muddy Loch), Ross-shire June 1869 .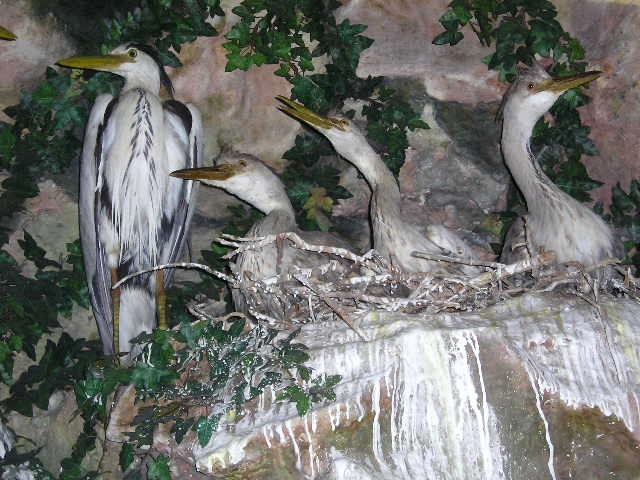 Victorian case of breeding Herons. Specimens shot / obtained from Cromaty Rocks, near Cairn Rhui, May 1869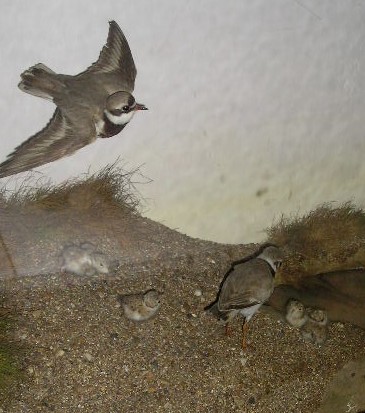 Victorian Ringed Plover with chicks. Specimens shot / obtained from Rye, Sussex 1862.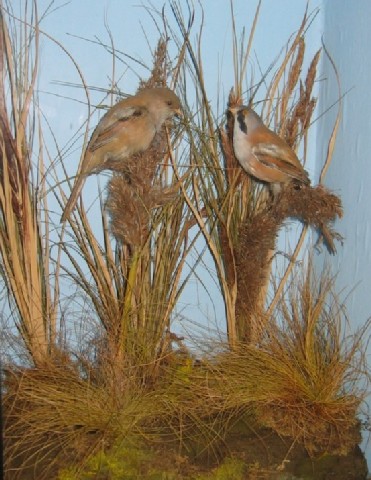 Victorian Bearded Tits with chicks (Birds known in Norfolk as Reed Pheasants).These birds were obtained from Heigham Sounds, Norfolk in May 1870.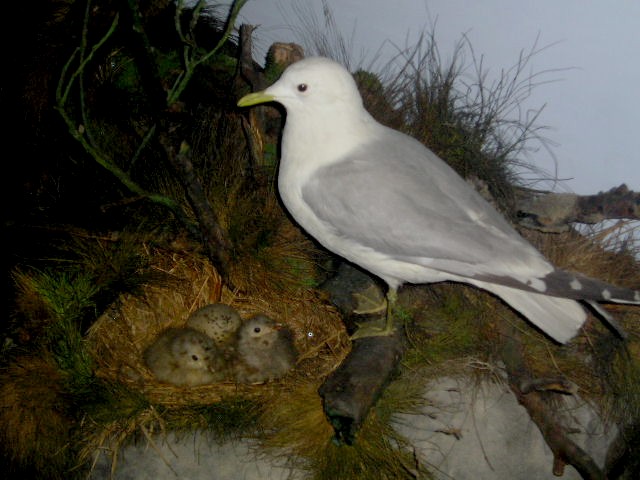 Victorian Common Gull eggs with chick. Specimens shot / obtained from the islands in the Lochs of Boro, Perthshire June 1867.
Victorian female Marsh Harrier with Teal prey. Specimens shot / obtained from Potter Heigham Marshes, October 1871.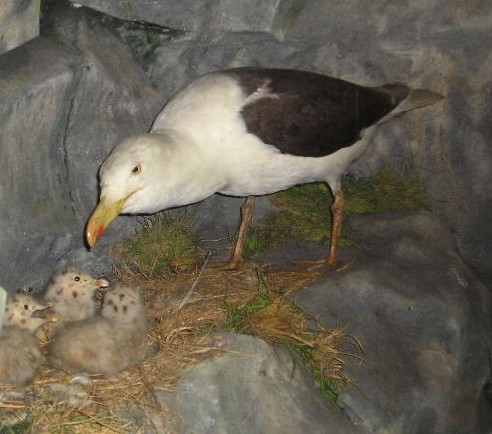 Victorian Great Black Backed Gull with chicks. Specimens shot / obtained from Bass Rock, September 1874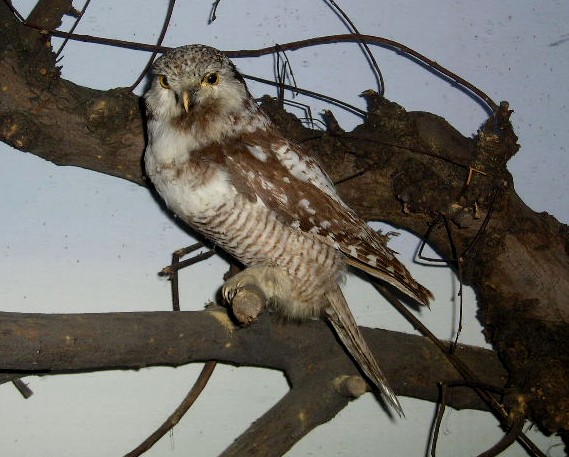 Victorian Hawkowl. Specimens shot / obtained from Blackwell Hill, Clevedon, Somerset, August 1847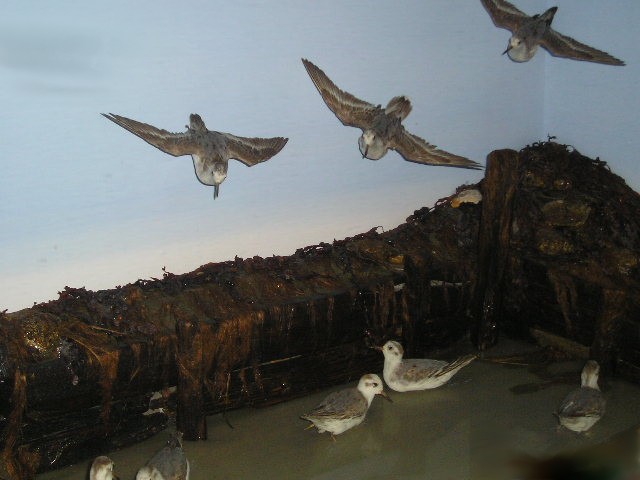 Victorian Grey Phalaropes. Specimens shot / obtained from the Oyster Ponds, Shoreham October 1870.
Victorian Ptarmingan in a Winter Scene. Specimens shot / obtained from Perthshire, December 1867.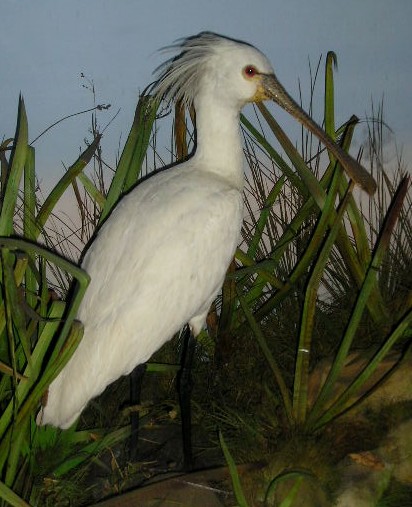 Victorian Spoonbill in a Marsh Scene. Specimens shot / obtained from Breydon Marshes, May 1873. Most old gunners can remember the time when flocks of these birds were common every spring in the marshes and on the mudbanks around our coasts. A few however still make their appearance nearly every season about the middle of May along the flat country between the mouths of the Humber and Thames. A Spoonbill when pitched by itself on a mudbank where food is plentiful is generally easily approached within gunshot, but its unusual appearance seems to so excite any Gulls that are near at hand that they immediately commence flying and screaming round the stranger and never cease their clamour till they have driven it out of their sight. The male bird in the case had frequented Breydon mudflats for a week or ten days feeding whenever he could get a chance, but had been so persecuted that he never had time to settle for a few minutes before he was compelled to quit the spot. It was only by waiting near his accustomed feeding ground just at daybreak that I was enabled to get a shot at him. It is stated that many years before they bred in Norfolk nesting on the tops of trees in the same manner as a Heron. The specimens in the case were both shot on Breydon mudflats near Yarmouth, the female in May 1871 and the male in May 1873.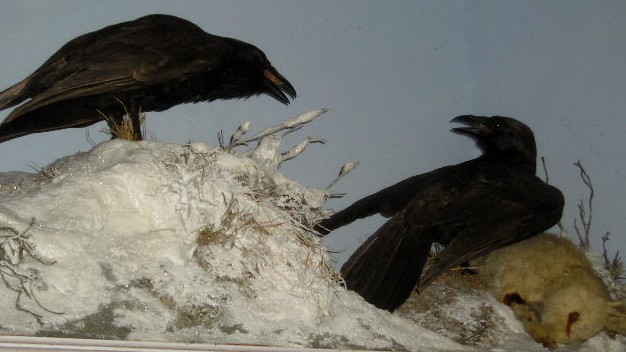 Victorian Ravens fighting over a sheep carcass in a Winter Scene. Specimens trapped / obtained from Glenlyon, Perthshire September 1866.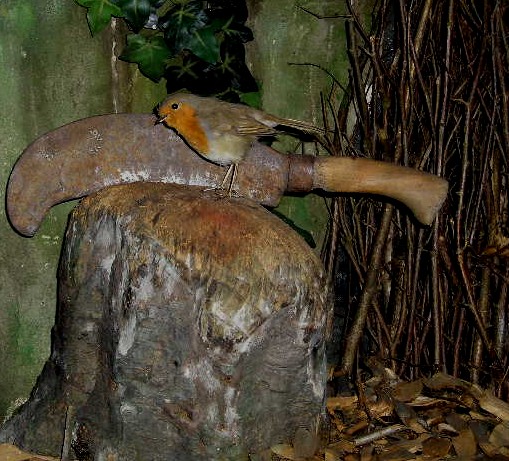 Victorian Robin in a hazel thickett. Specimens shot / obtained from Brighton, Sussex, March 1866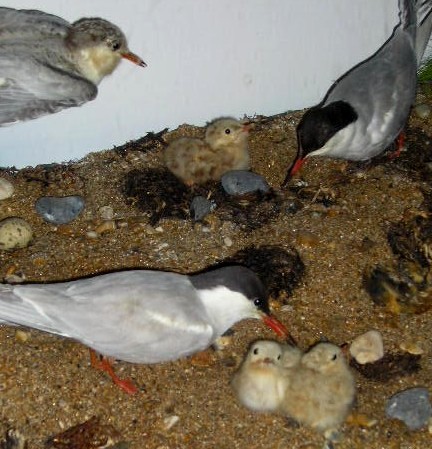 Victorian Arctic Terns, eggs and chicks. Specimens shot / obtained from Dornoch Firth, Ross-shire June 1869, and the Fern Islands of the same year.
Victorian Black Backed Gull in a "Gin" trap with Pochard lure. This bird was caught in a gin trap set for Hooded Crows. Bird caught on Hickling Broad, Winter 1872. During Winter the snow white head and neck of the mature bird becomes slightly marked with grey and the bright colours on the beak are less intense. The specimen in the case was captured in a vermin trap baited with a dead Pochard that I set for the benefit of the Grey Crows that came in flocks to consume the food of some Decoy Ducks I was keeping.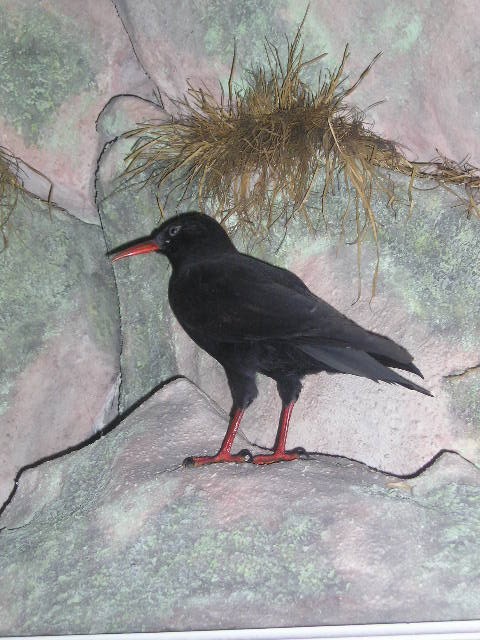 Victorian Cornish Chough.Specimens shot / obtained from Cornwall, June 1880. The Chough appears in certain districts to be gradually disappearing year by year. The colonies grow smaller and the total extinction of the species will probably be shortly accomplished. This falling off in numbers does not refer to the whole of the British Isles as in some localities it still holds its own. The specimen was obtained in Cornwall in the autumn of 1880.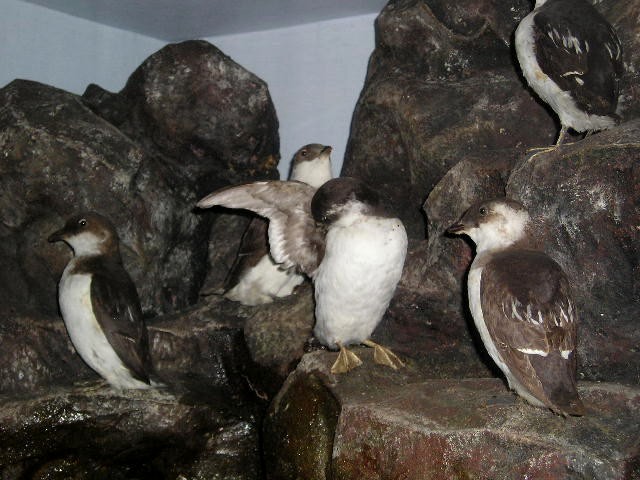 Victorian Little Auks in Summer Plumage. Specimens shot / obtained from Stromness, Orkney July 1895
Victorian Grey Plovers in Summer Plumage. Specimens shot / obtained from Breydon Mudflats, Norfolk, May 1871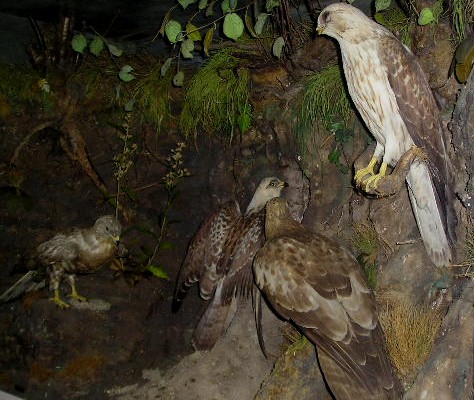 Victorian family of Honey Buzzards raiding a wild bees nest. Specimens shot / obtained from Shave Wood and Ashburnham Park Sussex, Summer 1837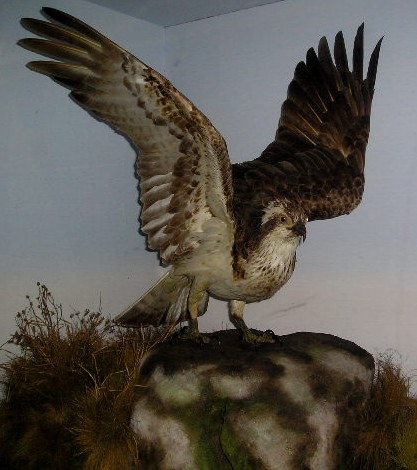 Victorian Osprey. Specimens shot / obtained from Northern Highland, July 1877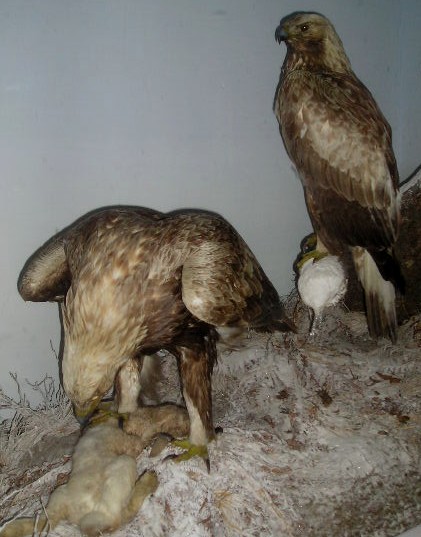 Victorian Golden Eagles in Winter Scene. Specimens trapped / obtained from Western Highlands, Spring 1877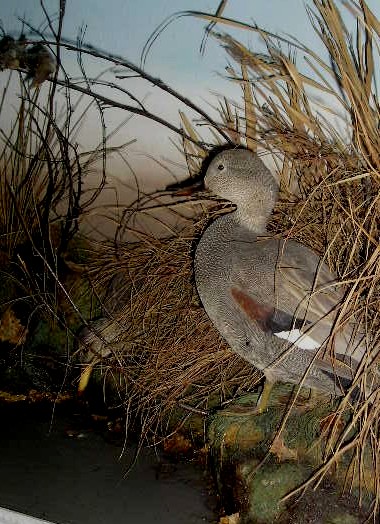 Victorian Gadwalls by Pratt of Brighton, plaque to the inside of the case.Specimens shot / obtained from Croxton Park,Thetford, Norfolk, January 1900.
Pochard in Winter scene. Specimens shot / obtained from Hickling Broad, Norfolk, November 1871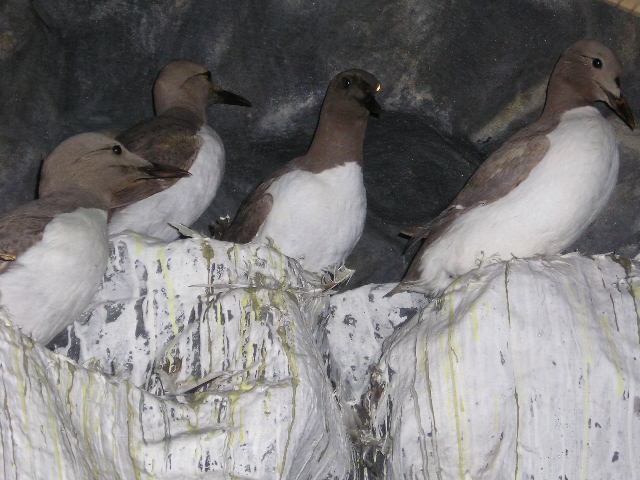 Victorian Guilimotts with chicks and eggs. Specimens shot / obtained from Bass Rock, June 1867.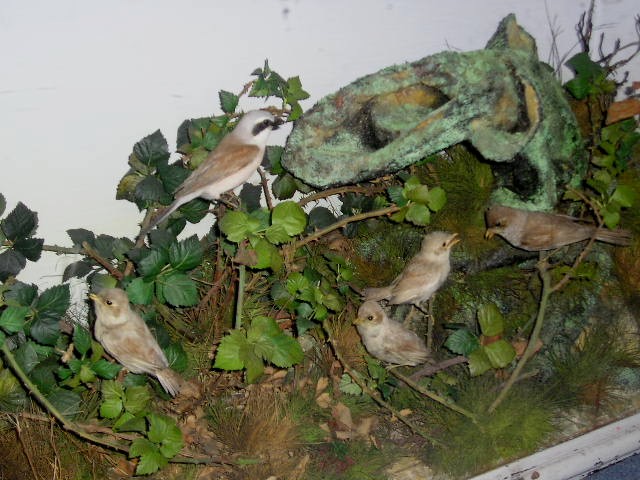 Victorian Redbacked Shrikes with chicks. Specimens obtained from Potter Heigham, June 1869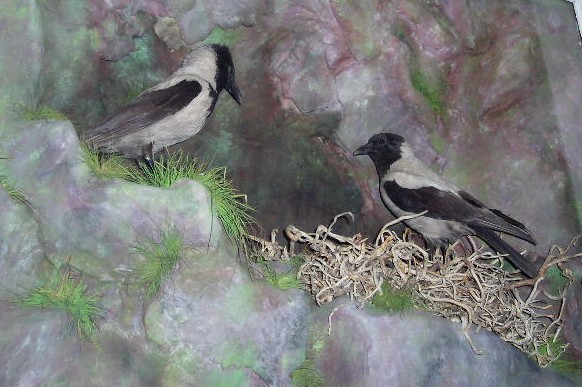 Victorian Hooded Crows with chicks. Specimens shot / obtained from Lairg of Sutherland, June 1869. Though only a Winter visitor to the Southern parts of the island this bird may be found at all seasons in the Highlands of Scotland. In the South it usually frequents the sea-coast living on the dead fish or any decomposing remains that may be cast up by the tide. I have often noticed Grey Crows on the large broads in the east of Norfolk, flying one after the other over the litter that was washed up on the lee shore hunting for any dead or wounded fowl that might have escaped from the gunners. As soon as a prize was discovered the croaking and screaming of those near at hand would soon bring the black fraternity together and living or dead the unfortunate victim would speedily have its flesh torn from its bones. In the Winter of 1868, I was punt gunning on Loch Slyn in Ross-shire and having made a successful shot at a large flock of Mallards as they rose from a rough bank, I was unable owing to the long heather that grew near the shores of the loch to collect the whole of the cripples as some the wounded birds crawled into the thick cover before I could gather up those nearest to hand. About an hour later when on the far side of the loch I noticed several parties of Grey Crows numbering in all at least forty of fifty birds flying and quarrelling near the spot where I had fired and shot and on again searching the ground, I found that they had discovered and dragged from their hiding places seven more ducks. Four were picked nearly clean but the remaining three though quite dead with less torn. On looking over the spot on the following morning I found two more skeletons which I had missed on my previous search. On the moors in the North they are quite without exception the worst vermin that a game preserver has to contend with. They may be seen in the Spring quatering the ground like setters and the nest of a Grouse or other game bird once discovered is soon robbed of its contents. They usually have some elevated spot seeming instinctively to know when anyone is in pursuit of them. I have often however shot them by driving or riding along the hill roads in the Highlands as they take little notice of a conveyance During the autumn migration I have occasionally met with them in the North Sea apparently tired out by their long flight and glad of a rest on any boat or vessel they might meet with on their course. Two of these birds and a Jackdaw which had followed us one day in a thick fog for a considerable distance at last settled on one of the paddle boxes of the steamboat. A shot or two which I fired at some Gannets at first greatly alarmed them and one of the crows beat a speedy retreat, it soon however returned and after a time got used to the noise of the guns and the shouts of men who were fishing and stalked gravely about on the bridge seeming to take particular notice of what was going on. Towards dusk the wind freshened and the pitching of the steamboat seem to disagree with them as after looking very miserable for some time in their vain attempts to keep their footing, they at last took a reluctant farewell flying slowly against the wind towards the land. The male and female together with the nest and eggs were obtained near Lairg in Sutherland in June 1869. The case is copied from a sketch taken from a nest in the rocks at Longa Island off the west coast of Ross-shire.
Victorian pair of Herring Gulls with chicks. Specimens shot / obtained from Bass Rock, September 1874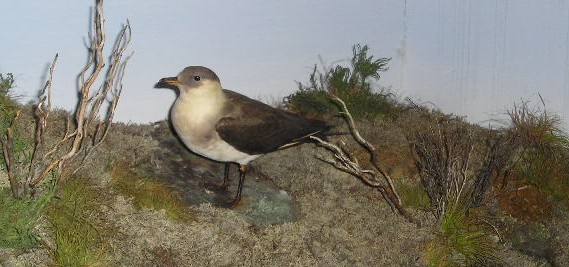 Victorian Arctic Skua with eggs. Specimens shot / obtained from Caithness, June 1869.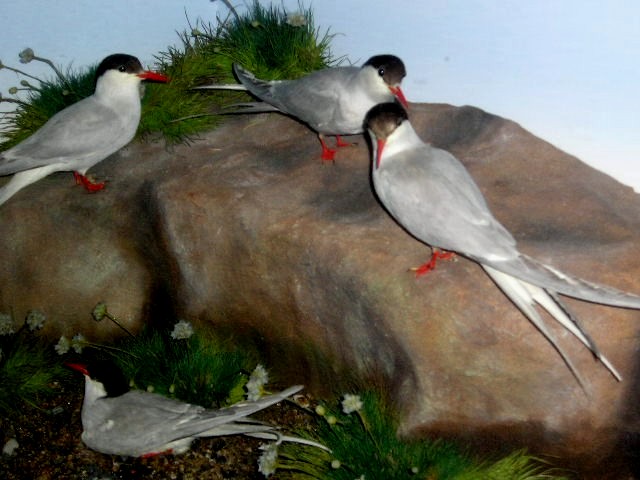 Victorian Artic Terns in a colony scene with nests and eggs. Specimens shot / obtained from Dornoch Firth, Ross-shire June 1869, and the Fern Islands of the same year.

Wooden Plaque from the case above, denoting that the case was undertaken by Pratt & Sons of Brighton.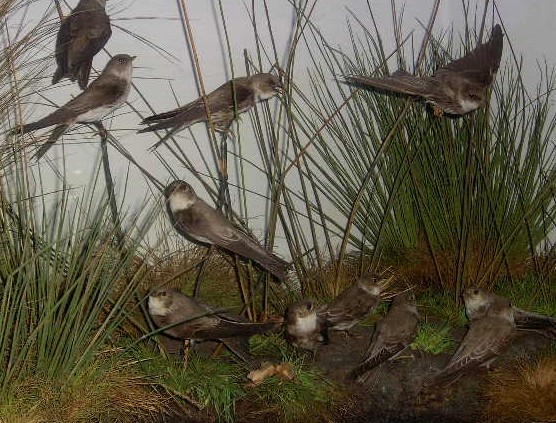 Victorian European Sand Martins. Specimens obtained from Shoreham in Sussex, September 1875.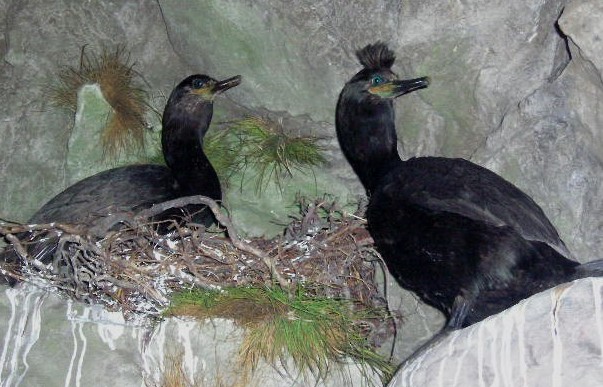 Victorian European Shags at a nest scene.Specimens shot / obtained from Fern Islands, May 1868.
Borrer Collection at the Booth Museum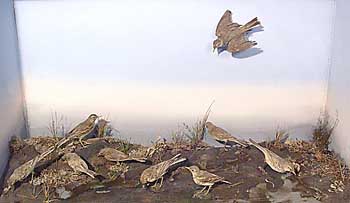 This is a case of nine mounted Tawny Pipits. The specimen to the right rear of the case is male and was caught between Rottingdean and Brighton, East Sussex in September 1864. It was part of the Monk Collection until 1905 when it was transferred to the Booth Museum with other rarer bird specimens. It was one of the first to be identified as British. The bird mounted far right of the case was caught in October 1871 and was also part of the Borrer Collection. The bird mounted flying, was collected near Rottingdean, East Sussex in September 1869. The four specimens to the left of the case are immature birds and were all shot by MJ Nicoll the same year as they were hatched. Of these, the specimen, which is closest to the middle of the case is male. It was shot at Cooden, East Sussex in September 1904. The other three were shot at Rye Harbour, East Sussex in September 1903; the specimen at the back is male and the other two are female. Some of the birds are cited in "The Zoologist" for 1904, page. 452 and also Borrer's "Birds of Sussex," page 105. The two remaining birds, mounted in the centre of the case are parent birds which, were collected in 1905 and sold to Sir Vauncey Harpur Crewe. They arrived at the Booth Museum when the collection was dispersed in 1925 on his death.

"The Booth Museum is not associated with any commercial activity. Any views expressed in this article are solely those of the author." Copyright TAXIDERMY4CASH 2004. Use of any material contained within this webite (pictures / text / figures) for commercial and non purposes is expressly prohibited unless permission is obtained from the copyright holder.



ITEMS WANTED. Please respond via this on-line form HERE with a description of what you have for sale.



[HOMEPAGE]





Taxidermy Links. Please double click on the Taxidermy link icon below.