Taxidermy Articles
Taxidermy4Cash.com
---
We are always very interested in Purchasing Victorian Taxidermy, please respond via this on-line form of what you have for sale. HERE



Taxidermy Articles


We get asked to recommend Taxidermy Resources and Taxidermy information to our customers and friends , we now include below a list of those we have had favourable feedback on this is not a complete list, if you don't find what your looking for then please feel free to contact us.

We also offer web hosting, a search engine submission service and increasingly one of the larger taxidermy article resource banks on the net. So if your keen to learn about Search engine optimisation etc, then you know where to look. Interested why not read a few of our Domain Resources articles. We are always interested to here about new resource, if you feel a resource should be listed here then please contact us.
We are interested in Purchasing Victorian Taxidermy, please respond via this on-line form of what you have for sale. HERE



Historical perspective


For a detailed insight into this fascinating world of preserved natural history, you might wish to consider reading well researched book by Mr Robert Chinnery and Mr Christopher Frost. Both books are well executed, with photographs and are now collector's items in their own right. To find them, simply research the names on the internet.



Victorian Taxidermy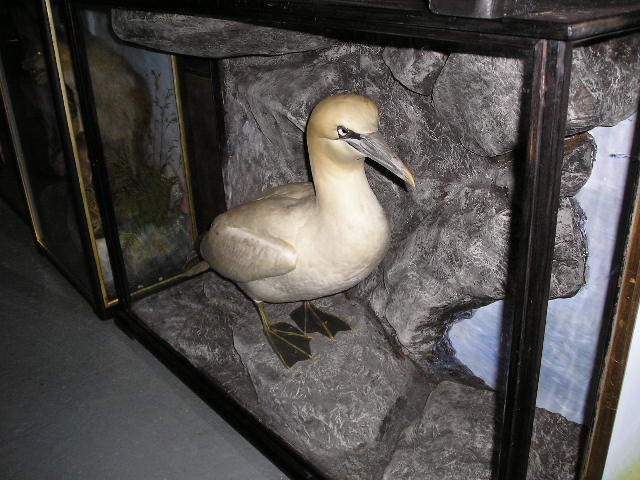 Gannet in breeding plumage by Kirk of Galsgow, from the BCB collection.




During this period collecting and mounting of both taxidermy birds and animals was undertaken on a commercial scale. Routinely specimens were collected from the wild in a random fashion. Birds, chicks and eggs were taken for scientific purposes and arranged in as natural representation as possible. It is however interesting to observe, when "stuffers" obtained specimens that they did not observe in the wild, and the almost comical presenting of what was meant to be both a natural pose and environment. Thankfully these individuals were in the minority. For the best examples of antique taxidermy to survive that era, it is best to observe the works by:

• Henry Ward
• Rowland Ward
• Peter Spicer
• William Hutchings
• James Gardner

Above are just my personal view of who created the best cases, you may feel free to disagree. However during the above period, almost every small town in the UK has a resident taxidermist plying their trade as a side line to more conventional employment.
They heyday of this form of taxidermy display was realistically from around 1875- until 1920. Companies such as Rowland Ward, Peter Spicer continued after that period, but interest in Victoriana, was superseded by Art Deco, and therefore cases of dead animals seemed to have no place. It was not until 1970 onwards did there appear to be resurgence in this subject and today taxidermy historical cases produced by the great firms now command thousands of pounds and are now collected widely.
It is interesting to note however that these items were never cheap in their heyday and I suppose that given their notional value now, it might not represent a good investment, when you take into account the "time value of money" principle.
Given the resurgence, brought about in part by the disposal of the Jamaica Inn collection mainly produced by Victorian Taxidermist Walter Potter of Bramber in West Sussex. This collection was sold for around £475,000.



America Taxidermy


The origins of taxidermy can be traced back to the ancient practice of preserving trophies from the hunt. But its modern development arose from the interest in natural science that emerged during the 17th century. In the 19th century taxidermy became firmly established as a museum art in such commercial houses as Maison Verreaux in Paris and Ward's Natural Science Establishment in Rochester, N.Y.
One of the most noted American experts in the field was Carl E. Akeley (1864-1926), who first worked at Ward's before moving on to the Field Museum of Natural History in Chicago and the American Museum of Natural History in New York City. He is credited with developing the taxidermic method of mounting museum displays to show how animals looked in their natural surroundings. He did this by showing animals in positions suggesting great activity; he also used real or artificial vegetation and painted backgrounds to give an idea of habitat. Akeley's goal was to use taxidermy to create a panorama of Africa and its big game in museums across the United States. His method of mounting skin on a finely molded replica of the body of an animal yielded results with a degree of realism that had not been created before. His contributions elevated taxidermy from a craft to an art form.



Taxidermy - The stuff memories are made of.
Kim McDonald



Having been asked, some time ago to write an article for this directory, I finally sit down, three days before the deadline and put pen to paper - or as modern times dictate, fiddle with my computer. The next problem is what to write about. Do I throw at the reader "A do it yourself guide to stuffing"?, No - I would need the whole book to do that. Do I rant and rave about the wonderful system of taxidermy licensing that has been bestowed upon us or pay homage to the Article 10 - Hell no, that would also need a book and it wouldn't change a thing, although pressure is having some effect. Do I take the opportunity to do a three page advert for myself, hmm, a good idea but then the editor might charge me, so instead I will give you the best advice I can on what to do, should you decide to have a taxidermy specimen mounted. This will, without apology, project into the limelight, a group of dedicated exponents of the taxidermy art known as the Guild of Taxidermists. Why should I advertise the Guild? - Simple, I happen to be the Chairman and I know what benefits it can present the client - that is you. So, let us presume you have found yourself in the unfortunate position of losing (by way of death) a specimen - a valued friend, one of your flock, worth God knows what, in time, money and sentimentality.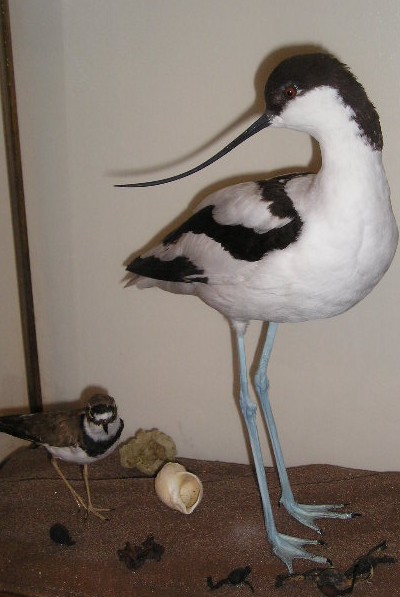 Avocet and Little Ringed Plover by Dereck Frampton. Fantastic case by one of the best of modern taxidermists. Regular winner of competitions held by the Guild of Taxidermists. AJ Armitstead states "he is probably the best in the UK still who is still alive".



It happens to us all. Basically, you are presented with three choices:- - you can, with or without the aid of volley of shots fired over the intended burial site, intern it in a wooden casket and return it to the earth or be even more illustrious, if it is of Scandinavian origin, give it a Viking send off. - you can place it in the freezer immediately and then ring up the nearest taxidermist and sell the carcass - it will have a value. It may not necessarily be enough to purchase a new taxidermy specimen but it will recoup some of the financial loss- or again, place it in the freezer and elect to have it mounted, set up, or to put it bluntly, stuffed. Actually, we in the trade do not like the word "stuffed". It conjures up visions of a boggle eyed monster in a glass fronted box, unnaturally taxidermy posed and hanging on the wall of a old museum. These days, a good taxidermist will model your specimen into an anatomically correct position and bear witness to its traits and idiosyncrasies. In other words, providing you pick the right artist, you will get a job worthy of that specimen.
Who then is the right person for the job? You may already know of a taxidermist and you may already be happy with the work. Great, but if you don't, it can be a taxing decisionYou presumably will dive into the yellow pages or if you are computer minded, trawl through various websites, both sources being full of advertisers claiming to be the best. So now you know of loads of taxidermists, but which one is best suited? Well, help is at hand. The best place to start is the Guild of Taxidermists. Why?, well we run the only qualification in the U.K. available to the trade. The qualifications are earned by way of "credits" which are mounted specimens judged by a panel to be of an acceptable standard.. A member must gain six credits in any one particular field (Bird, Mammal, Fish/Reptile, Head Mount) before he or she becomes a "Specialist". Likewise an "Accredited" member has to earn six "credits" including Birds, Mammals and Fish/Reptile to attain that title. Judging is not just a case of saying " oh I like that, that's a pass", The panel of three judges plus an adjudicator (all of whom are qualified taxidermists) has to be satisfied that a specimen has passed a required standard. A standard some say is often, if anything, erring towards being too strict. However, a line is drawn and if the work doesn't come up to scratch, it doesn't earn a "credit". A "Master " has to earn three "higher category credits" in each field to be awarded the top qualification. The judging of those credits is done by the panel plus all taxidermists present at our annual Conference.
Consequently they are a rare achievement. We have however among our members a few who are well on their way to a Master, having gained qualification in one or more fields. The Guild will be able to advise you of who in your locality is such a member and what they specialise in. If there is no one in your area we will point you to a selection of the nearest. At this point, it is only fair to say that not all taxidermists are members of the Guild. There are a few lost souls out there and one or two are quite good. Likewise, not all members of the Guild are Accredited, Specialists or Masters. Whatever your choice, care of the specimen does not end as soon as it dies. It is imperative that the carcass is frozen as soon after death as possible. It should be well wrapped - a polybag or two or a tupperware box often calms the wife down. The bird treated with the respect it deserves, not just chucked into the corner of the freezer.
It is also no good burying it and then 2 weeks later deciding you want it mounted and digging it up. Believe me, that has happenedThe condition of your specimen will dictate the standard of the finished item. Miracles can happen and often do, but if the plumage is in poor condition, this, with possibly a slight improvement once washed and lustred, will show on the finished mount, as will one leg or a bald head. As I say miracles can sometimes be performed, spare part surgery is possible, but at a cost That little word "cost" is also a dictating factor. What will it cost? Well that's down to the particular taxidermist. However as a guide, should you be quoted £50 to mount a Peregrine or for that matter £50 for anything, be very wary. Better still, put the phone down. Without tying anybody down to a particular rate, a Peregrine is more likely to cost in the region of £275. and that's without a case. A Barn Owl, say £175 to £280. On the other side of the coin, if you are quoted £1000 for the same job, seek a second opinion. Another clue to your taxidermists "standing" is often the time taken to complete your order. If you are quoted "it will be finished next week" forget it.

That is generally a good pointer to a taxidermist's reputation. Obviously, in this case, they haven't got much work and it begs the question, why? Foot and Mouth scares apart (this slows down the amount of work coming in - especially of Fish and Deer) most good taxidermists will have at least three to six months work and often more to do before getting to your order. So if you are quoted six months, don't worry - at least other people must be satisfied for that practice to have so much work. A bird the size of a Peregrine can take a day or more to mount and two or three weeks to dry. If ordering a case as well, it cannot be sealed until the specimen is completely dried. It could be done in a week but it might not last much longer. Whatever your requirement, the Guild is there for the good of the trade. To achieve that it must give the best advice available to the customer. Although our members are not tied to a contract with the Guild - they operate with a free hand - they are however, subject to a code of conduct and do not wish to bring the Guild or the trade into disrepute. We've had no complaint so far.


Tuesday August 8, 2006 The Guardian


Emily Mayer's studio is not for the squeamish, especially squeamish dog-lovers. Inside the former workhouse hospital, three very alive Jack Russell-chihuahua crosses gambol among an ark of deceased relatives. Rosie the border collie reclines on a purple sofa. Bertha the foxhound lies, paws crossed, on a workbench. A fox is curled inside a suitcase. Finally, there is The Dog's Bollocks, a taxidermied rat that Mayer believes is her most perfectly recreated rodent yet. He is rolling a jar containing a pair of canine testicles. They came from her neighbour's randy dog, who got the chop. When not turning strong stomachs, taxidermy has long aroused strong emotions. For many, a childhood fascination for the glassy-eyed inhabitants of the Natural History Museum ends when teenage indignation at the abuse of animals kicks in. For generations, the art of preserving dead creatures has been considered at worst barbaric and at best a relic of 19th-century colonialism.
Now, however, a new breed of artists and collectors are discovering taxidermy. A manky hoof or a moth-eaten fox head that once adorned your granny's spare room is probably propped on the wall of an expensive restaurant. A new shop selling taxidermy is opening next year in London's achingly fashionable Shoreditch. Kate Moss has just spent several thousand pounds on a piece of taxidermy sculpture - a dead bluetit on a prayer book - by the east London-based artist Polly Morgan. Mayer, an artist and taxidermist who has quietly worked in south Norfolk for a decade, has A-list clients including restaurateur Marco Pierre White and artist Damien Hirst, with whom she has collaborated on a number of works. Taxidermy is also returning to the mainstream: ordinary punters are buying antiques on eBay and at auctions, while a new novel endorsed by Richard & Judy's bookclub - The Conjurer's Bird by Martin Davies - has for a hero a character who once would have been considered an outcast: a taxidermist. Until this renaissance, taxidermy was usually associated with the Victorians and their thirst to discover and classify the natural world. Species found by Captain James Cook in the 18th century were taxidermied and brought home, but until collectors discovered the preservative properties of arsenic, few early specimens survived. (The earliest known surviving example is the Duchess of Richmond's African grey parrot, which died in 1702 and is still perched in Westminster Abbey.) Charles Darwin was a taxidermist and, by the 1890s, cities such as Birmingham boasted 18 taxidermy firms. Most genteel mantelpieces - even in urban areas - were adorned with trophies bagged from the empire - or the local copse.
"They were a reminder of nice things in nature beyond the grimy cities," says Dr Pat Morris, the man who authenticated the Duchess of Richmond's parrot. "They were like three-dimensional pictures in people's drawing rooms. Then the real decline took place in the 1950s and 1960s when it became less socially acceptable. There were other things to do with animals rather than shooting them, such as filming and photographing them. And the animals were getting scarcer and scarcer." Furry and feathered exotica remained beyond the pale for decades. Now, as antique specimens and pieces of modern art, dead beasts are creeping back into living rooms. "That stigma that went with stuffed animals has gone. People have lost that 'Urrgh, do I really want a dead animal in my living room?' says John Baddeley of Bonham's auctioneers. "There is also a re-emergence of people who want to buy them because they are a work of art and fit into a particular Victorian interior style." Prices are spiralling. Tatty birds that have sat stolidly through a 100-year afterlife inside a glass case are fetching three times their guide prices at provincial auctions. A private collection of 150 birds including a number by the acclaimed Norwich-based taxidermist Thomas Edward Gunn (1844-1922) was sold at an auction in Diss, Norfolk, last month. A (now endangered) bittern fetched £950 (compared with an estimated price of £260-£300), while an avocet, expected to sell for £60-£90, went for £620. The boom in new taxidermy, meanwhile, is happening despite a number of myths. "People still say 'How many animals do you kill a week?'" says Mayer. "They have no idea that the number of animals who die naturally more than cover the work we do." The laws that govern taxidermy in the UK are strict. Every specimen created after 1947 requires paperwork documenting its history and cause of death. It is legal to pick up most animal and bird species that have died naturally in the UK although there is a list of banned - rare - species. "By far the overwhelming majority of taxidermists came into the profession through a genuine love of wildlife," says Katrina Cook of the Natural History Museum.
Nor is taxidermy simply "stuffing animals". The word itself means "to arrange skin". "A good taxidermist is a sculptor, artist and naturalist rolled into one," says Cook. A taxidermist measures the carcass from all angles, notes eye colour and other soft parts, removes the skin, sculpts a model of the body (balsawood and wire for small birds; fibreglass or foam for larger specimens) and sews the skin back on. Anatomical knowledge and a feel for your animal-on-the-move is essential. "There's a lot of fieldwork involved," says Duncan Ferguson, general secretary of the Guild of Taxidermists. "Although nine times out of 10, the animal tells you what position it goes into."
"In America, most taxidermists come from the hunting, shooting and fishing fraternity. In this country, they don't," says Mayer, a singular individual who pinned desiccated rabbits to her bedroom wall as a child. An increasing number of contemporary taxidermists are artists. Maurizio Cattelan, who is based in the US, is famous for sculptures such as The Ballad of Trotsky, a horse suspended from the ceiling. Hirst himself tried and failed to buy all 6,000 pieces of taxidermy in Walter Potter's Museum of Curiosities in Cornwall when the collection was auctioned off in 2003. The witty and macabre Potter was famous in Victorian times for his anthropomorphised work - tableaus typically showing squirrels playing cards, a kittens' wedding party and rats rescuing each other from a trap. Mayer does not approve of anthropomorphism but enjoys a similarly playful use of her skills (a novelty beard made from 12 white mice - shown on G2's cover- and a piglet handbag) but has focused on developing a laborious process called erosion moulding. Many traditional taxidermists don't believe it is proper taxidermy but it bestows an astonishing lifelike sheen on the dead. And it is more durable than orthodox taxidermy. Mayer can take Rosie the collie into the shower to wash her fur.
Demand for taxidermy may be soaring, but the number of taxidermists is falling. Taxidermists are worried about the lack of young people in the craft. The salary - about £15,000 in museums - is not tempting. "If no kids want to do it, taxidermy is not going to survive," says Mayer. Twenty years ago, the Guild of Taxidermy had 320 members. Now it has 200. Of these, about 10 work in museums and 30 are full-time commercial taxidermists. The rest are part-time (although Ferguson estimates that there may be some 2,000 other hobbyist taxidermists). Many museums, according to Dr Morris, seem to be afraid to support taxidermy because it is politically incorrect. "There is a suspicion that museums are frightened of offending people," he says. Cook, who works to preserve the Natural History Museum's bird collection, argues that taxidermy remains crucial in science and education. "Preserving the skin of an animal is vital to the study of natural history. It has enabled us to identify and describe specimens for science and keep what we call 'type specimens'. Taxidermy is sadly all we have left of extinct species such as the Great Auk or Passenger Pigeon."
One new taxidermist is artist Polly Morgan. The contents of her freezer are not what you would expect of a well-spoken 26-year-old. Wrapped in Sainsbury's bags are a large weasel (with frosted whiskers), a robin, a huge grey squirrel from London, a bat, two white rabbits, a rat, a guinea pig, a chubby wood pigeon, a bag of mice and a tiny quail chick. "I didn't think I could learn because you don't normally meet taxidermists," she says. "And you tend to think of it being archaic or a byproduct of hunting, and I'm not into hunting." Morgan grew up in the countryside, surrounded by animals. Now her mum and a local vet keep her supplied with roadkill and deceased pets. "I get calls from people I've only met once at a party saying their cat brought something in and did I want it. I will drive for miles to collect something, although I'm getting a bit sick of squirrels and pigeons."
Both Morgan and Mayer like to exhibit art that, unlike traditional taxidermy, makes no pretence to be alive. "Taxidermists are really quite purist. They like to pretend death doesn't happen and they are resurrecting animals," says Mayer. "By portraying an animal as dead you get much closer to the truth and it is more disturbing for people to look at. I'm not interested in making pieces of work where people aren't challenged." Morgan, too, likes making "dead" sculptures. "Birds have such a good posture when they die - on their backs with their head on one side. It creates a heart shape. Their wings open and I find something quite touching about how they look - peaceful but vulnerable at the same time." Rather than naturalistic settings, she might curl a rat into a wine glass. One such piece, which looked like a bizarre sorbet, fetched £2,200. She currently has pieces showing at Laz Inc gallery in London and at Studeley Castle in Gloucestershire.
Might the return of taxidermy pose a threat to endangered species? Six years ago, a taxidermist from north London who illegally sold a virtual zoo of endangered species, including two stuffed tiger cubs less than a week old (killed before their eyes opened), was sentenced to six months in prison. Robert Sclare pleaded guilty to 29 counts of forgery relating to applications to trade. After serving his time, he returned and reopened his business, Get Stuffed. The shop, described after the trial by animal rights campaigners as "an animal shop of horrors" continues to trade today.
According to Andy Fisher, head of the Metropolitan Wildlife Crime Unit, there have been no big seizures of illegal taxidermy in the UK since Get Stuffed was raided, although the unit has confiscated illegal taxidermy from elsewhere, including rare birds and sea turtles. Growing interest in taxidermy is not yet reflected in seizures of banned items. "We do monitor various internet sites. If there was a resurgence in rare species then we would be concerned but I think the majority of things being sold are fairly old or are not banned species. It is something we're keeping an eye on." David Cowdrey of the WWF praises the Guild of Taxidermists for fighting wildlife crime and says there is an excellent relationship between many taxidermists and those tackling the trade in illegally killed animals. Most of the problems tend to come from foreign specimens. He urges people not to buy taxidermy from abroad and report any suspicions to the WWF. Cook, meanwhile, advises buyers to beware of buying items said to be antique but without the proof.
Fashions are cyclical and the sudden appearance of taxidermy in interior design is an obvious reaction to minimalism, just as that was, in the words of Cook, "a reaction against the antiquated picture of the dusty Victorian drawing room complete with aspidistra and elephant's foot umbrella stand". But part of the resurgence of interest in taxidermy may also be, as Cook puts it, an aesthetic pleasure. She found with taxidermy she could "make a beautiful thing last forever". Mayer admits it can feel "like cutting your mother up" when you make the first incision in a much-loved pet. "I've got a lot of respect for animals, which is why I don't anthropomorphise them. If you are going to mess around with animals you should give them the best possible afterlife."


Taxidermist John Cooper & Sons
The art of taxidermy today remains very much alive, although gone are the days of every town having its own taxidermist. Today's exponents, however, still use the same basic techniques as their forbears. The oldest existing specimen is said to be a rhinoceros dating from the 16th century, but the collector is highly unlikely to come across anything preserved before 1850. Along with the increased interest in antique fishing tackle, cased and mounted fish are now considered highly collectable and although prices have dropped slightly from the dizzy heights reached a few years ago they are now starting to rise again.
The most sought after cases were produced by John Cooper & Sons of Radnor Street, London. The company was started in the 1830's but most of the `Cooper' cases around now date from the 1870's to 1950. Most of the fish were displayed in bowfront glass cases edged with gold line trim and gilt lettering. Occasionally the details of the fish were written inside instead, presumably when insufficient funds were available for the full works! Even if no details exist it is still possible for an expert to date the case as their style changed throughout the years. Early cases had pale blue backgrounds with an abundance of reeds and groundwork. By the 1950's this had progressed to a green backing with a sparse interior. The fish gradually became more heavily painted with every scale accentuated. The trading label along with their address changed frequently and is another helpful factor in dating them accurately. Age is not a particular concern when it comes to value - more consideration is given to the size of fish for its species, the quality of the mounting and the overall aesthetic appearance. Multiple cases and those with original gold lettering are worth a premium. Fish taxidermy tended to be more specialised than other forms and as Cooper's fame grew fish were sent to them from all over the country and although they appeared to have the monopoly other equally good firms were in business. One of these was W. F. Homer, also of London and although examples of their work may be harder to find the search is usually well rewarded as their cases are most attractive. Malloch of Perth also produced excellent specimens, many of which were finely painted plaster casts of trout and salmon often mounted in unique barrel shaped cases. They also produced many of the carved wood game fish earlier this century.
If you are lucky enough to find an old case of fish, but in a damaged and sorry state - do not despair! More can be done to restore these back to their former glory than any other form of taxidermy and unlike many antiques, good quality restoration will hardly detract from its value. A number of auction houses now run specialist piscatorial sales. But beware, this can be shaky ground for the uninitiated. Fakes abound and are sometimes hard to distinguish from the genuine article even for the experts. Buying from a reputable dealer will bring you peace of mind and is likely to be cheaper too.
So what if you land your dream fish and decide to have it preserved for posterity? No problem, although these days it is normally only game or sea fish that are mounted. The most important thing to remember is NEVER gut the fish as this will ruin the whole procedure. Wrap your catch in plenty of newspaper, taking care not to damage the fins and place in a freezer as soon as possible. Once frozen it can safely remain there for several months. Mounting your trophy can be a long process (fortunately giving you a breathing space to save up for the high cost!). The recent world record 1331b eel set up by us took around five months to complete. Much of this is drying time, depending on the size and oil content of the fish and speeding up this process will only produce a poor result in the long term. After defrosting, the fish is cut along the lateral line, skinned out and cured with a preserving solution. Meanwhile a false inside (a mannequin) is carved from styrofoam to the exact shape of the original fish. The skin is then placed around this and left to dry with regular checks made to correct any oil seepage, a particular problem with salmon. When completely dry the skin has to be painted as by this time it will have lost all its colour. This is the really skilful part and sorts out the men from the boys Dulux, in this instance, is not the right medium!) Several washes of colour are applied to make the fish look as realistic as possible. The casing is a matter of personal choice and although the fish may just be mounted on a wooden board it is not generally recommended. A traditional setting in a bow fronted glass case complete with gilt lettering is still the best method and will become an antique of the future, not to mention the pleasure gained of having a permanent record of the big one that didn't get away!


David McKinley





Today's perspective


Today taxidermy in its broadest forms has undergone a welcome transformation. It is now traded globally with collectors seeking historical pieces from Europe North America, South Africa and Australia. Demand appears to be exceeding supply currently pushing prices ever higher.
Internet services and of course EBay have of course broaden both the availability and appeal. Items by both modern day taxidermy exponents such as Mike Gadd and AJ Armitstead and the most famous Victorian firms now fetch thousands of pounds at auction.
The law has also caught up and rightly so with this trade. There are restrictions on the sale and trade of endangered species. The US and the UK, in my opinion have the most comprehensive sets of taxidermy legislation currently in force. Again these can be researched easily and comprehensively on the internet.
My suggestion to those who are seeking to begin to collect taxidermy is firstly:
• To understand the laws governing the taxidermy trade
• Seek out good exponents of the art form
• Make sure that the Victorian items purchased are no infected with insects
• Research both taxidermy dealers and taxidermy collectors on the internet and when confident go to specialist auction, eBay and purchase from private collectors




Wild Birds and the Law


The Wildlife and Countryside Act 1981, Part 1
Definition of a wild bird, and Game Birds
Shooting seasons
Basic protection
Sale of live birds
Sale of dead birds
Exhibitions
Killing and taking birds
Birds in captivity
Attempting to commit an offence
Egg Collections
Licences
Falconry
Fines & penalties
Schedules (lists of birds)
Definition of a wild bird
The definition of a 'wild bird' in Section 27 of the Wildlife and Countryside Act 1981 changed in 2004. A new Statutory Instrument (SI 2004 No. 1487) which came into force on 14 July 2004 means that a 'wild bird' as defined by the Act is now any species which is ordinarily resident in or is a visitor to 'the European Territory of any Member State' (of the EU). Previously, 'wild bird' only referred to birds which occurred in Great Britain. This brings the WCA in line with the EC Birds Directive and makes it illegal to be in possession in the UK of any eggs or birds of any species taken from the wild in another Member State.
Poultry or Game birds (see lists below) however are not included in the Wildlife and Countryside Act. A bird is only classed as bred in captivity if both parents were in lawful captivity when the egg was laid. Game is covered by the Game Acts which fully protect them during the close season.


Basic Protection


All birds, their nests and eggs are protected by law and it is thus an offence, with certain exceptions (see below) intentionally to:
Kill, injure or take any wild bird.
Take, damage or destroy the nest of any wild bird while it is in use or being built. (see time for cutting hedges)
Take or destroy the egg of any wild bird.
Have in one's possession or control any wild bird (dead or alive) or any part of a wild bird which has been taken in contravention of the Act or the Protection of Birds Act 1954.
Have in one's possession or control any egg or part of an egg which has been taken in contravention to the Act. This includes items taken or killed before the passing of the Act.
Have in one's possession or control any live bird of prey of any species in the world (with the exception of vultures and condors) unless it is registered and ringed in accordance with the Secretary of State's regulations.
Have in one's possession or control any bird of a species occurring on Schedule 4 of the Act unless registered (and in some cases ringed) in accordance with the Secretary of State's regulations.
Disturb any wild bird listed on Schedule 1 while it is nest building, or at a nest containing eggs or young, or disturb the dependent young of such a bird.





European Hobby by Mike Gadd. Modern Taxidermist 2005.





Sale of Live Wild Birds and Their Eggs


Unless appropriately licensed it is an offence to sell, offer for sale, possess or transport for sale or exchange:
Any live bird unless listed on Schedule 3, Part I and then only if aviary bred and close ringed with an approved ring as defined by the Secretary of State's regulations. The egg of any wild bird (whether or not taken in contravention of the Act).


Sale of Dead Wild Birds


Unless appropriately licensed it is an offence to sell, offer, possess or transport for sale or hire any dead wild birds (or skin or part of such a bird) other than a bird on Schedule 3, Part II or lll unless the vendor has been registered and the bird marked in accordance with regulations laid down by the Secretary of State.
Birds listed on Schedule 3, Part II may be sold dead at all times, those on Schedule 3, Part III may only be sold dead from 1 September until 28 February.
Game birds may only be sold dead during the open season and for a period of up to 10 days immediately after the end of that season.


Exhibition of Wild Birds


It is an offence to show at any competition, or in premises in which a competition is being held, any live wild birds unless listed on Schedule 3, Part I and ringed in accordance with the Secretary of State's regulations.


Killing and Taking Birds


A number of methods of killing, injuring or taking birds are prohibited. These include gins, springs, traps leg pole traps), snares, nets, bird lime, electrical scaring devices and poisonous or stupefying substances; bows or crossbows, explosives (other than firearm ammunition), any gas or smoke, chemical wetting agent, artificial light, mirror or dazzling device, device for illuminating target or sighting device for night shooting, automatic or semi-automatic weapon (unless it is incapable of holding more than 2 rounds in the magazine), or shotgun with an internal diameter at muzzle more than 1 3/4 inches.
The use of sound recordings and decoys of live birds tethered, blinded or maimed is illegal. It is also an offence to cause or permit such methods to be used. Larsen traps (in which a magpie is kept in a cage) are legal so long as the captive magpie is properly looked after.
It is an offence to use any mechanically propelled vehicle - including boats - in immediate pursuit of a wild bird to kill or take it.
It is an offence for any person to organise or participate in any event where captive birds of any sort are liberated to be shot immediately after liberation, or for a landowner or occupier to permit use of land for such an event.


Birds in Captivity


In addition to the registration requirements for birds of prey and certain other Schedule 1 species (see Basic Protection), it is illegal to keep any bird (excluding poultry) in a cage or other receptacle which is not of sufficient size to permit the bird to stretch its wings freely in all directions. Exceptions to this are if the bird is undergoing veterinary treatment, is in the course of conveyance or is being exhibited: in the latter case the time the bird is so confined should not exceed an aggregate of 72 hours.


Attempting to Commit An Offence


It is an offence to attempt to commit any offence or have in one's possession anything capable of being used to commit an offence.


Exceptions


The most notable exceptions to the above provisions are:
An authorised person (e.g. a landowner or occupier) may kill or take so called 'pest species' and destroy or take the nest or eggs of such a bird. This is permissible under the terms of general licenses issued by government departments.
A person charged with killing or attempting to kill a wild bird, other than one included on Schedule 1, shall not be guilty of an offence if he can show his action was necessary for the purpose of preserving public health or air safety, preventing spread of disease or preventing serious damage to livestock, foodstuffs for livestock, crops, vegetables, fruit, growing timber or fisheries (see licenses).
A person may take or kill (or injure in attempting to kill), a bird listed on Schedule 2, Part I outside the close season.
Anyone may remove and destroy addled eggs but they must not be kept or sold.
Authorised persons may take wild mallards' eggs for breeding, but the young birds must be released into the wild by 31 July. Wild mallard eggs and progeny cannot be sold. Wild eggs must not be taken later than 31 March in England and Wales, or 10 April in Scotland.
Anybody can use nets to take wild duck in a duck decoy which was in use prior to 1954.
Anybody can use a cage or net to take any game bird for breeding, but it remains unlawful to net any bird in flight or on the ground with a net not propelled by hand. An obvious example of this is bird-ringing for scientific purposes, which almost always requires the netting of birds in flight. This activity can therefore only be undertaken by a licensed person.
A person may take a wild bird if he can satisfy the court the bird had been injured other than by his own hand and that his sole purpose was to tend it and then release it when no longer disabled; or he may kill it if he can prove it was so seriously disabled as to be beyond recovery. Sick and injured birds listed on Schedule 4 should be registered with the Department of the Environment or passed to an approved keeper.


Egg Collections


Under Section 1(3) of the Act, egg collectors may be required to show that any eggs in their possession were lawfully obtained. This means that they must either have been obtained under license, or form part of a collection which was assembled prior to 1954.


Licences


Licenses may be issued by government departments to kill or take birds and/or eggs for the following purposes:
Scientific or educational
Ringing or marking
Conserving wild birds
Protecting any collection of wild birds
Falconry or aviculture
Taxidermy
Preserving public health or air safety
Preventing serious damage to livestock, foodstuffs for livestock, crops, vegetables, fruit,
growing timber or fisheries
Killing a gannet for food on the island of Sula Sgeir
Taking a gull's egg for food
Taking a lapwing's egg for food before 15 April
Licenses may also be granted for the sale of live birds (except those listed on Schedule 3, Part I) and the sale of dead birds or their parts; for scientific examination and photography of a Schedule 1 species at its nest and for the public exhibition or competition of birds not listed on Schedule 3, Part I.


Falconry


Falconers can obtain a quarry license to take wild birds with birds of prey, for example taking a skylark with a merlin. This is not necessary to take game birds, but a game license must be obtained from a post office. Schedule 2 birds may also be taken without a quarry or game license under certain circumstances- under a general license when causing serious damage to agriculture or for the purpose of conserving wild birds.


Fines & penalties


The maximum fine that can be imposed in respect of a single bird, nest or egg receiving ordinary protection is £1,000. For offences involving a Schedule 1 species or an illegal method of killing (e.g. poisoning) the maximum is £5,000. In recent years these fines have been rarely applied, but on a few occasions there have been very heavy fines or even imprisonment applied for offences under this Act, in particular for egg-collecting which has been very proactively prosecuted.



Some interesting financial information to consider


We have been following the resurgence of this Taxidermy over the last 18 months following the disposal of the Jamaica Inn collection. Prices have been steadily creeping ever upwards. Recent review of the situation has provided an insight into this. Data has been collected over this period from EBay, Auction houses and collectors selling to collectors. Some 126 cases (Ward, Cooper, Gardner, Spicer), etc, etc, have been disposed of that we know of giving a sale total of £85,332. This equates to an average price per taxidermy case now selling for £677.23, which in our opinion is perhaps the highest average cost per case seen in recent times.

We have no American data to compare this trend and this does not include the sale of the collection of Taxidermy @ Jamaica Inn, which fetched some £475,000

There has also been the suggestion that due to increased demand for this subject, items are becomming increasingly rare to find. Whilst this is true, it is our opinion that taxidermy cases are not rare, just currently unavailable for purchase.
Limited discussions with some taxidermy collectors on a confidential basis, shows that in our some circle, there are some 4000 cases in private hands, let alone those people we do not know and specimens that reside in museums and the like. The Victorians were certainly prolific in their output.
I am always interested in facts associated with Taxidermy. I am currently composing a document which compares prices of taxidermy collection that have sold recently. Whilst this is of limited value currently, in a few years time it may prove valuable when considering the inevitable "trends" in fashion. I wonder say whether taxidermy will be a valuable in 15 years time as it appears to be today. If you have any data which you may feel is suitable for research then please send it either to Taxidermy4cash.com or Victorian-taxidermy.com, we would be very pleased to receive it Many thanks for your time.



Walter Potter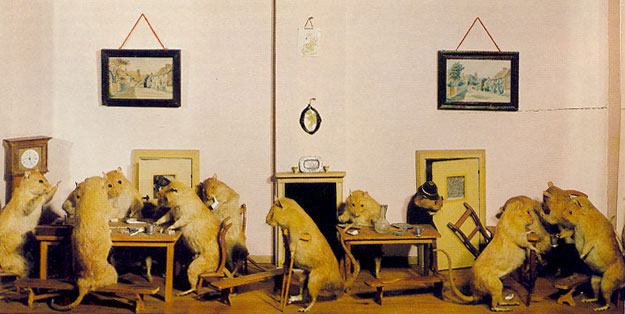 Rats by Walter Potter. Victorian case



Arguably the founding father of Victorian Taxidermy, Walter Potter was born on July 2nd 1835 in the village of Bramber near Steyning in West Sussex.
Very little remains of this today and the actual site is now a house. No plaque commemorates this man's taxidermy achievements in this art form. Walter is possible most famous for the "The Death and Burial of Cock Robin". (23rd September 03 The Victorian Taxidermy Company ltd successfully purchased this most important case following the dismemberment of the Jamaica Inn collection)
The Cock Robin tableau attracted much public attention that encouraged Walter to pursue his hobby and produce further tableaux depicting groups of animals behaving as though they were tiny humans. Potter quickly became the leading exponent of this kind of taxidermy and his collection expanded sufficiently to require a special building that was constructed across the road from the Inn, now a public car park. . The collection was moved to Brighton where it opened for its 112th season and then it was relocated again to the Old Post Office in Arundel where it remained for some 15 years, prior to its final museum resting place at Jamaica Inn. The dispersal (Globally) of this art form took place on 23/24th September 2003 by Bonham's, achieving some £475,000 approximately at auction. I wonder what old man Potter would have made of this had he been there.?.



Sometimes the Victorians got it wrong


The public's enthusiasm for such displays was huge and the need to impress often led to faux pas. In Britain, for example, a fossilised spike from an iguanodon's nose was famously exhibited as its big thumb. The Victorian Museum was a place to experience awe, education, titillation and man's power over nature. Exhibits became trophies and were displayed as such. The most popular exhibits in the Dublin museum are the fossilised skeleton of the extinct giant Irish deer, which is higher than a horse and with antlers as wide again, and the skeleton of a blue whale. Suspended from the ceiling, this runs almost the full length of the hall. What is striking about this natural history collection is the unnatural nature of it. Victorian taxidermists would probably never have seen most of the animals alive, so they had to use their imaginations in striking poses. Some of the results are bizarre.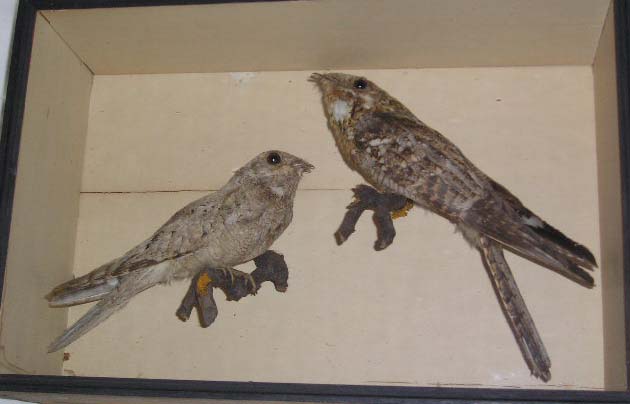 Nightjars






What Price Natural History Collections, or 'Why do we need all these bloody mice?' by Charles Pettitt, Manchester Museum [publ. 1991 in Mus. Journal 91 (8): 25-28]


The Under-valuation of Natural History Collections
'Why do we need all these bloody mice?' is a question once asked by the leader of a large local authority on a visit to the research collections of a major museum. In many ways this sums up the attitude of most politicians. The attitude of the public, on the other hand, is encapsulated in the words of a car sticker, 'Preserve wild life - Pickle a squirrel', which surely indicates that the public mistakenly view natural history museums as places haunted by necrophiliacs interested only in dead material. Even some naturalists nowadays fail to recognise the relevance of museum natural history collections.
The use to society of natural history collections is enormous, but too often their value is poorly understood by the public and by politicians. The gradual loss of interest in the world of nature by the scientific community and the public during the first part of this century has progressively downgraded the resources devoted to natural history in museums. Nowadays museum funding for natural history is significantly lower than that for the arts; even fairly insignificant art objects are far more cossetted than any natural history specimen ever is. So why does society considers spending several million pounds for a painting a public benefit, while a few thousand pounds to maintain a natural history collection is seen as a drain on the public purse? Too often people say of large collections 'but what good are they if we can't see them?'; these people fail to understand the enormous value large research collections have as objective data banks with an irreplaceable historical dimension.


The Value of Natural History Collections


We do need those bloody mice! Natural history collections still have a major role to play in many aspects of life today. Studying an outstanding painting or some fine porcelain may convince you that the species that can produce such beauty should be preserved, but it will not help one jot towards combating disease, environmental pollution, or the 'greenhouse effect'. Natural history collections can and do contribute significantly to these and other scientific studies vital to human society and to life on planet Earth.
Art objects tend to have high market values, which most natural history objects at present do not, although the Moa egg recently broken in a Tasmanian museum was valued at £600,000, a respectable figure even compared with current art object auction prices. If, however, one considers the cost of attempting to replace a natural history collection, then its monetary value would generally be astronomical.
Natural history curators are beginning to regard their collections as a unified whole - one collection with many homes. This approach is being fostered in the U.K. by the work of the Federation for Natural Sciences Collections Research [FENSCORE], aided by the increasing computerisation of collection data, and by the establishment of regional collecting policies by groups of curators. However, the full benefits to society of these efforts will be long delayed unless more funding is directed to natural history collection care.
The Biology Curators Group (BCG) is presently campaigning to raise awareness of the importance of the great national resource that the natural history collections in British institutions represent - a resource the vast extent of which is only now becoming apparent through the work of FENSCORE. A comment in the 1989 OAL report The cost of collecting: 'Analysis of the intellectual, social and economic benefits of museum collections must await another study, perhaps a companion study to this one' reveals the need to address the true value of these collections. Later, the report briefly assesses the value of (all) collections entirely in economic terms such as 'turnover of museums and galleries was estimated at £230m in 1985/86 with a value added of £141m' - which makes it sound as if we are running a chain of hamburger bars.


An international asset


Science knows no boundaries; collections are not national possessions but assets of the entire scientific world. The UK holds a significant percentage of the types from other countries, particularly the ex-colonies. In addition those countries rely on us for access to material collected during times past, and we as a nation owe a duty to those countries to treat their material professionally. To discharge this duty we must curate the collections adequately, publicise them and allow efficient access to them. Access includes loaning material. Although the long-standing under-funding of museum natural history has made adequate curation and publicity difficult, a hugh number of international loans of natural history material for research are already made from Britain. However, it is unacceptable that according to Biological Collections UK 300,000 foreign specimens held in Britain are not available for loan, mainly because of financial stringency.



USE OF NATURAL HISTORY COLLECTIONS IN RESEARCH




Underpinning taxonomy

.
Taxonomy is Mankind's oldest profession; it is the alpha and the omega of biological science, from the first naming of newly discovered variation, to the incorporation of all knowledge into a system. Unfortunately taxonomy is so fundamental it often escapes notice or is even disparaged. Not long ago a university vice-chancellor (a biologist himself) pronounced: 'Taxonomy has had its day; hard number biology is what is needed now.' It is dangerous to accept dismissive statements about any branch of science. Taxonomy is not stale or worked out; time and again it has been revitalised: by new data from genetics and chemotaxonomy, new concepts of mathematical analysis such as numerical and multivariate analysis, and by cladistics and molecular biology, to mention only some recent developments.
Non-biologists and administrators often fail to appreciate the necessity for obtaining accurate identification of biological material, or the difficulties of so doing without access to good reference collections. The strange fact is that, even as the demand for assistance with identifications threatens to submerge those able to provide the service, research funders still regard taxonomic work with a jaundiced eye. Ironically, a few weeks after making his pronouncement the vice-chancellor mentioned above appeared in his university's herbarium clutching a handful of leaves from shrubs in the garden of his residence, asking for identification.
The attitudes 'we've done that bit' and 'we have all the identification keys we need, thanks' are prevalent. However, keys can mislead: 'it is not A or B so it must be C' is usually how they are used; but this presupposes that all the possible species are in the key, while 'it' might actually be species D! It is important always to confirm identification against a reputable reference collection. More than one PhD student has faced a massive rewrite of their thesis after belatedly identifying correctly the organism studied using a museum reference collection.


Environmental Studies


Many studies in the fields of ecology, evolution, pollution and climatic changes require museum specimens. Provided selective collecting is allowed for, museum collections are logical places for life history studies. Using existing collections for such studies often enables large amounts of data to be accumulated in a short time on such things as fecundity/mortality patterns, host-parasite relationships, estimates of breeding seasons, micro-growth increments (many organisms show growth layers when sectioned, such as the 'rings' of a tree, and these can be used to study past environmental conditions), food pests, life-cycle duration, larval growth pattern, migration (museum collections have been used to locate locust outbreak sites and to track traditional migration patterns), species that mimic other animals, and other polymorphisms, plant fecundity, flowering and fruiting dates, periods of dormancy, and correlations of plant growing sites with rainfall or altitude. Systematics collections provide a wealth of historical information on habitat composition, and on the distribution of plants and animals, that is invaluable to those predicting ecological shifts due to global climate change. For plants particularly, herbarium specimens, accumulated over the past 200 years, remain the most readily available source of information on structural variation and geographical distribution.


Nature Conservation


The Royal Society for the Protection of Birds (RSPB) understandably discourages the use of bird mounts in public displays. One museum which put on a display to celebrate the recent centenary of the RSPB readily agreed to use a model of an Avocet prepared by an RSPB recommended modeller, in place of a mount; a short time later the modeller 'phoned the museum to request the loan of a mounted Avocet to enable him to make an accurate model. Often it is only by studying bird mounts and eggs from museum collections that artists are able to paint the colour plates in the plethora of bird identification guides used by bird lovers; such artists still account for a large number of loans from the major bird collections.
The mapping of distribution patterns of birds, animals, plants and so on, essential to protect the environment, and for the adequate assessment of planning applications, also needs natural history collections; maps of rare and critical species can be reliably prepared only from museum (voucher) specimens. Reliable maps of common species need voucher specimens - particularly for islands. Many erroneous records are found, made by distinguished visitors who record what they expect to see rather than what is there. Vouchers are especially important for introduced species or those from limited habitats, and for ecological surveys. Unfortunately some important recent publications on local authority nature conservation have failed to remark the importance of voucher specimens and reference collections, and have totally ignored the wealth of dedicated nature conservation expertise in local authority museums, and the biological recording initiatives currently active in those museums in practically every county. However, English Nature's recent major report on nature conservation states: 'some provincial museums and universities ... collections also continue to be an important source of reference and data supporting survey and other research'. Two large, and expensive, surveys, one for river valley authority in America and one for an oil company, failed to preserve voucher material in a permanent collection. Both surveys were carried out by recent graduates with little taxonomic experience, and their findings have since been successfully challenged; without the voucher material these surveys were largely a waste of money. But accessioning and maintaining voucher collections costs money, and, as is now generally the case in America, such costs should be built into survey funding .


Biochemistry and the historical dimension


Objects can contain undiscovered or potential information, the need for which may not yet even have arisen. Natural history collections should be regarded as 'scientific data in waiting'. After nuclear devices were tested in the Pacific, there was much concern about radioactive contamination of the environment, especially of resident plants and animals. But how could anyone guess what were the levels in these organisms before the tests? Specimens in collections provided the answer. Other researchers needed dated samples of earth for heavy metal analysis; the only source they could find was the earth adhering to herbarium specimens. The effect of pesticides such as DDT on the thickness of the shells of eggs of birds of prey was only shown because of the existence of well-documented egg collections. With new techniques the DNA of long-dead specimens can be sequenced, such as that from the Quagga (an extinct horse), from Mammoth remains, and the DNA from a 20 million-year old magnolia leaf. The chemistry of feathers has shown past levels of environmental mercury, and can also establish the probable origins of bird specimens. Current concern with tri-butyl tin antifouling paint on boats required pre-1950 samples of the dogwhelk to study the long-term effects. Research at Manchester Museum has shown that the shell of the common winkle can be used to establish an accurate measure of some critical levels of radioactivity in coastal waters. The work required dated and localised winkle shells from the past 50 years to establish historical levels; these shells were provided from museum collections in the region.
The broad aspects of the study of evolution depend upon carefully assembled scientific collections for data, comparative analysis, and verification. Classified museum specimens are essential for studying the relationship between different groups of animals, variation within a single species and between the sexes, variation with climate, latitude, and with isolation on islands, character displacement, niche-variation hypotheses, and predator-prey relationships. This last involves identifying dismembered and partly digested stomach contents, which cannot easily be done without reference collections to compare the remains with.
The study of museum specimens can suggest hypotheses which are later tested by field observation, for example, crest and facial markings of Stellar's Jays suggested an hypothesis about communication which was then tested and proved in the field. Alternatively field observations often need museum specimen follow up, for example, the elucidation of sonic communication in baleen whales required a study of the anatomy of their larynx using museum specimens. Other studies include Felidae (cat family) skulls used to study brain evolution in carnivores; mounted mammals used for identifying casts of footprints from game and nature reserves; a host-parasite study using follicle-mites from pocket mouse specimens; estimating litter-sizes from nipple number in small marsupials.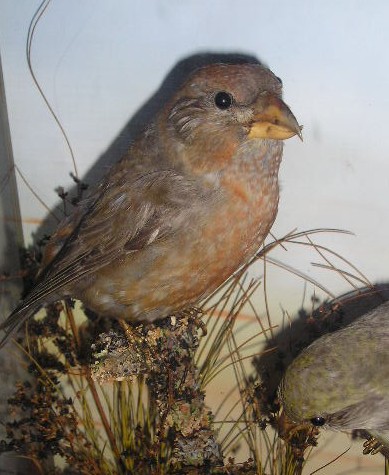 Victorian case of Male Crossbill in close up by FC Waters of Aboyne, Aberdeenshire.




Archaeology and Ethnology


Identification of bone, shell and insect fragments from archaeological burials and excavations, to assist the correct interpretation of the site. Ethnologists also require bits and pieces of feather, fur, skin, bone, shells and botanical material such as gourds identified in human artifacts. These identifications would be impossible without extensive reference collections.


Historical studies


Collections can yield information of importance in historical studies. The collecting data attached to specimens collected during expeditions and campaigns has assisted in fixing other historical events in sequence. The history of anatomical preservation, and of taxidermy, can only be studied using museum specimens.



USE OF NATURAL HISTORY COLLECTIONS BY SOCIETY




Education


The museum's medium is the object; the object is the museum's message (pace McLuhan). Museum exhibits, lectures and publications in natural history are popular, and fortunately they are also widely regarded as contributions to society valuable enough to justify the costs of museums. Unfortunately the delivery system (galleries and catalogues) attracts most of the support, while the creative source of the goods delivered (curatorial research) receives small encouragement. But without research only a partial and inaccurate interpretation of the specimens is possible. Nowadays most museums fulfil the education role with reasonable success; ecological displays help explain the diversity of the life forms that sustain us, show the major patterns of geographic dispersal, and demonstrate the interrelationships between organisms. Natural history specimens are used for school loan services, and provide a range of specimens for identification in biology examinations at all levels. A numeracy centre used shells borrowed from a museum to illustrate to disadvantaged adults how the mathematics of spirals occur in nature. The tent markings on venerid bivalves and olive and volute shells have been used in an artificial intelligence study.


Law Enforcement


'Aiding the police in their enquiries', museum reference collections can identify hair as human or non-human, can tell the age and race of an unearthed human skull, accurately identify hairs as evidence in prosecutions over badger hunting, and identify pollen grains or grass fragments for 'scene of crime' forensics, all of which can only be done with the authority of a reference collection. Collections also help customs officers keep our green and pleasant land unsullied by illegal animal and plant imports: powdered keratin from rhino horn, horn or ivory objects, or pelts and leathers - often as made up goods. Sometimes only a tuft of feather or hair, or a small piece of skin is available, and without considerable expertise backed by extensive reference collections the task of positive identification would be impossible. The public is usually quite unaware of this activity. Without it, the legislators could legislate about the control of export or import of animals and plants until they were blue in the face - but to little effect.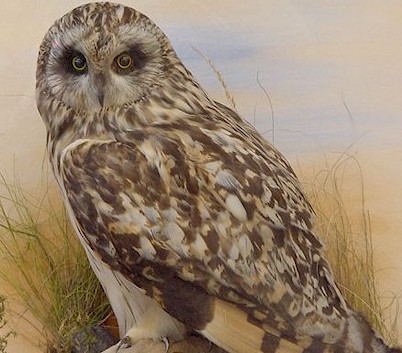 Simply stunning Short Eared Owl by Mike Gadd





Medicine and Health


Another success story for natural history collections: environmental health officers with their mangled, cooked or partially digested animal remains - a snail in a can of peas, a slug in raspberry jam, or the cat bones in a tandoori curry - all need careful identification plus expert opinion upon where the 'foreign body' entered the process, often with legal proceedings pending; usually such identifications can only be done using reference collections. These officers also rely heavily on their local museums for help identifying infestations. A large reference collection is needed to assist the rapid identification of accidentally ingested toxic plant material, to enable the medical team involved to apply the appropriate, sometimes life-saving, treatment.
A dental professor, studying cleft palate in humans, made considerable use of crocodile skulls. Another dental researcher used samples from the legs of dated water bird specimens in studying historical levels of fluoride. Near-Eastern hamster specimens were used in a medical study on toxoplasmosis. In America mammal collections have yielded information on Chaga's disease and haemorrhagic fever. The control of other diseases - bilharzia, bubonic plague, schistosomiasis, malaria and river blindness - all depend on very precise identification of the animals transmitting the disease, using reference collections. Psychiatrists regularly use specimens of birds, bees, butterflies, small mammals and so on from museums for the treatment of phobias; by controlled gradual increased exposure to the specimens, patients learn to control their irrational fear of the living animals.


Commerce


Advertising agencies and television companies borrow material for use in the background of 'shots',and, as mentioned above, most of the highly popular colour-plate nature books are almost entirely illustrated using museum specimens. Another unusual commercial use of the biological collection was illustrated by the college of textiles students who used shells as inspiration for designing a cloth, which won a prize. Then there were the industrial design students who used armadillo skeletons as the inspiration for 'comfort chairs', and the top yacht designer who spent much time studying tunnyfish specimens as an aid to designing faster yachts. The next generation of airliners will have less drag because the designers studied preserved shark skin, and have copied the surface structure that makes the shark such an efficient swimmer. A lecturer in a university engineering department routinely instructs students who need to solve a novel engineering problem to go and find an animal which has already solved it; the museum collection often provides the answer. Isambard Kingdom Brunel is said to have gained inspiration for designing the tunnelling shield from examining museum specimens of the shipworm Teredo. Following planes hitting birds, airlines have required feather fragments from aeroengines identified by museums to determine the species responsible. Herbarium specimens are used in researching new fragrances, and in the search for new drugs.


Agriculture and Fisheries


Crop pests can be studied in part by examining pest-damaged material in herbaria (galls, etc); potential control organisms for weeds can be identified by studying 'habitat' details of insects as recorded on museum labels. The prickly pear invasion in Australia was successfully controlled following a study of this kind. Insect pests, and suspicious weeds and seeds, all need the collection for reliable identification. Otolith (ear-stone) collections give information on the historical age distribution of populations of fish and whales, and the results can demonstrate whether the stocks are declining.


Acknowledgement


Every point made in this article is backed by a published reference or personal knowledge; over 150 relevant papers and reports, all published in the last fifteen years, have been abstracted while preparing the article, and much useful information has been provided by colleagues in the Biology Curators Group. Space precludes individual acknowledgment, but I thank all those upon whose work and knowledge I have drawn. Glossary Character displacement: a process of gradual change which can lead to divergence of shape between two closely related species living in the same area but occupying different niches (q.v.) Chemotaxonomy: using DNA studies to assist taxonomic (q.v.) classification of plants and animals. Cladistics: A system of logic used for assessing the relationships of animals and plants. Cytotaxonomy: using chromosome studies to assist taxonomic (q.v.) classification of plants and animals. Ecological survey: a survey of the plants and animals occuring in a defined area, to determine the biological nature and importance of the site. Entomology: The study of insects. Key: A sequential list of comparisons intended to allow the identity of a plant or animal to be determined. Keys are generally restricted to a given area; a key to the marine shells of Norway would give erroneous results if used in the Mediterranean. Multi-variate analysis: Computer analysis of many different measurements at once allowing a group of animals or plants to be divided into sub-groups on a statistical basis, thus helping to establish the taxonomy (q.v.) of the group. Niche: The place of an animal in its environment, its relation to food and enemies, and to physical factors such as heat, light or moisture. Polymorphisms: Different forms of the same species, such as the Peppered moth with a light coloured form predominating in the country, and a dark form predominating in smoke-blackened cities. Taxonomy: The systematic distinguishing, ordering and naming of plants and animals according to their natural relationships. Toxoplasmosis: A disease of the central nervous system, especially in infants, caused by parasitic micro-organism Toxoplasma. Type: The specimen from which an author originally described a species of plant or animal. Charles Pettitt is Keeper of Invertebrate Zoology at Manchester University Museum. He is vice-chairman of FENSCORE, and a member of the MGC expert group on standards of care for biological collections.



Taxidermy in Victorian England: The "Bone Articulators"


by Steven Ripley "Taxidermy" is Such a Funny Word!

The word "taxidermy" has its roots in Greek, and it means "to arrange skin" (Historical Review of Taxidermy 1). The text from which I found most of my material (A Historical Review of Taxidermy) stated that taxidermy could have meant many things in ancient times, such as preserving mummies, or even leather working (arranging of animal skins) but by the time it reached England it was known quite solely as the arrangement of animal skins to represent life (1).
A Compressed History
Taxidermy was then not the art that we know today. In its earliest days (18th century) birds were especially difficult to reproduce. After the long and tedious procedures, specimens were often unrecognizable. This changed with the ideas of a Frenchman named Becoeur (1718-1777). He was the first man to use a paste containing arsenic to preserve bird skins and his methods reaped amazing results. You could actually tell that the specimens were birds. Becoeur never published his recipe during his life so that he might protect his business, but in 1820 a French taxidermist named Louis Dufresne (1752-1832) did. This was a landmark in the history of taxidermy, for it allowed many people to be able to create life-like specimens very similar to Becoeur's (3).
The British read Dufresne's books, and thus much of their taxidermy mimicked the French styles for a time. However, new styles and methods of preservation began to appear, such as the non-poisonous preservative formulae developed by Rowland Ward (1848-1912) and Montague Brown (1837-1923) in the mid to late 19 th century (4).
For the first half of the 19 th century, taxidermy was still trying to become established. The difficulty owed much to the fact that the art was still being perfected. Most specimens from this period were rather stiff and un-lifelike in appearance. The idea of creativity combined with taxidermy had not yet taken flight, but this changed with the Great Exhibition in London in 1851. This show exhibited some of the first "creative" "taxidermical" (coined by me) works of art; the particular works created by John Hancock of Newcastle especially grabbed the attention of the judges. Hancock's works, such as his tableaux of a falcon grappling with a heron, were " unsurpassed at the time for their quality and realism" (5). A judge commented that they "... will go far towards raising the art of taxidermy to a level with other arts which have hitherto held higher pretensions" (5).
Taxidermists began to flesh out their own styles, so much that even the wooden cases became highly definable; a certain taxidermist could often be recognized simply by his casing. Birds, mammals and fish were generally placed in glass cases in recreations of the habitat in which they were taken from. In general, the front and sides of the case were glass, although some had glass surrounding the entire case. Sometimes a watercolor painting would be created as a backdrop for the animal (8).
Anthropomorphic Taxidermy and other Oddness
After the 1851 Great Exhibition came the style known as anthropomorphic taxidermy, which means the representation of animals performing human activities. This includes a very famous reenactment of the Death and Burial of Cock Robin, the first work of the famous taxidermist Walter potter. It included 98 different specimens of birds, from the sparrow with his bow and arrow, and the owl who performed the burial. Much of this style can be attributed to the works of Potter. While he was not the first man to create such tableaus, he was definitely the most well known. Until recently, many of Potter's works were on display to the public first in a museum in England, and then (after an auction) a place called Jamaica Inn. Very few of the works still remain in England, and recently another auction was held at the Jamaica Inn. All of the works were sold to private collections.
Taxidermy in Victorian Life
Victorians were quite enraptured with taxidermy; it became a quite popular hobby of many people to collect different types of animals and form their own collections. Tropical birds were exceedingly popular in Victorian homes (8). Queen Victoria was an avid collector of birds, and sported a large collection in her own home (Bee 5)
Having pets "resurrected" was another aspect of Victorian taxidermy; something still occasionally demanded of taxidermists today. Rowland Ward wrote (in 1912): "Today the preservation, in one form or another, of departed pets, is as popular as it ever was, and it is little to be wondered at that it should be so. An animal that has been a faithful friend and companion to man during its lifetime, may in this way claim a fuller recompense in death than mere burial and subsequent oblivion" (12).
Did You Know?
Charles Darwin (after leaving school) became skilled as a taxidermist.
Queen Victoria kept her own collection of stuffed birds (Bee).
Many Victorians had their pets stuffed or mounted and hung on their walls .
Victorians often stuffed "freaks of nature": deformed animals, namely.
Anthropomorphic taxidermy has been attributed to Victorians' repressed sex drive.
Beatrix Potter was writing her stories around the time that Walter Potter was making his "art." Is there a connection between the writing and the taxidermy?
The oldest surviving example of bird taxidermy, so far as is known, is the Duchess of Richmond's African Grey Parrot (which can be seen in Westminster Abbey, London). The bird died soon after its mistress in 1702 and X-rays show that it was preserved by the primitive methods described in the eighteenth century. It was never fully skinned and the skull, tongue and trachea are still intact, along with the entire skeleton. Its survival must be due largely to the conditions within the Abbey, which are unsuited to insects. Few specimens prepared before the 1790s are still extant" (4).
Works Cited
"Dr. Hugh's Pastime: The Dark Side of Victorian Taxidermy." Heliograph Designs. 13 March 2005.
Bee, Shira. "Memento Mori Animalia." Morbid Outlook. 13 March 2005
"A Historical Review of Taxidermy." Victorian Taxidermy Company Limited. 7 March 2005. < http://www.victorian-taxidermy.co.uk>
"Charles Darwin and the Victorian Crisis of Faith." University of Bradford Online. 13 March 2005.
"Walter Potter of Bramber West Sussex." Taxiderm4cash.com. 13 March 2005
"The Great Exhibition of 1851." Taxiderm4cash.com. 13 March 2005
Yakula, Johanne. "Decorating 'Victorian Style.'" Front Times Past. 15 March 2005
Nice article Steve, keep up the research.


Countdown to Extinction



By the end of the century one in 10 species of birds in the world will be extinct and a further 15 per cent will be on the brink, according to one of the largest studies of avian biodiversity. It is estimated just over 1 per cent of bird species have become extinct in the past 500 years but habitat loss, disease and climate change will accelerate that tenfold in the next 100 years.
Stanford University in California found that the loss of birds will not only have an impact on other wildlife but could also increase the risk of disease hitting the human population. The report cites the recent decline of three species of Indian vulture, caused by the widespread use of a veterinary drug by local cattle farmers. The decline led to an explosion in the population of feral dogs feeding off dead cows, leading to 30,000 cases of human rabies a year.
"Our projections indicate that, by 2100, up to 14 per cent of species may be extinct and one in four may be functionally extinct, that is critically endangered or extinct in the wild," said Cagan Sekercioglu, who led researchers in the study. "Even though only 1.3 per cent of bird species have gone extinct since 1500, the global number of individual birds is estimated to have experienced a 20 to 25 per cent reduction during the same period," he said.

A total of 11,046 species of plants and animals are threatened, facing a high risk of extinction in the near future, in almost all cases as a result of human activities. This includes 24 percent (one in four) of mammal species and 12 percent (one in eight) of bird species. The total number of threatened animal species has increased from 5,205 to 5,435. Indonesia, India, Brazil and China are among the countries with the most threatened mammals and birds, while plant species are declining rapidly in South and Central America, Central and West Africa, and Southeast Asia. Habitat loss and degradation affect 89 percent of all threatened birds, 83 percent of mammals, and 91 percent of threatened plants assessed. Habitats with the highest number of threatened mammals and birds are lowland and mountain tropical rainforest. Freshwater habitats are extremely vulnerable with many threatened fish, reptile, amphibian and invertebrate species. "Given the momentum of climate change, widespread habitat loss and increasing numbers of invasive species, avian declines and extinctions are predicted to continue unabated in the near future," he added. The study involved analysis of all 9787 species of birds alive today, and of the 129 species that have gone extinct recently, to produce one of the most comprehensive databases ever compiled into the state of one class of animals.
Using a computer forecast, based on present rates of decline, the researchers found that just over one in four species is now prone to extinction and 6.5 per cent are "functionally extinct". A quarter of fruit-eaters and omnivores are in danger, along with a third of herbivores, fish-eaters and scavengers. In the worst-case scenario put forward in the study, published in the journal Proceedings of the National Academy of Sciences, the researchers predict that threatened bird species will increase by 1 per cent each decade.
"These assumptions are conservative, since it is estimated that every year natural habitats and dependent vertebrate populations decrease by an average of 1.1 per cent," the study said. Gretchen Daily, a member of the research team, said it might be difficult to imagine how the loss of a particular species of bird can cause an outbreak of human disease. "Yet consider the case of the passenger pigeon. Its loss is thought to have made Lyme's disease the huge problem it is today. "When passenger pigeons were abundant and they used to occur in unimaginably large flocks of hundreds of millions of birds, the acorns on which they specialised would have been too scarce to support the large populations of deer mice, the main reservoir of Lyme's disease, that thrive on them today," said Professor Daily


Some recent departures, never to be seen again


Layson Honeyeater Himatiore sanquinea Extinct since about 1923 when the last 3 specimens were seen by the Tanoger Exhibition of the US Biological Society. Several searches were made in the 30s and 40s, but no further birds were found. Their extinction was a result of habitat destruction resulting from the introduction of rabbits to Layson Island in 1903 for commercial reasons. The birds (redbirds as they were known) were endemic to Layson Island.
Ula-Ai-Hawane Aridops anna Extinct, an endemic to the island of Hawaii, the last specimen was caught on 20 February 1892 on Mount Kohala. This was a small finch-like bird predominantly black and grey in colouration, with a reddish rump. It lived in mountain forests.
3 species of Psittirostra (palmeri, flaviceps and kona) are presumed extinct - another 2 (P. psittacea and P. bailleui) are extremely rare and endangered. All have extremely solid, large seed-cracking beaks. For P. palmeri the last reliable record is in 1896. It was found only in Koa forests of Hawaii at about 4000 feet elevation. It was the largest of the group measuring 8.5 inches long. The bird was easily recognised because of its colourful plumage, the male had a orange head, olive back, pale orange rump and yellow breast and belly - females similar except head yellow and back greener.
P. flaviceps. Extinct, another endemic to Hawaii, the last specimen was seen in October 1891. Physically the bird was similar to P. palmeri but smaller lived on the same Koa forests. It fed on seeds.
P. kora Extinct last seen in 1894 when they were already rare and restricted to an area about 4 miles square on the island of Hawaii. They were known to feed on the dry fruits of the Bastard Sandalwood trees. They were about 7 inches long, olive-green with a very large bill.
Drepanis pacifica Common mamo Extinct, last seen in 1898 at above the town of Hilo in Hawaii. An attractive bird with a long thin downward curving beak. Trapped regularly by the natives for its feathers. It is however likely, that as with the other species in this group, that habitat destruction, introduced predators, and disease were primarily responsible for its extinction. Feathers almost entirely black except for a few yellow feathers on rump, wing and under-tail coverts. Fed on nectar.
Drepanis funerea Extinct = Black mamo = last specimen taken in 1907. Confined to the island of Molokai. Similar to the above D. pacifica except no yellow and with a hint of grey on the outer edges of the primaries. Fed on nectar. Introduced brown rats and mongooses are the presumed causes of extinction.
Passenger Pigeon, Ectopistes migratorius Description about 12 inches long and typical pigeon shape and colours and rump and upper tail covets Bluish Grey, Upper back with some iridescent remiges lower back and wing covets brownish grey, Secondaries browner grey, primaries similar to secondaries but with a clear white edge. Tail feathers white except for the middle 2 which were grey. Breast cinnamon-rufous in upper parts becoming paler on lower. Bill black, feed red, eyes orange. Wing length 196-214 mm tail 173-211 mm. This bird lived mainly in deciduous forests in what is now mainland USA exhibiting a North/South migration every year with the summer northerly limit being southern Canada, Manitoba, Ontario and Quebec and the southern limit being Appalachians in north Virginia SW to northern Mississippi. Winter northerly limit was Indiana, Pennsylvania and Massachusetts normally, and southern limit being the Gulf of Mexico though stray birds were recorded in Bermuda and even Europe. The most unusual thing about this bird was its colonial nesting and the huge flocks it used to migrate in. Reasonable estimates suggest 2000 million birds in one flock so the populations in N. America was not small. The population appears to have undergone periodic fluctuations with some years of excessive numbers where nesting sites were measured in hundreds of square miles and years in between of less extreme numbers. Insufficient data are available to explain these fluctuations but they undoubtedly contributed to the ease with which this once extremely numerous bird was extirpated. Last specimen (Martha)died on September 1914 in Cincinnati (Ohio) Zoological Gardens. The last certified wild specimen was taken between September 9-15 1899. The bird was a herbivore, feeding mostly on oak and beech mast as well as seeds and fruits of other deciduous trees. It only ever laid one egg per season in captivity, though there are reports of it laying two eggs per nest at least occasionally in the wild.
The Great Auk, Alca impennis Last known specimens killed at Edley Rock, Iceland in 1844. This was a large flightless seabird feeding on fish and eels and nesting on a number of rocky islands in the north Atlantic particularly Gunk Island where the last known breeding colony was exterminated between 1785 and 1841. The birds were killed by seamen for food and by fishermen for food and for use as bait. The largest of the Auks, Great Auks measured about 30 inches (75 cm) long with a black head and back and white front. The bill was large as in all Auks and their feet webbed, they had a white spat before the eye on either side of the face. Wings dark brown with secondaries having white tips. Eye chestnut. The white spat was only present in summer and the dark brown/black of the chin and throat are white. Breeding probably occurred from May-July when the female laid one egg, incubation took about 30 days - we really know very little about it.
Bonin Wood Pigeon, Columba versicolor Extinct since 1889. Last specimen taken on the Japanese Island of Nakondo Shima. A pale wood pigeon with a metallic golden-purple back and head, green neck and rump. Feeding and ecology similar to most wood pigeons. It was endemic to just a few islands in the Baum Island archipelago south of Japan, Nakondo Shima, Peel Island and Kittlitz. It is believed that habitat destruction was the main cause of extinction.
Tahitian Sandpiper, Prosobonia leucoptera Extinct since probably the late 1700s early 1800s,this species was/is known from only one specimen in a museum in Leyden, Holland. It was a small 7 inches long dark brown bird turning rusty on lower portions. It was an endemic of Tahiti and Eimes and apparently frequented small streams. It is believed that it was the introduction of rats and pigs to the islands where it lived that caused its demise.
Crested Sheldrake or Shellduck, Tadorna cristata Extinct (probably), last seen 1916 when a specimen was taken near Fusan, Korea. Searches in more recent years have failed to find any other specimens. It is not known what its full range was, it was known from Korea and Japan and was painted by Japanese artists. It is supposed to have bred in eastern Siberia. Similar in size to the common shellduck/drake (Tadorna tadorna) it had a distinctive head, green on top and grey below in the male and black on top whitish below in the female, otherwise it had a green lower need and upper chest, the rest of the chest, the back and the belly being dark grey otherwise similar to a common Sheldrake (That was the male). The female differs by having a black ring around the eye. No opinions have been offered that I know of to explain its extinction though hunting must be a prime candidate.
The Cuban Red Macaw = Guacamayo = Ara tricolor Now extinct, it was last seen in 1864. an endemic to Cuba, it was small, 20 cms long, mostly red and yellow with some blue and purple. They lived in the vicinity of the Zapata Swamp and nested in holes in palm trees. Though the natives were believed to eat them no reasons are recorded for their extinction.
Guadeloupe Island Caracara Polyborus lutosus Last seen 1 December 1900 this was a large brown hawk endemic to Guadeloupe, it had a black head and a grey tail and is believed to have descended from Polyborus prelutosus. It was a generalist predator and fed on anything that was available from insects, worms and shellfish to small birds and mammals. The natives bred goats and believed that the birds killed the kids so for this reason the natives hunted it ruthlessly. In the 1800's guns and poisons became easier and cheaper to acquire and gave the natives the ability to exterminate the birds. This is one of the few, if not the only case of a bird species being deliberately brought to extinction. In this case it is perhaps ironic that the goats its extermination was designed to protect were an introduced species already doing considerable damage to the environment.
Mysterious Starling Aplonis mavornata This extinct bird is known on from one specimen in the British Museum. Nothing is known of it except that it was probably collected on one of Captain Cook's voyages. It is not even known which Pacific Island it lived on, though now it is found on none.


ITEMS WANTED. Please respond via this on-line form HERE with a description of what you have for sale.



[HOMEPAGE]





Taxidermy Links. Please double click on the Taxidermy link icon below.