Taxidermy
Taxidermy4Cash.com
---
John James Audubon

We often get asked to recommend Taxidermy information to our friends , and as a consequence of this the website seems to have develped a life of its own. We also offer web hosting, a search engine submission service and increasingly one of the larger article resource banks on the net. So if your keen to learn about Search engine optimisation etc, then you know where to look. Interested why not read a few of our Domain Resources articles. We are always interested to here about new resource, if you feel a resource should be listed here then please contact us.

We are interested in Purchasing Victorian Taxidermy, please respond via this on-line form of what you have for sale. HERE


Victorian Taxidermy, a Historical Perspective
John James Audubon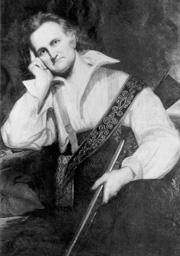 John James Audubon, Bird Artist of America. (1785-1851)


To understand the Ward's influence on Victorian Taxidermy in many Countries you first have to understand where Henry Ward got his inspiration from. That inspiration came in the form of John James Audubon.

Audubon was born in the French colony of Santo Domingo (now Haiti), the son of Captain Jean Audubon, a French sailor and adventurer, and one of his mistresses, Jeanne Rabine, a French chambermaid / slave, who died six months later. According to his birth records, John Audubon was born jean Rabine on a plantation in Les Cayes, Haiti, in 1785. Growing up in America, Audubon quickly fell in love with the eastern Pennsylvania countryside and its animals, often roaming the woods and fields incongruously wearing satin breeches and silk stockings. His father had purchased the estate so his son could live in America and avoid conscription into Napoleon's army. Only 18 years old at the time, Audubon set out to paint natural scenes in the Pennsylvania countryside he became an enthusiastic and skilled hunter, both for sport and for his art. He collected all kinds of wildlife specimens, which he both preserved and sketched in attic rooms at Mill Grove. Audubon was educated in France and came to the United States in 1803. About this time his father died, leaving him an estate in France and the sum of $17,000.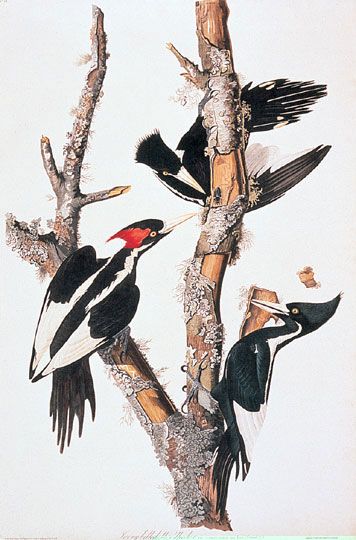 American Ivory Billed Woodpecker by Audubon, taken from his Elephant Book.it would appear that these birds have been rediscovered in Akansas, which is fantastic news.






At the age of twenty, Audubon left Amercia for a year with his family in France, where he rendered birds in pastel. He also gained his father's approval to marry Lucy Bakewell, daughter of William Bakewell, an Englishman who owned Fatland Ford, an estate adjoining Mill Grove. His house at Mill Grove became a museum, filled with stuffed animals, and decorated with festoons of birds' eggs, and with drawings of birds and beasts. He became an excellent marksman, and was also at this time quite a dandy, if we may credit his own account
Because he was familiar with the activities of his subjects and used freshly killed birds wired in his unique manner, Audubon was able to capture the shapes, textures, plumage, colors, and typical positions of his birds more accurately than other artists.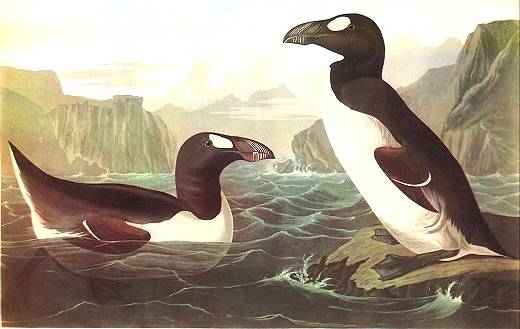 Great Auks by Audubon, taken from his Elephant Book.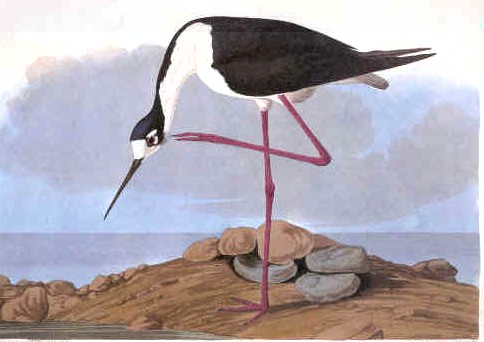 Long Legged American Avocet by Audubon, taken from his Elephant Book.




At age 35, Audubon embarked on The Birds of America, producing 435 hand-colored engravings and publishing double elephant folios (1828-1838), followed by a smaller, octavo-sized, version. Audubon set out on the imposing task of observing, collecting and painting all of the known bird species in America. He took his bird paintings to a publisher in Edinburgh, Scotland, and they were printed in Birds of America between 1827 and 1838, with the text, Ornithological Biography, appearing in five volumes between 1831 and 1839. William MacGillivray, a Scottish naturalist, collaborated with Audubon on the text and supplied most of the scientific data. Audubon had completed more than 400 paintings by 1838. Audubon used watercolor and pastels to capture the images of 1,065 birdsbr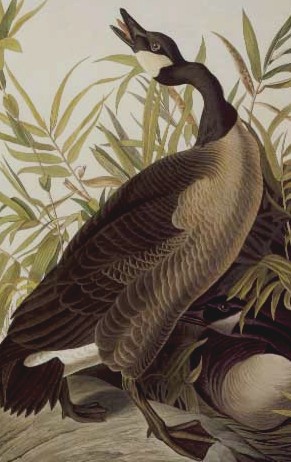 Canada Geese by Audubon, taken from his Elephant Book.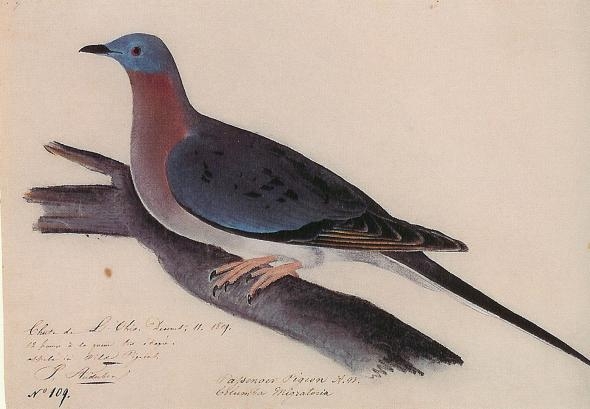 Male Passenger Pigeon by Audubon, taken from his Elephant Book.




The first artist to portray birds consistently in life size, Audubon employed different formats for small songbirds than for larger hawks, owls, and shorebirds. He varied his approaches-- nearly a decade apart-- to portray the great American white pelican. His first version emphasized the bird's ungainly appearance on land with its short, thick legs, large feet, flattened body, and small head supporting a huge, broad bill. (The V-formation of pelicans soaring in the distance suggested their grace in flight.) Attracted to the species by its "gravity and stateliness," Audubon apparently concluded that this image was too undignified and never printed it. Instead, he executed a second version, a majestic profile, which accurately recorded the subtly different shades and textures of the pelican's plumage and anatomical structure. This image debuted in The Birds of America. He also invented a skeletal wiring device used to hold birds in realistic poses for Audubon to sketch them.

Audubon spent more than a decade in business, eventually traveling down the Ohio River to western Kentucky – then the frontier – and setting up a dry-goods store in Henderson. He continued to draw birds as a hobby, amassing an impressive portfolio. While in Kentucky, Lucy gave birth to two sons, Victor Gifford and John Woodhouse, as well as a daughter who died in infancy. Audubon was quite successful in business for a while, but hard times hit, and in 1819 he was briefly jailed for bankruptcy.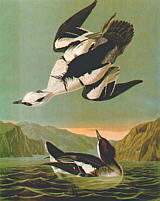 American Smew or more commonly called then a "White Nun" by Audubon, taken from his Elephant Book.




After achieving much success with birds, Audubon set out to draw the animals of America. He did manage to draw many of them, but was not able to complete the huge task. His last big trip was out west to follow the buffalo herds in the 1840's. In 1847 he suffered a stroke, and his health deteriorated.
Audubon settled in New York City with his family and lived at 86 White Street. Audubon purchased property in northern Manhattan from the proceeds of his books in 1839. The 24-acre property extended from 153rd Street to 160th Street and from the Hudson River to what is now Amsterdam Avenue. The property became known as "Minniesland," which was named in honor of his wife's nickname and was also the Scottish name for "mother." Audubon's sons, Victor and John Woodhouse, built homes near their parents' estate on the shore of the Hudson River.Audubon had several animals on his property that he enjoyed to watch and care for. Migratory birds such as hawks, crows and owls made their homes in many of the trees. There were caged otters, martens and muskrats as well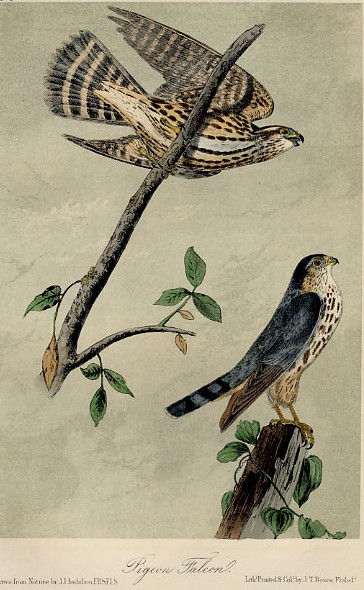 American Pigeon Falcons, which look like Merlins to me. Taken from his Elephant Book. This hand coloured lithograph is from my own collection and is simply stunning



Audubon spent his last years in senility and died at age 65. He is buried in the Trinity Cemetery at 155th Street and Broadway in New York City. The New York Historical Society purchased 430 of the 433 original watercolors from The Birds of America from Lucy Audubon in 1863. The total cost was $4,000. Audubon's images are so valued that Haiti in 1975 commemorated his birth there by releasing a series of stamps and prints that featured his bird portraits
The Audubon society is now an International Society devoted to Wildlife Conservation. Well worth a visit. www.audubon.org


Extinct birds of the world

Arabian Ostrich Lesser Rhea Tasmanian Emu Kangaroo Island Emu King Island Emu Dwarf Emu Aepyornis Slender Moa Greater Broad-Billed Moa Lesser Magalapteryx Pernambuco Solitary Tinamou Magdalena Tinamou Columbian Grebe Atitlan Grebe Hooded Grebe Junin Grebe Giant Pied-Billed Grebe Madagascan Red-Necked Grebe Madagascar Little Grebe Short-Tailed Albatross Black Petrel Reunion Petrel Cook's Petrel Chatham Island Petrel Chatham Island Taiko Galapagos Dark-Rumped Petrel Hawaiian Dark-Rumped Petrel Westland Black Petrel Bird Of Providence Macgillivray's Petrel Heinroth's Shearwater Jamaican Diablotin Reunion Petrel Cahow Macgillivray's Petrel Beck's Petrel Heinroth's Shearwater Guadalupe Storm Petrel Dalmatian Pelican Abbott's Booby Spectacled Cormorant Galapagos Flightless Cormorant Christmas Frigatebird Ascension Frigatebird Bonin Nankeen Night Heron New Zealand Little Bittern New Guinea Tiger Heron African Tiger Heron Fasciated Tiger-Bittern Rodrigues Night Heron Japanese White Stork Japanese Crested Ibis Waldrapp Principe Olive Ibis Pink-Headed Duck Coues Gadwall Crested Shelduck Marianas Mallard Madagascar Pochard Coues' Gadwall Rennel Island Grey Teal Niceforo Brown Pintail Marianas Mallard Labrador Duck Chatham Is. Swan Auckland Is. Merganser California Condor Grenada Hook-Billed Kite Madagascar Fish Eagle Anjouan Island Sparrow Hawk Spanish Imperial Eagle Madagascar Serpent Eagle Gundlach's Hawk New Britain Grey-Headed Goshawk Monkey-Eating Eagle Seychelles Kestrel Mauritius Kestrel Guadalupe Caracara Grenada Hook-Billed Kite Painted Vulture Red-Billed Curassow Eastern Razor-Billed Curassow Utila Chachalaca White-Winged Guan Cauca Guan Black-Fronted Piping Guan Trinidad Piping Guan Horned Guan Heath Hen Cantabrian Capercaillie New Zealand Quail Himalayan Mountain Quail Masked Bobwhite Quail Gorgetted Wood-Quail Italian Grey Partridge Cabot's Tragopan Western Tragopan Chinese Monal Brown-Eared Pheasant Elliot's Pheasant Cheer Pheasant Mississippi Sandhill Crane Siberian White Crane Jamaican Wood Rail Iwo Jima Rail Hawaiian Gallinule Dieffenbach's Rail Chatham Islands Rail Wake Island Rail New Caledonian Wood Rail Tahitian Red-Billed Rail Ascension Island Rail Kusaie Island Crake Hawaiian Rail Leguat's Gelinote Auckland Island Rail Light-Footed Clapper Rail Lord Howe Island Woodhen Lafresnaye's Rail Samoan Wood Rail Assumption Island White-Throated Rail Jamaican Uniform Crake Macquarie Island Banded Rail Chatham Island Banded Rail Iwo Jima White-Browed Crake Tristan Island Cock North Island Takahe Horqueta Crake San Cristobel Gallinule Columbian Crake Dot-Winged Crake Olivier's Crake Platen's Celebes Rail Water's Crake Darwin's Rail Mueller's Rail Mauritius Red Hen Lord Howe Swamphen Laysan Rail Zapata Rail San Cristobel Mountain Rail Mueller's Rail Barred-winged Rail Hawaiian Brown Rail Tristan Gallinule Lord Howe Island Wood Hen Little St. Helena Rail Barred-Winged Rail White Gallinule Takahe Kagu Great Indian Bustard Javanese Lapwing Eskimo Curlew Moorean Sandpiper Black Stilt Chatham Island Oystercatcher Canarian Black Oystercatcher New Zealand Shore Plover Barrier Sub-Antarctic Snipe Stewart Island Sub-Antarctic Snipe Cooper's Sandpiper White-Winged Sandpiper Jerdon's Courser Californian Least Tern Chinese Crested Tern Great Auk Dodo Reunion Solitaire Rodriguez Solitaire White Dodo Lord Howe Island Pigeon Puerto Rico Plain Pigeon Laurel Pigeon Seychelles Turtle Dove Palau Nicobar Pigeon Mauritius Pink Pigeon Marquesas Pigeon Truk Micronesian Pigeon Norfolk Island Pigeon Chatham Island Pigeon Kakapo Madeiran Wood Pigeon Lord Howe Island White-Throated Pigeon Cebu Amethyst Fruit Dove Nukuhiva Red-Moustached Fruit Dove Hivaoa Red-Moustached Fruit Dove Society Island Ground Dove Tolima Dove Grenada Dove Rodriguez Pigeon Bonin Black Pigeon Mauritius Blue Pigeon Tanna Dove Choiseul Crested Pigeon Passenger Pigeon Ryukyu Wood Pigeon Bourbon Pink Pigeon Norfolk Is. Dove St. Helena Blue Dove Glaucous Macaw Lear's Macaw Puerto Rican Conure Maroon-Fronted Parrot Culebra Island Amazon Puerto Rican Amazon St. Lucia Amazon Jacquot Red-Tailed Amazon St. Vincent Amazon Imperial Parrot Seychelles Lesser Vasa Parrot Mascarine Parrot Mauritian Parakeet Orange-Fronted Parakeet Forbes's Parakeet Macquarie Island Parakeet Red-Fronted Parakeet Norfolk Island Parakeet Western Ground Parrot Siquijor Hanging Parrot Cebu Hanging Parrot Night Parrot Wagler's Macaw Rufous-Fronted Parakeet Yellow-Eared Conure Paradise Parrot Society Parrot Black-Fronted Parrot Newton's Parrot Mascarine Parrot Broad-Billed Parrot Rodriguez Parrot Cuban Macaw Carolina Parakeet New Caledonian Lorikeet Norfolk Is. Kaka Night Parrot Seychelles Parakeet Daubenton's Parakeet Violet Guadaloupe Parrot Martinique Parrot Labat's Conure St. Croix Macaw Yellow-Headed Macaw Green And Yellow Macaw Guadaloupe Red Macaw Dominican Macaw Prince Ruspoli's Touraco Red-Faced Malkoha Bahia Rufous-Vented Ground-Cuckoo Snail-eating Coua Madagascar Red Owl Mauritian Barn Owl Newton's Barn Owl Soumagne's Owl Comoro Scops Owl Seychelles Bare-Legged Scops Owl Lanyu Scops Owl Forest Spotted Owlet Antigua Burrowing Owl Guadaloupe Burrowing Owl Lord Howe Island Morepork Norfolk Island Morepork Rodriguez Little Owl Laughing Owl Commerson's Scops Owl New Caledonia Owlet Frogmouth Least Pauraque Jamaican Pauraque Hook-Billed Hermit Klabin Farm Long-Tailed Hermit Black Barbthroat Chilean Woodstar Klabin Farm Long-Tailed Hermit Black-Billed Hermit Guam Micronesian Kingfisher Ryukyu Kingfisher Mangareva Kingfisher Tristram's Woodpecker Okinawa Woodpecker Cuban Ivory-billed Woodpecker Ivory-billed Woodpecker Imperial Woodpecker Guadalupe Flicker Helmeted Woodpecker Imperial Woodpecker Black-Hooded Antwren Fringe-Backed Fire Eye Moustached Antpitta Brown-banded Antpitta Stresemann's Bristlefront Brazilia Tapaculo Kinglet Calyptura North Island Bush Wren South Island Bush Wren Stead's Bush Wren Stephens Is. Bush Wren Small-Billed Wattled Sunbird Noisy Scrub Bird White-Eyed River Martin Cebu Black Greybird Cebu Barred Greybird Norfolk Island Triller Reunion Cuckoo-Shrike Cebu Slaty-Crowned Bulbul San Clemente Loggerhead Shrike Black-Capped Bush Shrike Van Dam's Vanga Pollen's Vanga Cyprus Dipper Guadalupe Bewick's Wren Guadaloupe House Wren Martinique House Wren St Lucia House Wren San Benedicto Rock Wren San Clemente Bewick's Wren Daito Wren Southern Ryukyu Robin Dappled Mountain Robin Seychelles Magpie Robin Puaiohi Grey-Headed Blackbird Chatham Island Black Robin Seychelles Black Paradise Flycatcher Cebu Black Shama Isle of Pines Solitaire Muriel's Chat Mare Grey-Headed Blackbird Bay Thrush Grand Cayman Thrush Kittlitz's Thrush New Zealand Thrush Kauai Omao Burma Jerdon's Babbler Long-Legged Warbler Codfish Island Fernbird Eiao Polynesian Warbler Moorean Polynesian Warbler Roderiguez Brush Warbler Daito Bush Warbler Laysan Millerbird Long-Legged Warbler Aldabra Warbler Western Rufous Bristlebird Chatham Island Bellbird Chatham Island Fernbird Eyrean Grasswren Guam Flycatcher Tahiti Flycatcher Hivoa Flycatcher Nukuhiva Flycatcher Grenada Euler's Flycatcher South Island Piopio North Island Piopio Daito Varied Tit Cebu Orange-Breasted Flowerpecker Four-Coloured Flowerpecker Small-billed False-sunbird White-Breasted Silver Eye Gizo White Eye Truk Great White-Eye Cebu Everett's White-Eye Seychelles Chestnut-Flanked White-Eye Lord Howe White-Eye Kauai O-O Mukojima Bonin Honeyeater Helmeted Honeyeater Kioea Hawaii O-O Oahu O-O Molokai O-O Santa Barbara Song Sparrow Guadalupe Rufous-Sided Towhee Cherry-Throated Tanager Bachman's Warbler Kirtland's Warbler Semper's Warbler Kauai Alauwahio Oahu Alauwahio Maui Akepa Palila Ou Lanai Creeper Ula-Ai-Hawane Greater Koa Finch Grosbeak Finch Greater Amakihi Mamo Black Mamo Hawaiian Akailoa Kauai Akailoa Oahu Nukupuu Kakawahie Lesser Koa Finch Slender-Billed Grackle Puerto Rican Bullfinch Sao Miguel Bullfinch Red Siskin Mcgregor's House Finch Bonin Grosbeak Townsend's Finch Mauritius Fody Rodriguez Fody Sao Thome Grosbeak-Weaver Reunion Fody Rothschild's Grackle Norfolk Island Starling Kusaie Starling Mysterious Starling Norfolk & Lord Howe Island Starling Bourbon Crested Starling Leguat's Starling Grand Cayman Jamaican Oriole Cebu Dark-Throated Oriole South Island Kokako North Island Kokako Huia Lord Howe Island Currawong Marianas Crow Hawaiian Crow Pink-Eared Duck

ITEMS WANTED. Please respond via this on-line form HERE with a description of what you have for sale.



[HOMEPAGE]





Taxidermy Links. Please double click on the Taxidermy link icon below.