Victorian Taxidermy
Taxidermy4Cash.com
---
We are always very interested in Purchasing Victorian Taxidermy, please respond via this on-line form of what you have for sale. HERE


We get asked to recommend Bird Taxidermy Resources by our friends to our customers, we now include below a list of those we have had favourable feedback on this is not a complete list, if you don't find what your looking for then please feel free to contact us. If you also wish to link to us then your taxidermy information shall only be placed in the appropriate class.


We are interested in Purchasing Victorian Taxidermy, please respond via this on-line form of what you have for sale. HERE


William Borrer
1814-1898, Taxidermist, Naturalist, Henfield Sussex.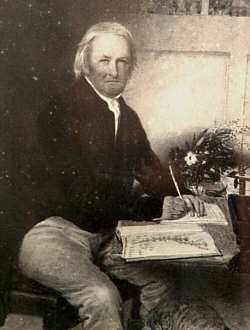 Victorian Botanist William Borrer Snr, this is the only picture I could find of William Borrer..





William Borrer, Naturalist


William Borrer was born at Barrow Hill, Henfield, West Sussex on January 18th 1814. He inherited a love of natural history from his father the noted botanist William Borrer senior, friend of Sir Joesph Banks and William Hooker.
William Borrer was educated at Baton's school at Leith Hill Surrey. He then went to Cambridge in 1835 where he entered Peterhouse as a Fellow Commoner, taking his BA degree in 1839 and MA a few years later. He married in 1842 and settled in "Brookhill" a house where he was to house his natural history collection in Cowfold.
Borrer had a keen interest in Natural History but the most complete collections were that of British Birds and their eggs. Right up until his death in 1898 he was till adding birds eggs to his collection.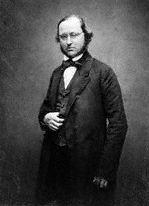 William Borrer jnr

In his museum in Cowfold, he would entertain others who had a similar interest, entertaining them with stories of how he shot Snipe before breakfast on Coe fen to the rear of Peterhouse Collage Cambridge and went after wildfowl on the Ouse in Cambridge, shooting a left and right at Swans.
He also obtained Old English Bustards from the Lakenheath district and Gyr Falcons on the South Downs. The birds are indicated below.He would tell of the time before the advent of the railway where he would ride to Brighton to listen to the Assizies and return on Horse back over the Downs via Truliegh Hill to shoot Grey Patridge on Henfield Common, when Henfield Common was "Shooting indeed". In 1892 he published a book "Birds of Sussex", in which he brought together the observations of many local Ornithologists. He died at Brookhill in October 1898, upon his death his collection was given to the Brighton Museum in 1901.
Below are set out some of the cases that either William Borrer shot or assisted in providing to E.T.Booth when they went on shooting trips together around the UK. This is not the complete donation, but some that I have photographed


Victorian Montagues's Harrier. Specimens shot / obtained from Whittlesea Mere, Hunts, July 1837. Prepared by Pratt of Brighton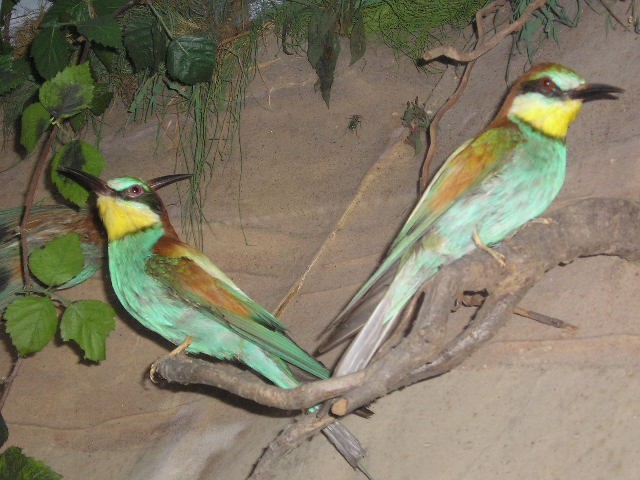 Victorian Bee Eaters. Specimens shot / obtained from Ashburnham area, Sussex, June 5th 1903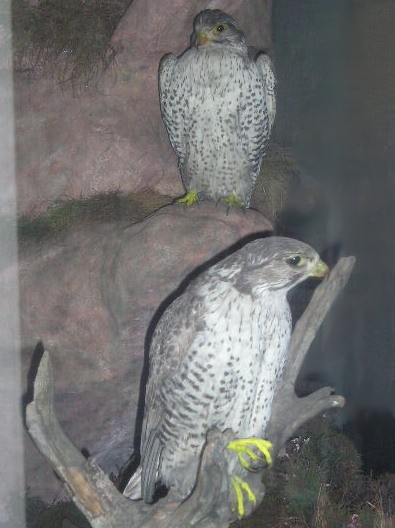 Male and Female Gyr Falcons. Victorian case. Specimens shot / obtained from Bullocks Hill, South Downs September 26th 1882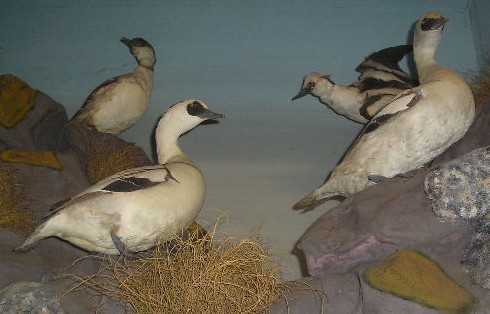 Victorian Smew. Specimens shot / obtained from Hickling Broad, Janury 1882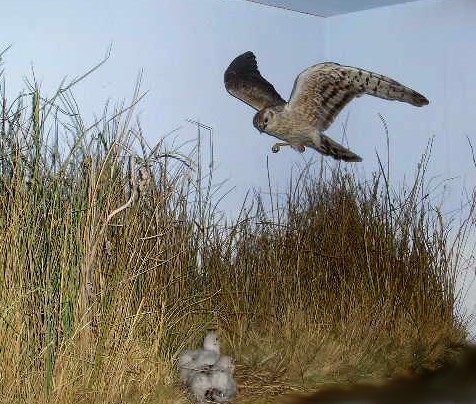 Victorian Montagu's Harrier with two chicks in a nest scene. Specimens shot / obtained from Whittlesea Mere, Hunts, July 1837. Prepared by Taxidermists "Pratt of Brighton"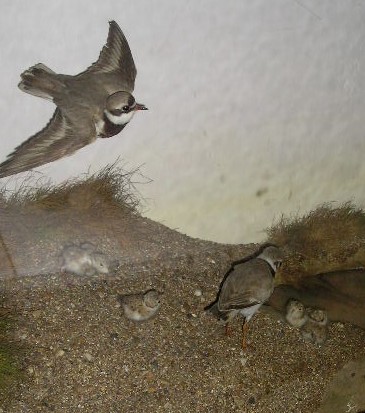 Victorian Ringed Plover with chicks. Specimens shot / obtained from Rye, Sussex 1862.
Victorian female Marsh Harrier with Teal prey. Specimens shot / obtained from Potter Heigham Marshes, October 1871.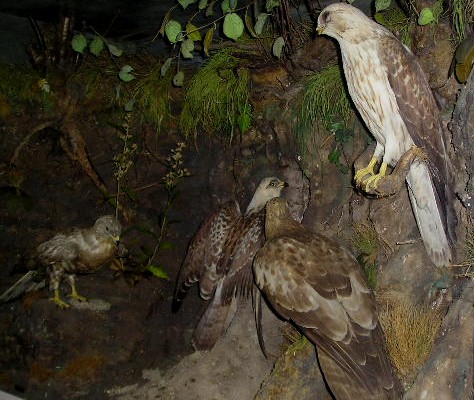 Victorian family of Honey Buzzards raiding a wild bees nest. Specimens shot / obtained from Shave Wood and Ashburnham Park Sussex, Summer 1837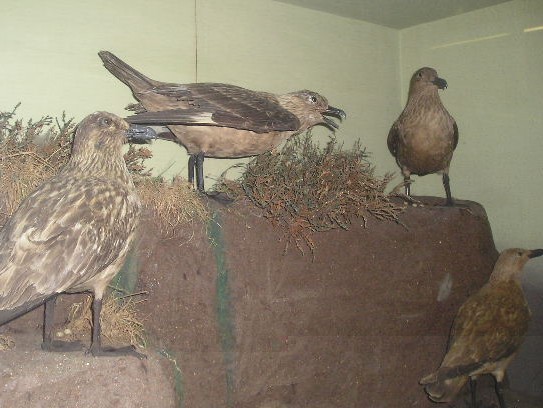 Victorian family of Great Skuas. Specimens shot / obtained from the sea off Brighton November 10th 1846. Case work and Taxidermy looks like to work of TE Gunn.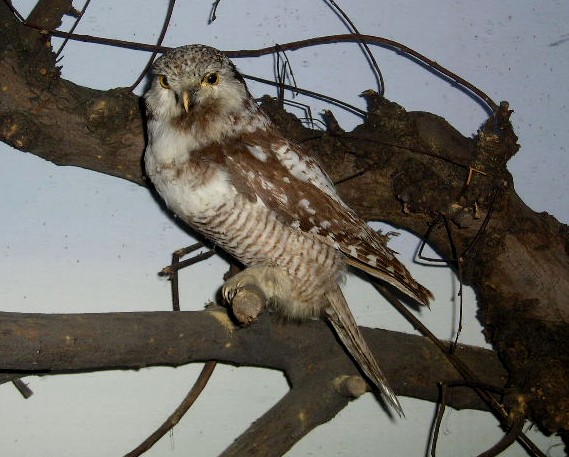 Victorian Hawkowl. Specimens shot / obtained from Blackwell Hill, Clevedon, Somerset, August 1847
Gilbert White
Gildbert White 1720-1793. Arguably the father of English Natural History observations



Gilbert White wrote "Natural History of Selbourne" a compilation of letters written to both Mr Thomas Pennant and Mr Daines Barrington, and Joseph Banks in 1789. Joseph Banks being the naturalist who accompanied Captain Cook on his voyages to Australia.
Gilbert White was born 1720 and educated at Oxford (Magdelan Collage). He died at the age of 73 in 1793 and was buired in the church yard at Selbourne where he carried out most of his studies into both taxidermy and natural history.
Charles Darwin used both his letters and book when undertaking research some 100 years later. What is interesting is that in his journals of the time, he makes reference to a visit to the home of Daines Barrington on August 1st 1770 to view his collection of exotic stuffed birds. This must be a very early notation of a collection of stuffed birds from abroad. The taxidermist however was not noted. The 1700's are possibly the earliest attemps that people made into "stuffing" birds for collections and also creating what can best be regarded as a commercial market for this trade.
The book is a facinating insight into birds species and areas in which these were located in and aropund the end of the 18th Century. Species like Honey Buzzard, Peregrine Falcon, Concrakes, Stone Curlew, Ravens, Blackcocks, Hoopoes and Beeeaters, most of which are now extinct in both Hampshire and Sussex. An interestin note is reference to the Mistle Thrush (known by the Welsh as Pen-y-Llwyn) or "Master of the Coppice" due its fierce reputation for attacking people during its breeding season. No doubt White and others have had experience of this.
White, no doubt would have know Borrer and like him observed birds in places like Cuckmere Haven, Chichester, Lewes, Seaford and Plumpton plain. All areas where E.T Booth began his collecting for his own museum some 100 years later.



Letter to The Honourable Daines Barrington, son of Vicount Barrington


From Gilber White Selborne, June 30, 1769. Dear Sir,
When I was in town last month I partly engaged that I would sometime do myself the honour to write to you on the subject of natural history: and I am the more ready to fulfil my promise, because I see you are a gentleman of great candour, and one that will make allowances; especially where the writer professes to be an out-door naturalist, one that takes his observations from the subject itself, and not from the writings of others.
The following is a List of the Summer Birds of Passage which I have discovered in this neighbourhood, ranged somewhat in the order in which they appear. 1. Wry-neck, Raii nomina: Jynx, sive torquilla: Usually appears about: The middle of March: harsh note. 2. Smallest willow-wren, Regulus non cristatus: March 23: chirps till September. 3. Swallow, Hirundo domestica: April 13. 4. Martin, Hirundo rustica: Ditto. 5. Sand-martin, Hirundo riparia: Ditto. 6. Black-cap, Atricapilla: Ditto: a sweet wild note. 7. Nightingale, Luscinia: Beginning of April. 8. Cuckoo, Cuculus: Middle of April. 9. Middle willow-wren, Regulus non cristatus: Ditto, a sweet plaintive note. 10. White-throat, Ficedulae affinis: Middle of April: mean note; sings on till September. 11. Red-start, Ruticilla: Ditto: more agreeable song. 12. Stone curlew, OEdicnemus: End of March; loud nocturnal whistle. 13. Turtle-dove, Turtur: 14. Grasshopper-lark, Alauda minima locustae voce: Middle of April: a small sibilous note, till the end of July. 15. Swift, Hirundo apus: About April 27. 16. Less reed-sparrow, Passer arundinaceus minor: A sweet polyglot, but hurrying: it has the notes of many birds. 17. Land-rail, Ortygometra: A loud harsh note, crex, crex. 18. Largest willow-wren, Regulus non cristatus: Cantat voce stridula locustae; end of April, on the tops of high beeches. 19. Goat-sucker, or fern-owl, Caprimulgus: Beginning of May; chatters by night with a singular noise. 20. Fly-catcher, Stoparola: May 12. A very mute bird: this is the latest summer bird of passage. This assemblage of curious and amusing birds belongs to ten several genera of the Linnaean system; and are all of the ordo of passeres, save the jynx and cuculus, which are picae, and the charadrius (oedicnemus) and rallus (ortygometra) which are grallae.
These birds, as they stand numerically, belong to the following Linnaean genera: 1. Jynx. 2, 6, 7, 9, 10, 11, 16, 18. Motacilla. 3, 4, 5, 15. Hirundo. 8. Cuculus. 12. Charadrius. 13. Columba. 17. Rallus. 19. Caprimulgus. 14. Alauda. 20. Muscicapa. Most soft-billed birds live on insects, and not on grain and seeds; and therefore at the end of summer they retire: but the following soft-billed birds, though insect-eaters, stay with us the year round: Red-breast, Raii nomina: Rubecula: Wren, Passer troglodytes: These frequent houses; and haunt outbuildings in the winter; eat spiders. Hedge-sparrow, Curruca: Haunt sinks for crumbs and other sweepings. White-wagtail, Motacilla alba: Yellow-wagtail, Motacilla flava: Grey-wagtail, Motacilla cinerea: These frequent shallow rivulets near the spring heads, where they never freeze: eat the aureliae of Phryganea. The smallest birds that walk. Wheat-ear, Oenanthe: Some of these are to be seen with us the winter through. Whin-chat, OEnanthe secunda: Stone-chatter, OEnanthe tertia: Golden-crowned wren, Regulus cristatus: This is the smallest British bird: haunts the tops of tall trees; stays the winter through. A List of the Winter Birds of Passage round this neighbourhood, ranged somewhat in the order in which they appear: 1. Ring-ousel, Raii nomina: Merula torquata: This is a new migration which I have lately discovered about Michaelmas week, and again about the fourteenth of March. 2. Redwing, Turdus iliacus: About Michaelmas. 3. Fieldfare, Turdus pilaris, Though a percher by day, roosts on the ground. 4. Royston-crew, Cornix cinerea: Most frequent on downs. 5. Wood-cock, Scolopax: Appears about old Michaelmas. 6. Snipe, Gallinago minor: Some snipes constantly breed with us. 7. Jack-snipe, Gallinago minima: 8. Wood-pigeon, OEnas: Seldom appears till late: not in such plenty as formerly. 9. Wild-swan, Cygnus ferus: On some large waters. 10. Wild-goose, Anser ferus: 11. Wild-duck, Anas torquata minor: 12. Pochard, Anas fera fusca: 13. Widgeon, Penelope: 14. Teal, breeds with us in Wolmer-forest, Querquedula: On our lakes and streams. 15. Gross-beak, Coccothraustes: 16. Cross-bill, Loxia: 17. Silk-tail, Garrulus bohemicus: These are only wanderers that appear occasionally, and are not observant of any regular migration. These birds, as they stand numerically, belong to the following Linnaean genera: 1, 2, 3. Turdus. 4. Corvus. 5, 6, 7. Scolopax. 8. Columba. 9, 10, 11, 12, 13, 14. Anas. 15, 16. Loxia. 17. Ampelis. Birds that sing in the night are but few: Nightingale, Luscinia: 'In shadiest covert hid.'--MILTON. Woodlark, Alauda arborea: Suspended in mid air. Less reed-sparrow, Passer arundinaceus minor: Among reeds and willows. I should now proceed to such birds as continue to sing after Midsummer, but, as they are rather numerous, they would exceed the bounds of this paper: besides, as this is now the season for remarking on that subject, I am willing to repeat my observations on some birds concerning the continuation of whose song I seem at present to have some doubt. I am, etc.


Danies Barrington

Daines Barrington (1727 - March 14 1800) was an English lawyer antiquary and naturalist. Barrington was the fourth son of the first Viscount Barrington. He was educated for the profession of the law and after filling various posts was appointed a Welsh judge in 1757 and afterwards second justice of Chester. Though an indifferent judge his Observations on the Statutes chiefly the more ancient from Magna Charta to 21st James I. (1766) had a high reputation among historians and constitutional antiquaries. In 1773 he published an edition of Orosius with Alfred's Saxon version and an English translation with original notes. His Tracts on the Probability of reaching the North Pole (1775) were written in consequence of the northern voyage of discovery undertaken by Captain C. J. Phipps afterwards Lord Mulgrave (1744-1792).
Barrington's other writings are chiefly to be found in the publications of the Royal and Antiquarian Societies of both of which he was long a member and of the latter vice-president. Many of these were collected by him in a quarto volume entitled Miscellanies on various Subjects (1781). He contributed to the Philosophical Transactions for 1780 an account of Mozart's visit at eight years of age to London. In his Miscellanies on varied subjects he included this with accounts of four other prodigies namely William Crotch Charles and Samuel Wesley and Garrett Wellesley Lord Mornington. Among the most curious and ingenious of his papers are his Experiments and Observations on the Singing of Birds and his Essay on the Language of Birds. He was buried in the Temple Church London.


George Bristowe of St Leonards

1870-1947


George Bristow of St Leonards. This man it is understood taught ET Booth the art of taxidermy and it is further understood stuffed some of the birds that now form part of the Booth Collection in Brighton. Bristowe, upon his death caused a stir when it was suggested that his claims for "first" sightings in the world of Ornithology were in fact frudulent.
In August 1962, the ornithological journal 'British Birds' published two articles devoted to the examination of one topic. The authors, Max Nicholson and James Ferguson-Lees, made clear their intention in the accompanying editorial. This was to prove, by statistical analysis and comparison of records, that many, if not all, of the rare birds recorded from the Hastings area, in the period 1890 – 1930, were the result of a deliberate deception. Within a short time of the publication of the articles, dramatic newspaper headlines were speaking of the 'Hastings Rarities Fraud', and, for some time afterwards, the issue assumed almost national importance.
As a result of this letter, Mr George Bristow, the taxidermist who prepared and mounted almost all of the specimens taken locally, wrote to Witherby offering to have the specimens examined in the flesh, by experts, before skinning them. A panel of experts, consisting of some of the most notable ornithologists of the day was duly appointed. The number of rarities declined after this, but it should be borne in mind that in 1916 the First World War was at its height, and everyone involved had other concerns.
The Hastings Rarities undoubtedly contained a number of perfectly good records. It is now almost impossible to disentangle fact from fiction, which means the only way forward is to remove all the material from the record
Upon Bristowe's death his own private collection of some 300 cases (data written on the reverse), was given to Bristowes family doctor. These cases then were passed down that family line until recently. The collection included birds of prey, Bitterns and rare species that were reported to have been shot on Romney Marsh. We now know where these cases are located. According to the son of the Doctor,who treated Bristowe until his death, the family maintained that his claims were true regarding "firsts".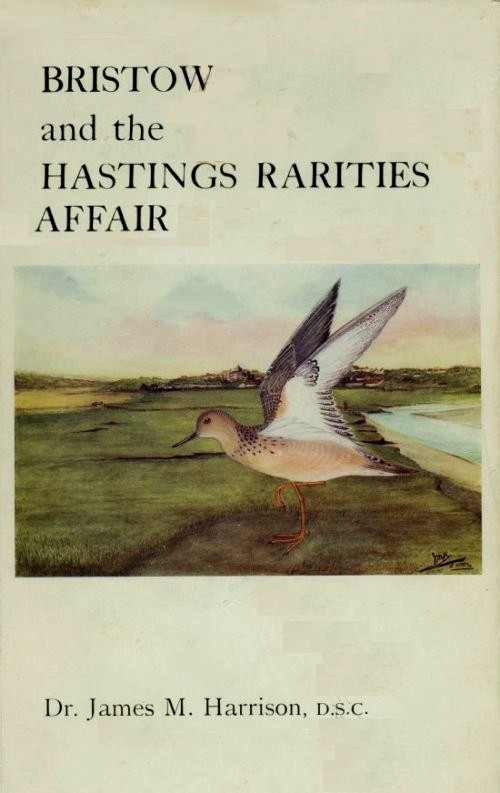 Book on the Hasting Rarities



Harrison, James H (1968) Bristow and the Hastings Rarities Affair Harrison


Black Lark Melanocorypha yeltoniensis. This was also a species involved in the 'Hastings Rarities' scandal, with a series of discredited records from the Kent/Sussex border between 1907 and 1915.


Today's Sussex


Undertaking the research into the Booth Museum, William Borrer and like demonstrates a view of the past we no longer see today. Peregrine Falcons today are making a come back into this region. It is understood that there are some 2/3 pais nesting in the West Sussex area. This should be applauded for the conservation work undertaken, but it is a joke in comparison to what was in Sussex in the 1850's.
Routinely Gyr Falcons, Merlins, Great Bustards, Hoopoes, Honey Buzzards, Golden Oriels, Spoonbills, Cattle Egrets, Montague's Harriers bred and frequented the area(s) around Sussex and Hampshire. Victorian Collecting did play a part in the eradication of some species in certain areas, but is as nothing compared with habitat loss, pesticides and insecticides used in modern agricultural practices today ans since the turn of the 19th Century. MOD sponsered shooting of Peregrine Falcons due to the fact that they hunted "Messenger Pigeons" during the First World War was far more devastating than egg collecting or shooting for taxidermy, by comparison.



Taxidermy4Cash does not undertaken taxidermy, rather we are collectors of other people's work, both current and historical we also offer web hosting, a search engine submission service and increasingly one of the larger article resource banks on the net. So if your keen to learn about Taxidermy etc, then you know where to look. We are always interested to here about new resource, if you feel a resource should be listed here then please contact us.

ITEMS WANTED. Please respond via this on-line form HERE with a description of what you have for sale.



[HOMEPAGE]





Taxidermy Links. Please double click on the Taxidermy link icon below.