Historical Taxidermy

---
We are always very interested in Purchasing Victorian Taxidermy, please respond via this on-line form of what you have for sale. HERE


We get asked to recommend Fish Taxidermistís and Taxidermy Resources by our friends, we now include below a list of those we have had favourable feedback on this is not a complete list, if you don't find what your looking for then please feel free to contact us. If you also wish to link to us then your taxidermy information shall only be placed in the appropriate class.



James Millar's fish collection. This collection was dispersed by us, much to the delight of James. This dispersal followed that of Andy Henry's collection, Bonhams with the disposal of the work by James Hutchings in the which we also assisted in. We have also advised on a significant number of other collections (UK / USA / Canada, South Africa etc etc) but these sellers have asked for this information to remain confidential.
Description of how the cases were acquired
48 years ago when I resided in the UK I was fortunate to aquire a collection of Barnes, William & Cooper & sons fish taxidermy. most are bow fronted with gold leafing on the inside of the glass. All have makers labels and most have the name of the captor. A large proportion were caught by a Mr H. T. Bouffler of London a well known music hall comedian often on the same billing as the great singer Ida Barr. Among his fishing buddies as I remember, were Kelson & Leonard West (This is what I remember the seller, a fishing tackle) dealer on the King Street Hamersmith/Chiswick area, told me) There were originally 17 Pieces. Over the years I had sold the odd one to Fishing Friends, (under pressure) and now have only twelve left.
For the last 18 years they have been under raps, so to speak as my wife dislikes the idea of dead things around the house, (as she puts it.). This collectrion of hisorical taxidermy was then offered back in the UK. We advised the owner that these items had less value in Canada if sold there due to the UK market appreciating the species and provenance more so. Therefore James sent the cases back to the UK and entrusted them into our possession and he then returned to Alberta Canada where he is still is a fly fishing guide of international recognition. We just thought it would be nice to re-unite the collection pictorally for those who now own these items. We purchased the Crucian Carp and the beautiful pair of Chub, both caught by Bouffler circa 1917-1925 in open auction at the same time as the rest of the fish being sold. This also applied to the items we purchased also from the Andy Henry disposal. If anyone has any information on HT Bouffler then we would like to know. This information shall also be passed to those who now own Bouffler cases.
To summarise the sale we thought the most prized peice would have been the pair of Dace by Cooper, but unfortunately once purchased by the buyer they were declined due to being re-taped. They therefore sold at a significantly reduced price to the now delighted owner.. Quite how people think that paper tape can survivie nearly 100 years intact and as fresh as it was applied is beyond us. If you look at the images provided below every case was re-taped by James Millar, and it does not detract from their appeal. The most expensive fish then in the collection dispersed was the Pike by FT Williams in a wonderful wrap around glass case. If you wish to know what it made, along with the Dace you know where to look.

Given our national and international connections in the UK with owners and buyers of fine art historical taxidermy, should you wish to have advice on the best methods of disposal and also assistence in undertaking this then please contact us, we would be delighted to help. We are also quite good at providing realistic valutions given the number of cases we have seen and the data we have collected over the years. This service is free and we are more than happy if we wish to acquire some of your collections to purchase them in open auction to ensure fair play. We have already done this on numerous occassions.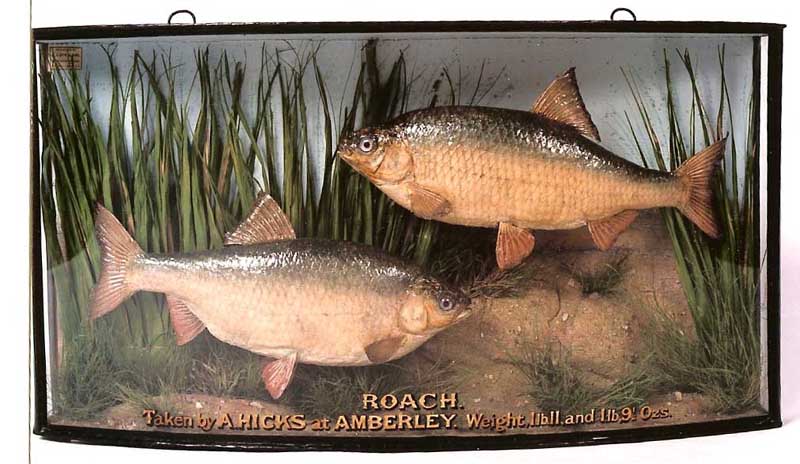 "PAIR OF ROACH". J. Cooper & sons 1895. Case measures 27" x 141/2" with insciption on glass "Roach, taken by hicks at Amberley. wieght 1lb 8 ozs &1lb 9ozs.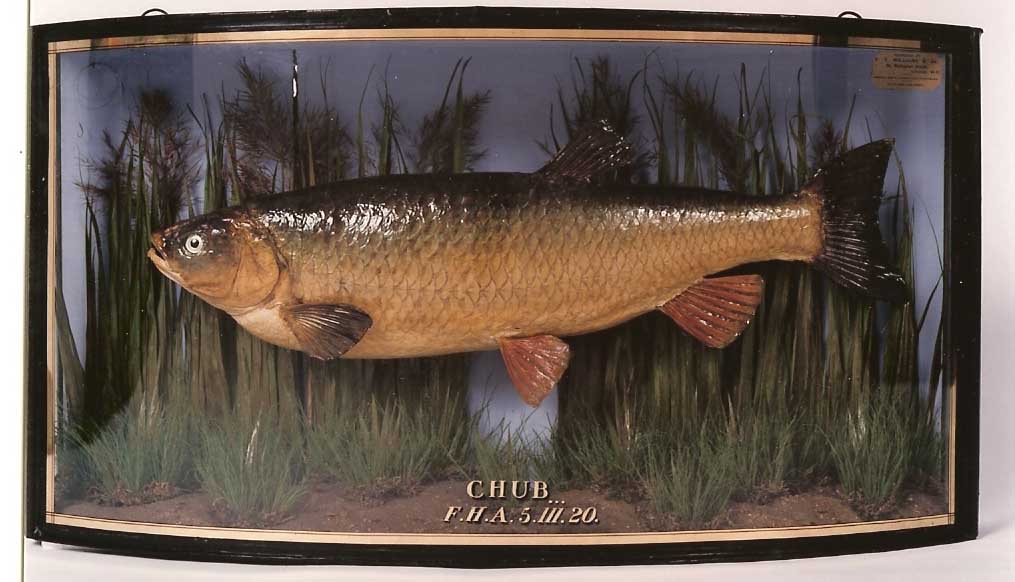 "CHUB" put up by F.T.Williams 1920. Inscribed "Chub F.H.A.S.111.20." measures 27" x 141/2".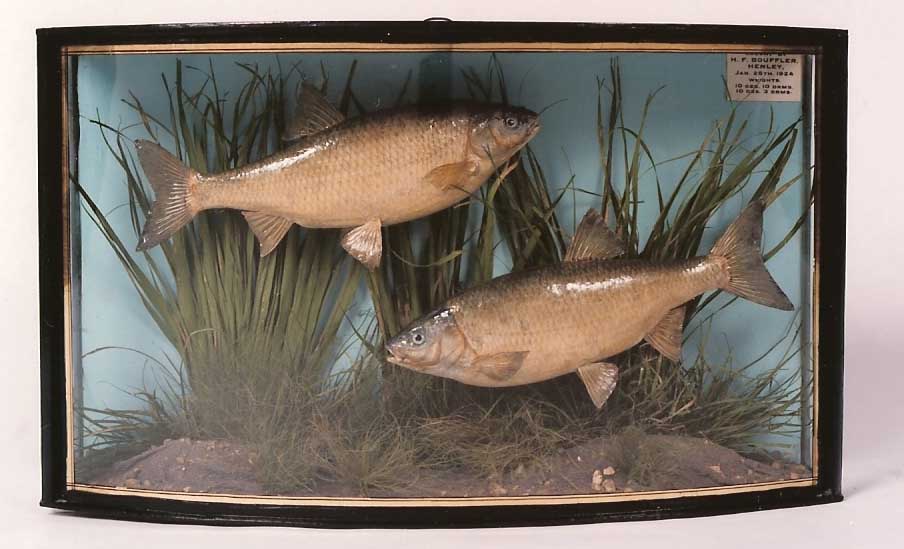 "PAIR OF DACE". By J. Cooper & Sons measures 21" x 121/2" has a paper label affixed to the inside right hand top corner, whic reads, "Caught by H.T.Bouffler, Henley, Jan. 25th 1924, wieghts 10ozs 10 drms, 10ozs 3 drms."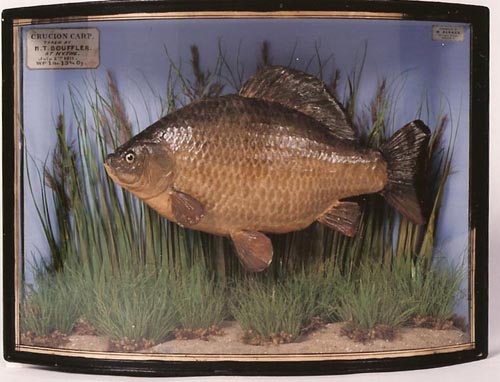 "CRUCIAN CARP". By W. Barnes,1911. With paper label, "Crucian Carp, Taken by H.T. Bouffler at Hythe, July 2nd, 1911, wgt. 1lb. 133/4 ozs." Measures 181/2" x 131/2".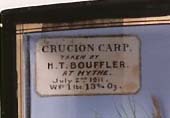 With paper label, "Crucian Carp, Taken by H.T. Bouffler at Hythe, July 2nd, 1911, wgt. 1lb. 133/4 ozs." for the above case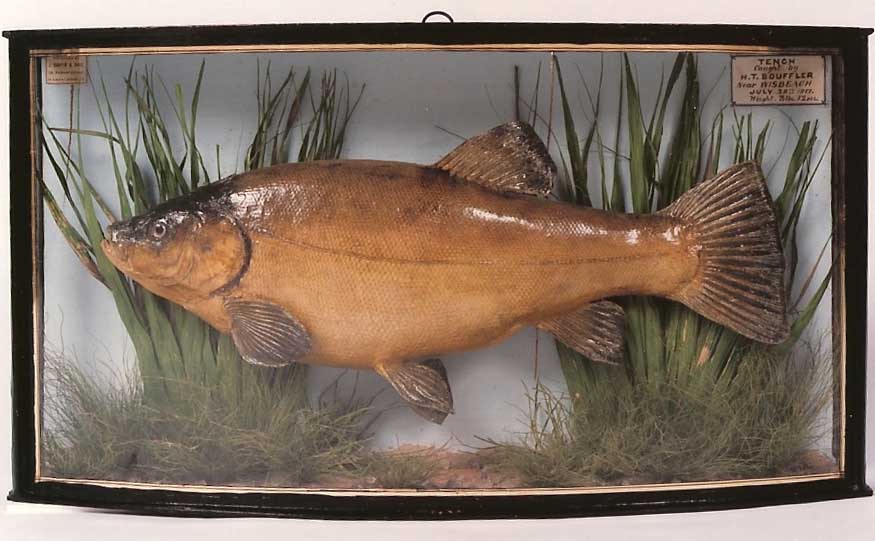 "TENCH". J. Cooper & Sons. With paper label,"Tanch, caught by H.T. Bouffler near Wisbeach, July 29th 1917, wieght 3lbs 12ozs. Measures 231/2" x 121/2"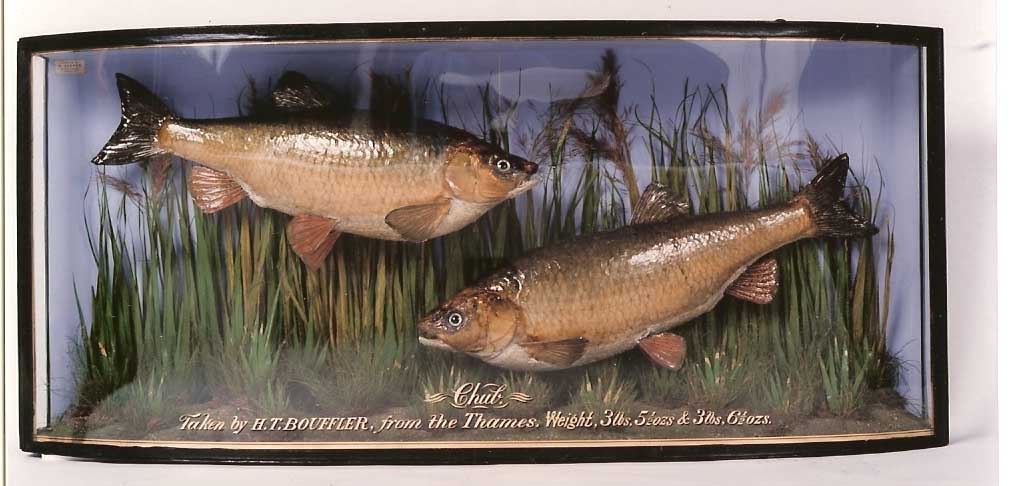 "PAIR OF CHUB". W.Barnes. "Chub Taken by H.T. Bouffler from the Thames, Wieght 3lbs 51/2 ozs & 3lbs 61/2ozs." Inscribed. Measures 361/2" x 161/2"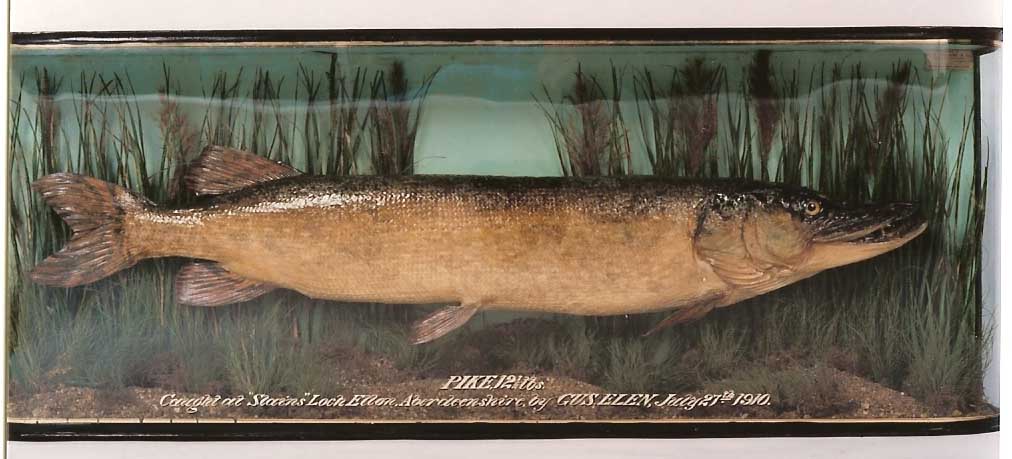 "PIKE" F.T. Williams. "Pike, 121/2lbs caught at "Slain's" Loch Ellon, Aberdeenshire, by Gus Elen, July 27th, 1910.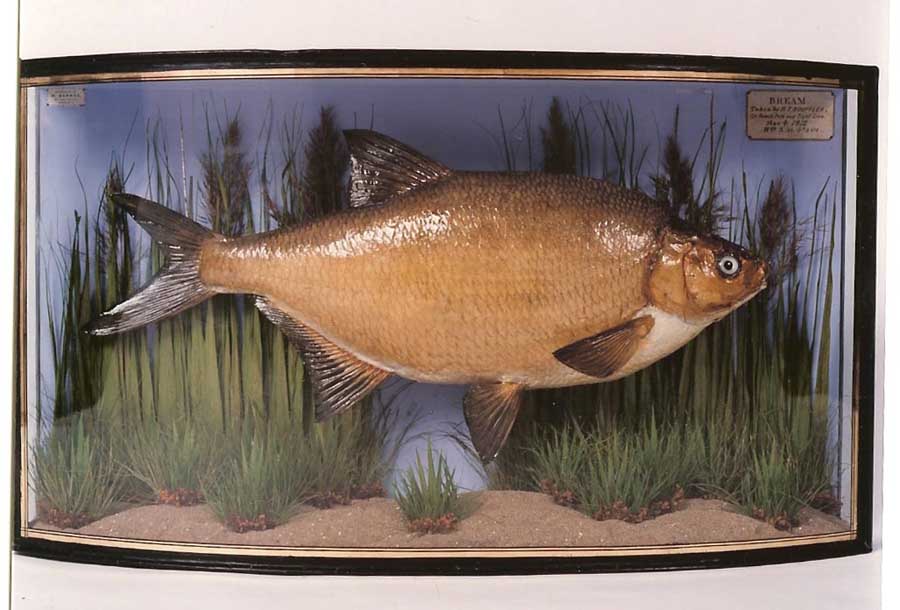 "BREAM". W. Barnes, With paper label. "Bream, Taken by H.T. Bouffler on Roach Pole & tight line, March 4th, 1912." Wieght 3lbs 4ozs. Measures 271/2" x 151/2".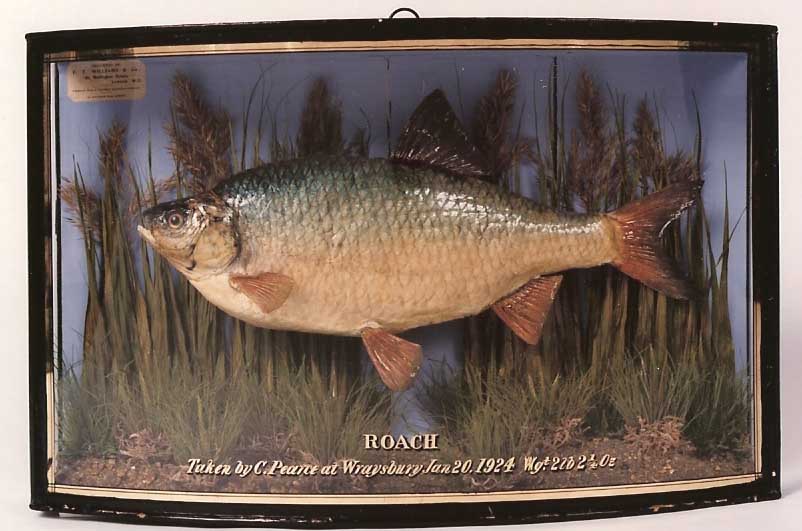 "ROACH" F.T.Williams. Inscribed, "Roach taken by C. Pearce at Wraysbury, Jan 20, 1924, wieght 2lbs 21/4ozs" Measure 20" x 121/2"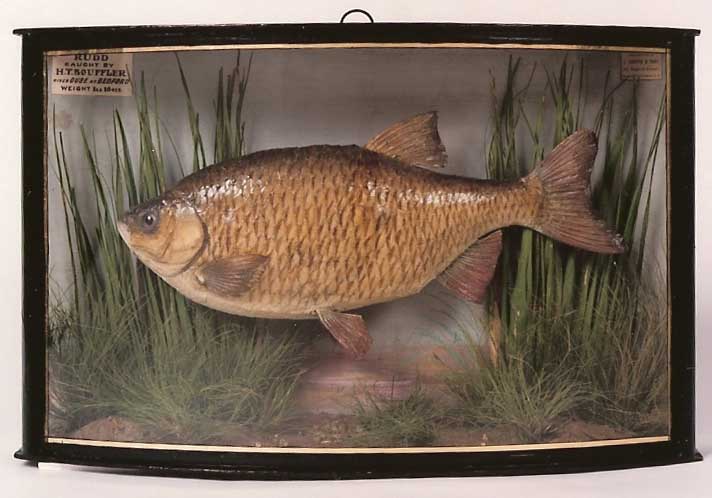 "RUDD". J. Cooper & Sons. With paper label, "Rudd caught by H.T. Bouffler, River Duse, Bedford, Wieght 1lb. 10ozs. Measures, 181/2" x 111/2"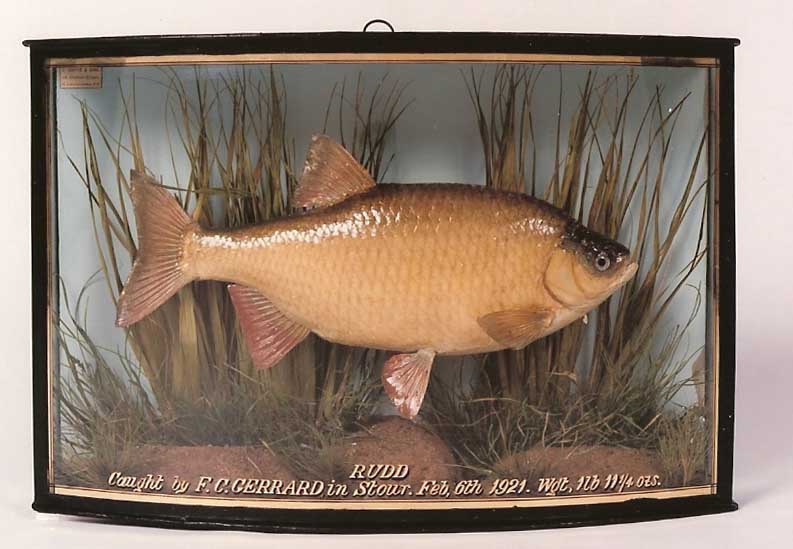 'RUDD". J. Cooper & Sons. "Caught by F.C. Gerrard in Stour, Feb.6th, 1921, Wgt. 1lb. 111/4ozs. Measures19" x 121/2".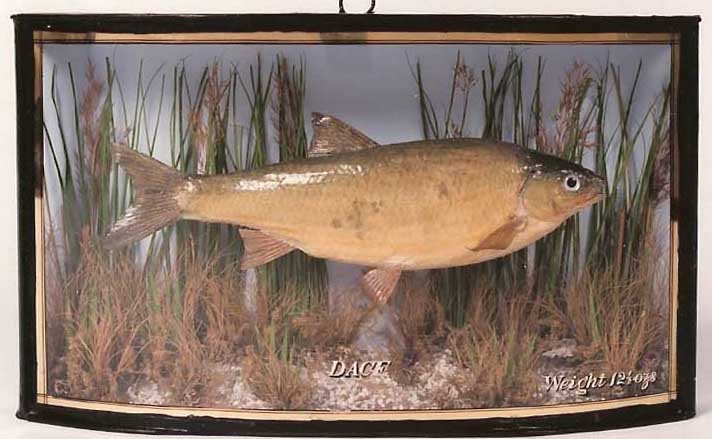 "DACE". J. Cooper & Sons. case inscribed "Dace, 121/2ozs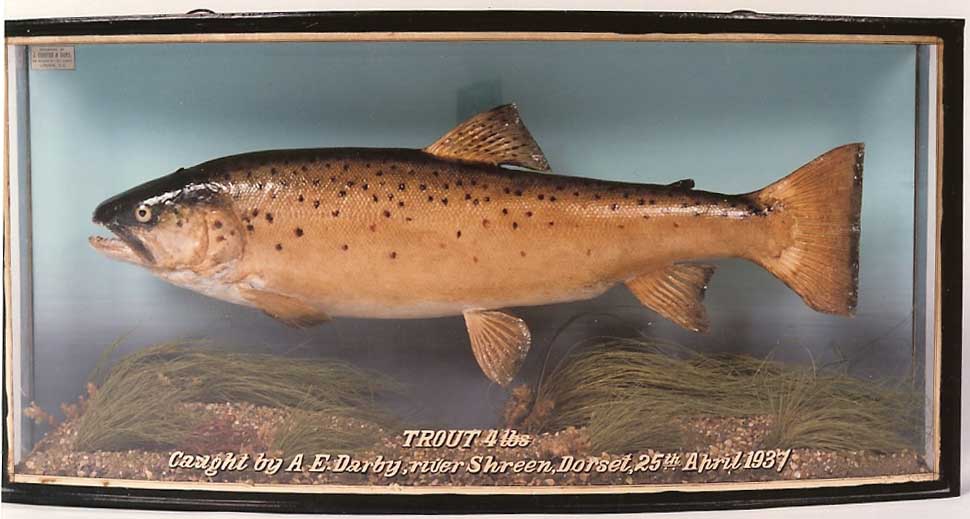 Trout. J. Cooper & Sons.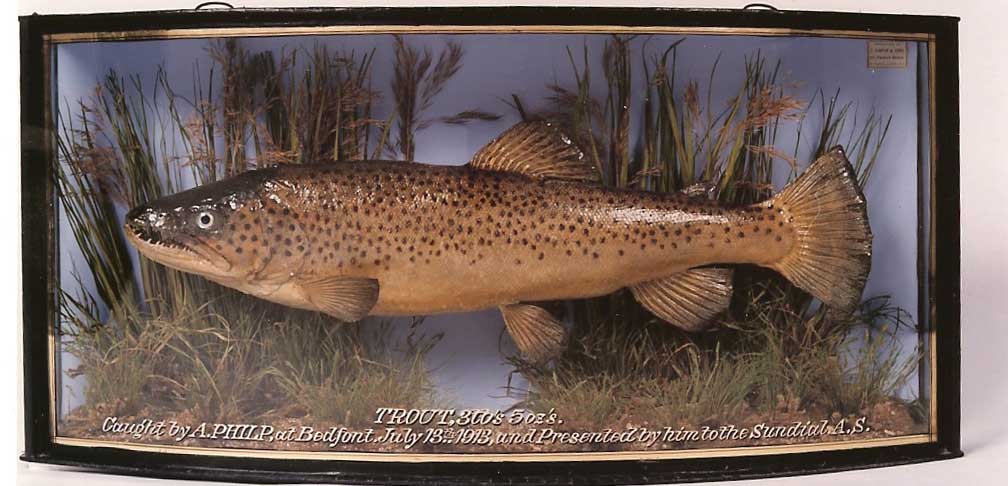 Brown Trout. J. Cooper & Sons. case inscribed The River Bedfont which those of you may know is now the culverted sewer running underneath Heathrow airport. So much for progress.

These cases have not seen the light of day for 48 years. Aditional images can be found on the fish page within this site.


Taxidermy4Cash does not undertaken taxidermy, rather we are collectors of other peopleís work, both current and historical we also offer web hosting, a search engine submission service and increasingly one of the larger article resource banks on the net. So if your keen to learn about Taxidermy etc, then you know where to look. We are always interested to here about new resource, if you feel a resource should be listed here then please contact us.



ITEMS WANTED. Please respond via this on-line form HERE with a description of what you have for sale.



[HOMEPAGE]





Taxidermy Links. Please double click on the Taxidermy link icon below.