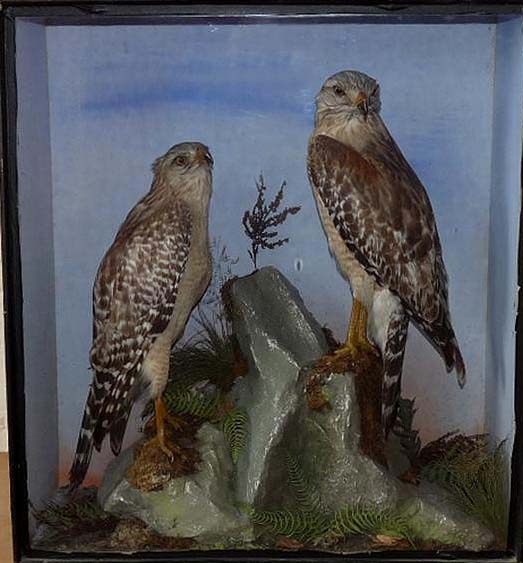 Victorian Hawks by James Hutchings. This case pre-dates the now 3 sided glass cases more commonly encountered.


Most of their work is of common animals, particularly foxes. However, they were also known to have worked on elephants and other exotic animals. They also preserved rare birds which had been shot in Cardiganshire. The firm had shops in Bridge Street, and later Corporation Street, Aberystwyth, and they were said to be filled with all sorts of strange animals including a bear holding a silver dish (possibly made for a local mansion) and a calf with two heads. On his invoices, James Hutchings is described as a 'Taxidermist and Gun Smith' and he advertised for the skins of stoats, polecats, foxes, badgers and otters for making stoles.


ITEMS WANTED. Please respond via this on-line form HERE with a description of what you have for sale.



[HOMEPAGE]





Taxidermy Links. Please double click on the Taxidermy link icon below.