George Herd (1876-1926),
British Historical Taxidermist.

---
We are always very interested in Purchasing Victorian Taxidermy, please respond via this on-line form of what you have for sale. HERE


We get asked to recommend Fish Taxidermist's and Taxidermy Resources by our friends, we now include below a list of those we have had favourable feedback on this is not a complete list, if you don't find what your looking for then please feel free to contact us. If you also wish to link to us then your taxidermy information shall only be placed in the appropriate class.


George Herd (1876-1926),
Thomas Edward Gunn's principal taxidermist.
Perhaps one of the finest taxidermists Gunn employed was George Herd (1876-1926), a diligent man it has been said with an artistic eye. Perhaps less artistic was the output of Fred Ashton (another one of Gunns employees), whose work sadly lacks the same attention to detail. We have seen some of his cases and they are of lesser quality. It has been reported that Gunn won medals for his company's work at the 1881 National Fisheries Exhibition in Norwich where he displayed some 250 specimens of locally collected fish, birds and mammals. It is difficult to say what influence Herd had on the output in terms of style that was produced under the banner of TE Gunn, Norwich, but what is evident is that with the Ogilvie collection Herd was given free reign to indulge his artistic fancy. For more detailed and accurate information recently created on the subject of this collection, you may wish to acquire the work of Christopher Frost. This now scarce book, entitled "The Ogilvie Bird Collection" dated 1989, was limited to precisely 250 copies. It is an in depth review of the collection, FM Ogilvie himself and of course TE Gunn. It is recommended but hard to come by.
It is worth noting too that when a taxidermist was asked to mount a particular bird or mammal, that the specimen would have been fresh and not frozen. TE Gunn by specific examples would have dealt with fresh birds in summer plumage which meant due to temperature alone that those who were employed to skin and then fix those skins would have had to work quickly to ensure that the skins were tanned and did not slip. The term slip refers to the degradation of the tissue that held the hair and feather follicles in place. Slipped skin would not have held the feathers in place and they would have simply fallen out. One can only image the shear number of birds that would have arrive daily and would have therefore required immediate attention in terms of skinning and recording the weight, sex and colours of feet and bills before decay and time faded both. It is not known whether the process was undertaken in stages or each bird was attended and completed in one continuous process. We suspect that the taxidermied species was completed in one continuous process and then left to dry. Groups of birds with young were then assembled with the resultant groundwork at a later date. The displays therefore with the number of birds and an appreciation of the work involved should be viewed in that context. The number of man hours required for each specific grouping would have been significant.


Watercolours by George Herd dated 1896-1901
Here we examine watercolours produced by Herd dated 1896-1901. What is historically significant about this is the fact the many come from Herd's case designs for the Ogilvie Bird Collection. By specific example we have set out below the case drawings and also the cases that are depicted within the Ipswich collection. These images have remained unseen for at least 50 years and we are delighted to be able to bring the watercolours to your attention after all this time. Looking at the images and conducting further research into these we can confidently say that the birds featured with the exception of the cuckoo were shot. The Bafflehead is of particular interest as this appears to pre-date the BTO record of first being recorded in the UK by approximately 19 years. The watercolours themelves do provide an invaluable insight into the victorian life and attitudes towards wildlife. It was certainly more abundant then. As the UK's finest archive on taxidermy research and related material it is only fitting that we have the opportunity to show them first. It is a pity however that we have had to keep these beautiful images small. This is due entirely to those who wish to use our knowledge and efforts without credit. We pity them for their lack of imagination and effort but it does mean that whilst they will continue to "take" they cannot enlarge to appreciate the full detail of each image. We agree it does spoil it for others but such is life. The envy this site causes is frankly incalculable.


The watercolour
Victorian Ruffs by George Herd.
The sketch by TE Gunn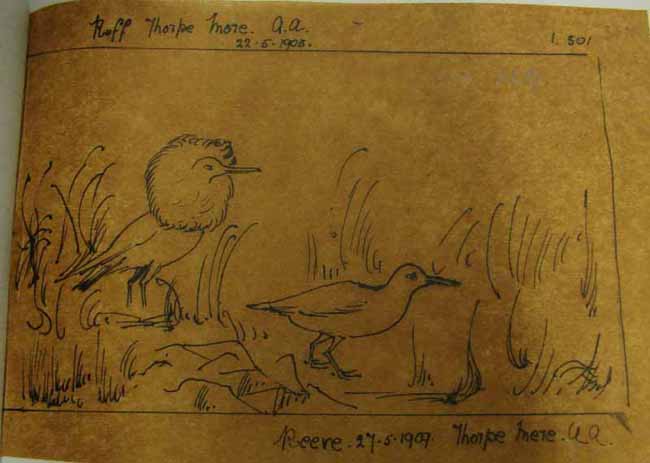 Victorian Ruffs by TE Gunn from Thorpe Mere 1907-8.
The case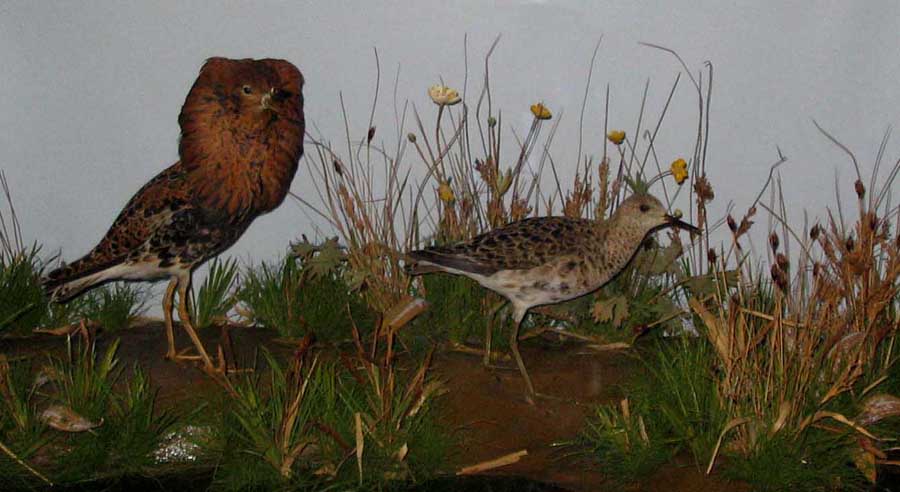 Victorian Ruffs by TE Gunn's company.
The watercolour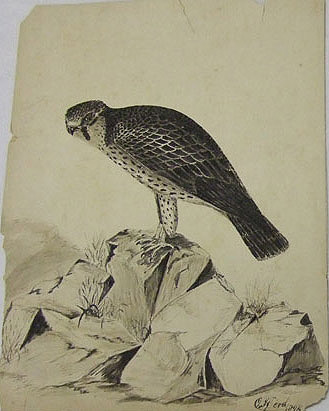 Victorian Peregrine Falcon by Geroge Herd.
The case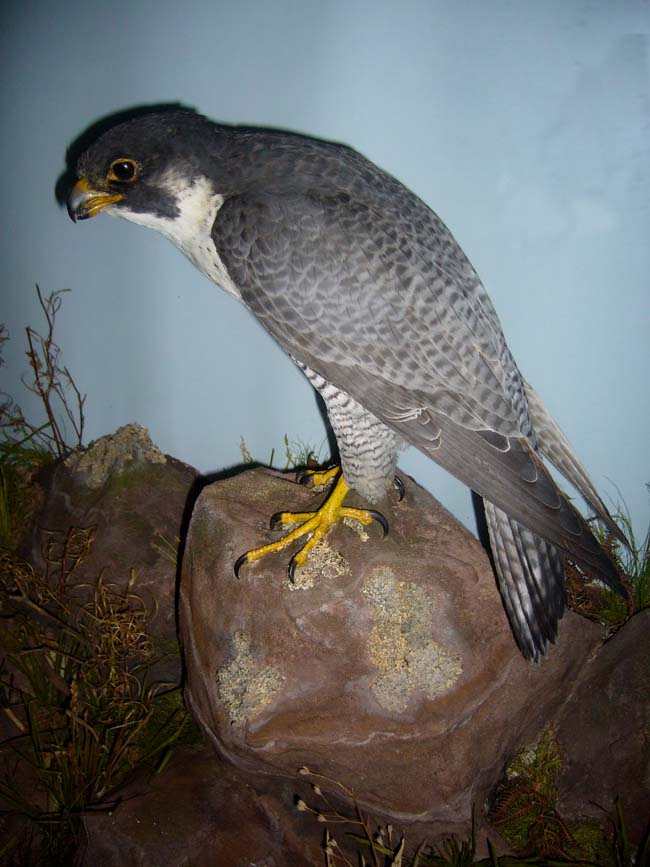 Victorian Peregrine Falcon by TE Gunn's company.
The watercolour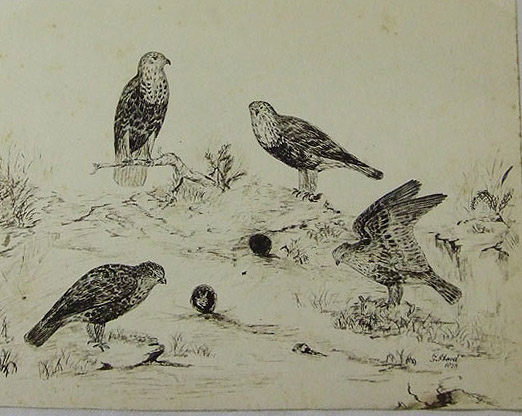 Victorian Rough Legged Buzzards by George Herd.
The case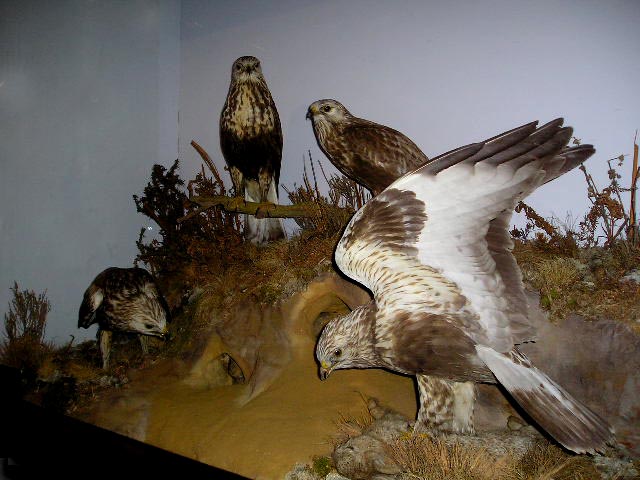 Victorian Rough Legged Buzzards by TE Gunn's company.
The watercolour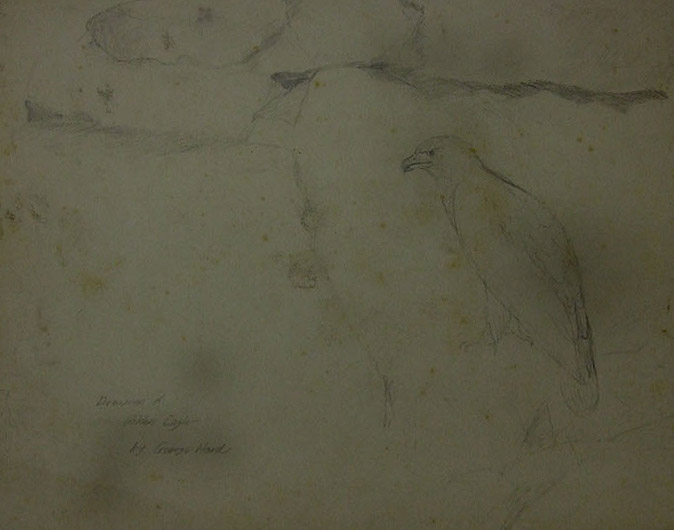 Victorian Golden Eagle with chick by George Herd.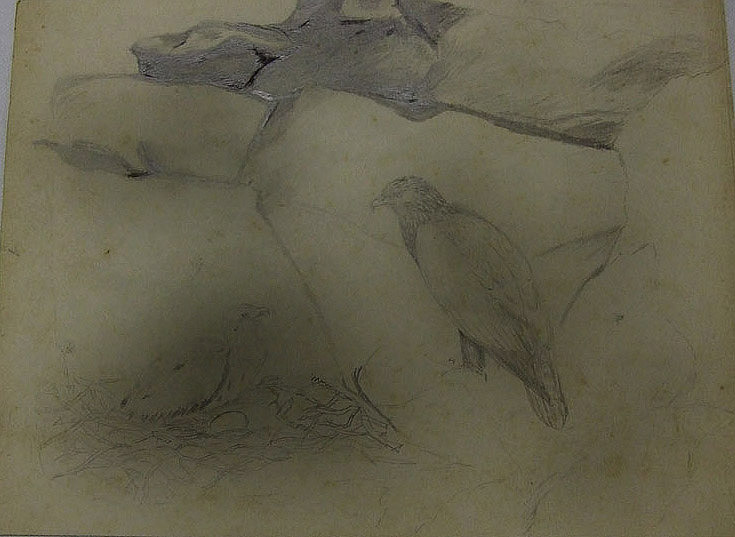 Victorian Golden Eagle with chick by George Herd. Here we have two incomplete drawings, one that he tantalisingly started with a watercolour but never finished. It is clearly the Ogilvie Eagles with nest and egg.
The case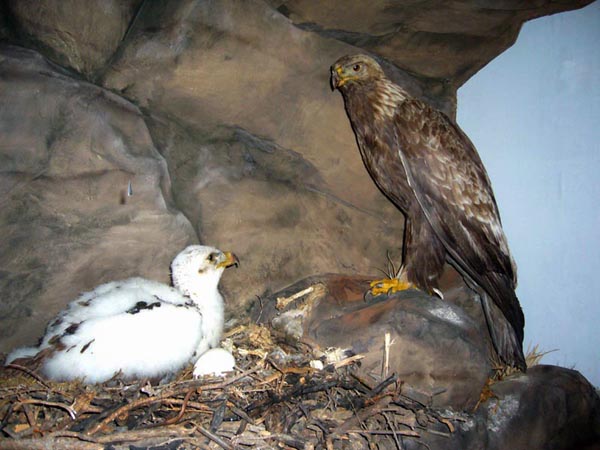 Victorian Golden Eagle with chick by TE Gunn's company.
Victorian Golden Eagle chick with egg by TE Gunn's company.
Some additional George Herd Watercolours for your perusal and enjoyment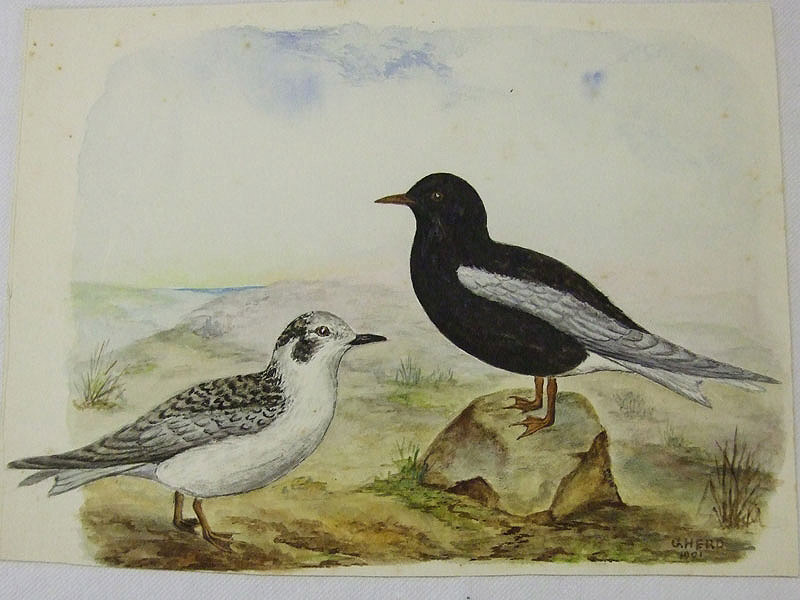 Victorian Black Terns by George Herd.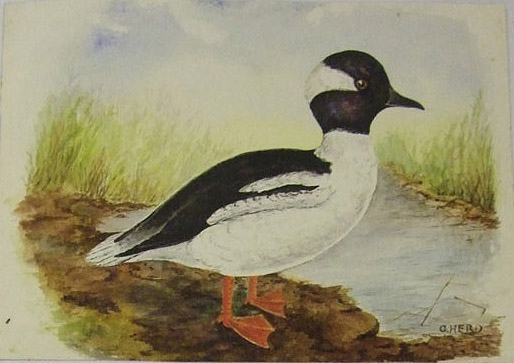 Victorian Bufflehead drake by George Herd. Again it demonstrates that a North American bird were shot in Norfolk around 1896-1901 and perhaps mounted by Herd. Perhaps, given the date that this is the first British list for a Bafflehead Duck. Does anyone know the whereabouts of this case?. First recorded First Record: Isles of Scilly, 1920 on the BTO website. This image predates this by nearly 20 years.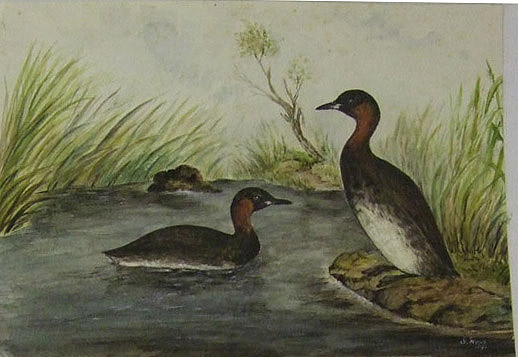 Victorian Little Grebes by George Herd.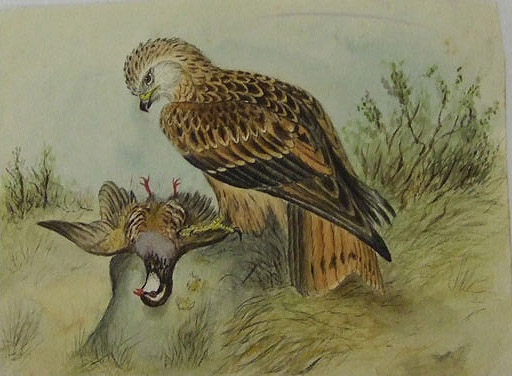 Victorian Red Kite and Partridge prey by George Herd.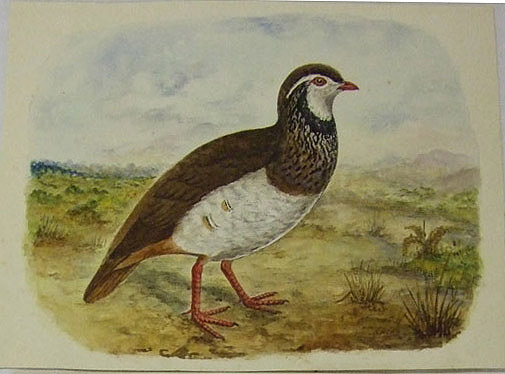 Victorian Red Legged Partridge by George Herd.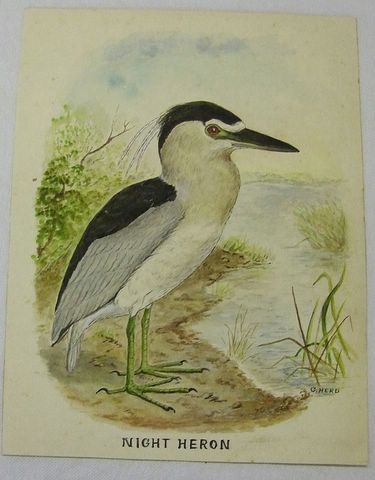 Victorian Night Heron by George Herd.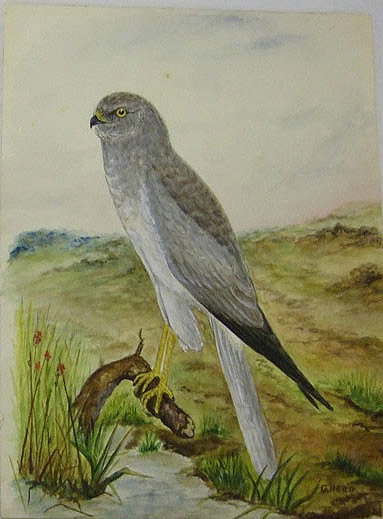 Victorian Hen Harrier by George Herd.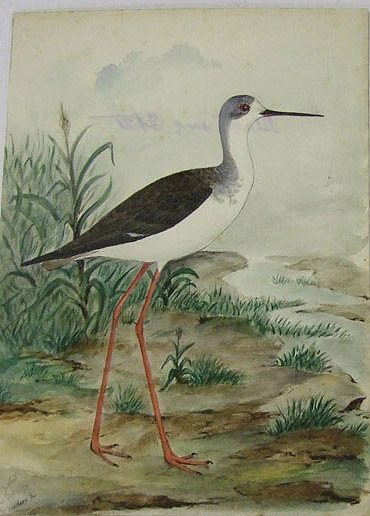 Victorian Black Winged Stilt by George Herd.
Victorian Avocet by George Herd.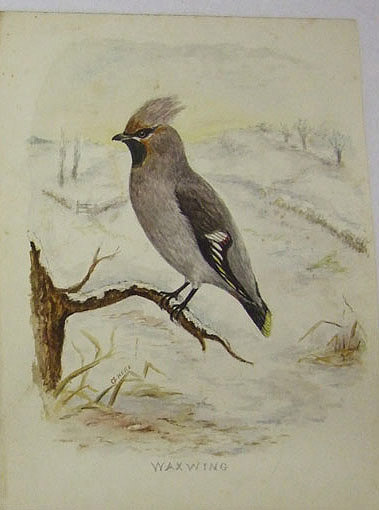 Victorian Waxwing by George Herd.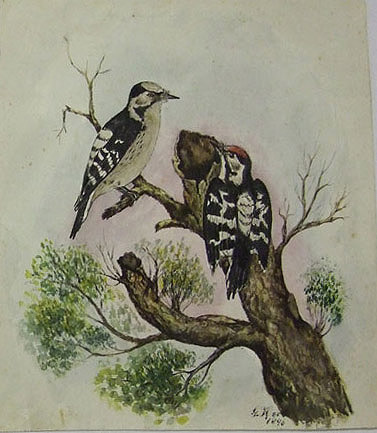 Victorian Lesser Spotted Woodpeckers by George Herd.
Victorian Slavonian Grebe by George Herd.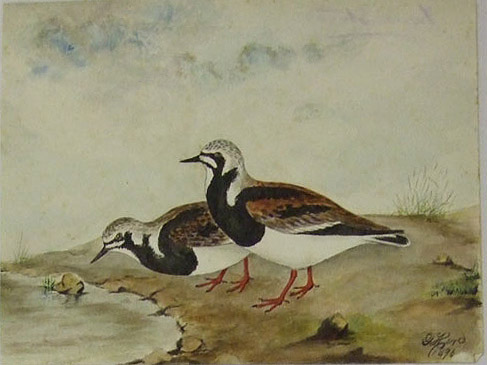 Victorian Turnstones by George Herd.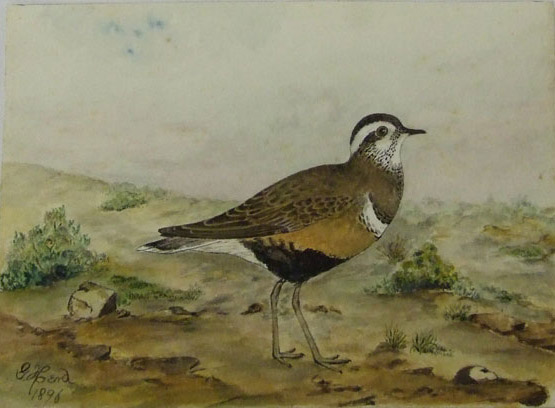 Victorian Dotterel by George Herd.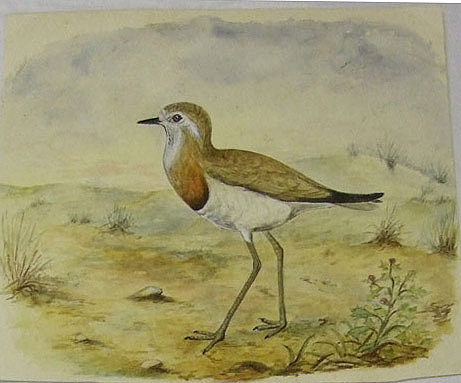 Victorian Dotterel by George Herd.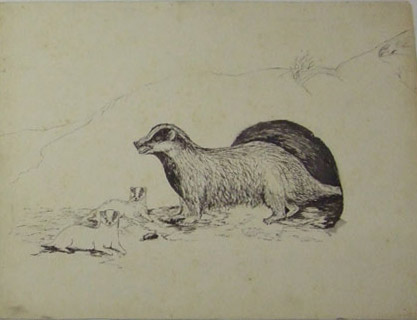 Victorian Badger with young by George Herd.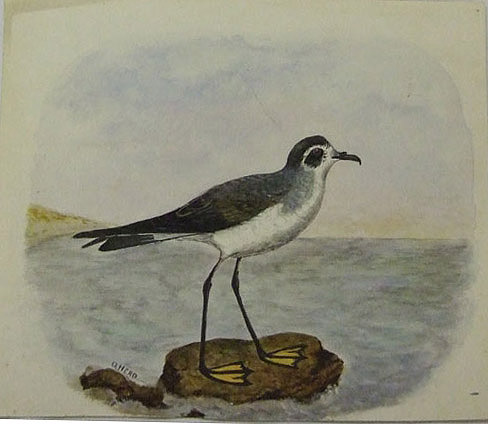 Victorian Wilsons Petrel by George Herd.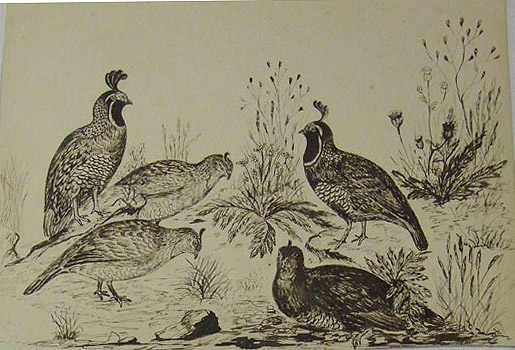 Victorian Californian Quail by George Herd.
Edward Augustine 'Ted' Ellis DSc FLS, (1909-1986)
The previous owner of the watercolours
Edward Augustine 'Ted' Ellis DSc FLS, (1909-1986) was a well known Norfolk writer and broadcaster who devoted his life to the study of natural history. He was born in Guernsey in 1909 to Norfolk parents, and the family returned to live in Great Yarmouth in 1920. Between 1928-1956, Ted was Keeper of Natural History at the Castle Museum, Norwich but at the age of 47 he resigned to concentrate on his work as a naturalist. As one of the great characters of East Anglia, he regularly penned articles for the Eastern Daily Press and also enjoyed success as a television broadcaster. Ted had an extensive knowledge of the wildlife and eco-systems of the Norfolk Broads and was affectionately termed 'the peoples naturalist'. Ted lived in a remote cottage with his wife, Phyllis, and family at Wheatfen Broad, Surlingham for forty years whilst simultaneously achieving a national reputation for his meticulous research work. The Ted Ellis Trust was founded to commemorate his life and work by preserving Wheatfen for future generations. Recognised as a site of Special Scientific Interest (SSI), it is one of the last remaining tidal marshes of the Yare Valley. The Ted Ellis Trust aims to preserve Wheatfen's fragile and rich ecology while simultaneously leaving the land and its abundance of wildlife accessible to the public and to the many schoolchildren and students who also visit each year. Wheatfen is today managed as a nature reserve and consists of open fen, reed beds, sallow carr and two small broads, Wheatfen and Deep Waters. Patron of the Ted Ellis Trust, David Bellamy, recognised the enormous importance of Ted's work, commenting that 'Wheatfen Broad is… as important as Mount Everest or the giant redwood forests of North America. It is probably the best bit of fenland we have because we know so much about it. That is purely because one man gave his life trying to understand it – Ted Ellis'........

Taxidermy4Cash does not undertaken taxidermy, rather we are collectors of other people's work, both current and historical we also offer web hosting, a search engine submission service and increasingly one of the larger article resource banks on the net. So if your keen to learn about Taxidermy etc, then you know where to look. We are always interested to here about new resource, if you feel a resource should be listed here then please contact us.



ITEMS WANTED. Please respond via this on-line form HERE with a description of what you have for sale.



[HOMEPAGE]





Taxidermy Links. Please double click on the Taxidermy link icon below.