Victorian Taxidermy
Taxidermy4Cash.com
---
William Farren of Cambridge
We get asked to recommend Bird Taxidermy Resources by our friends, we now include below a list of those we have had favourable feedback on this is not a complete list, if you don't find what your looking for then please feel free to contact us. If you also wish to link to us then your taxidermy information shall only be placed in the appropriate class.


We are interested in Purchasing Victorian Taxidermy, please respond via this on-line form of what you have for sale. HERE

William Farren 1862-1965
William Farren, the famous Cambridge naturalist and furrier, whose father, William Farren, junior, of King's Old Gatehouse and afterwards of 10, Rose Crescent, was an original member of the Cambrdige Natural History Society, becoming its secretary; and in 1907 . As secretary he proposed to revise the rules of the Society. These were the originals, approved and dated 1857; and when this was mentioned the President, Dr Shipley, the famous and hospitable Master of Christ's, declared "So this present year is our jubilee; we must celebrate it." Farren has premises located in 23 Regent Street Cambridge.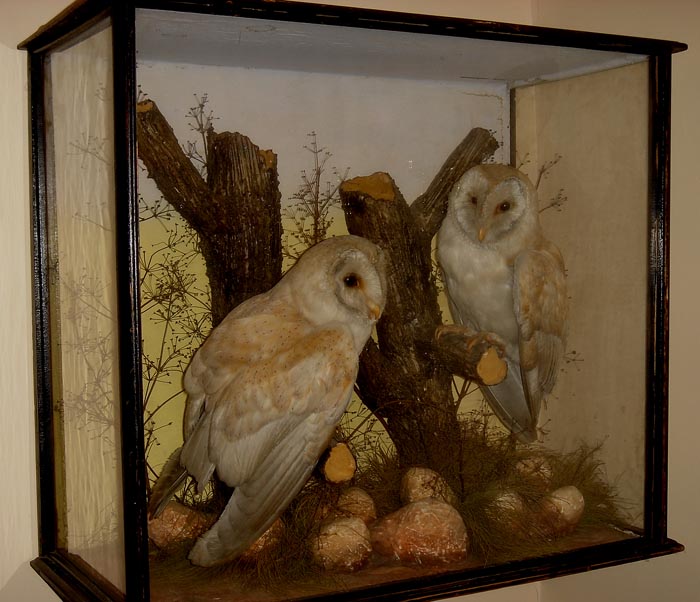 Barn Owls by William Farren of Cambridge.
William Farren Naturalist 23 Regency Street Cambridge 1862 -1965: A pair of taxidermy Chough mounted in a naturalistic rocky setting with handmade Cornish sea background, within 3-glass case.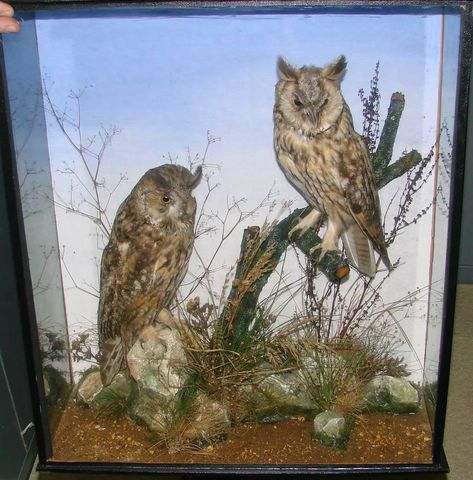 Long Eared Owls by William Farren of Cambridge.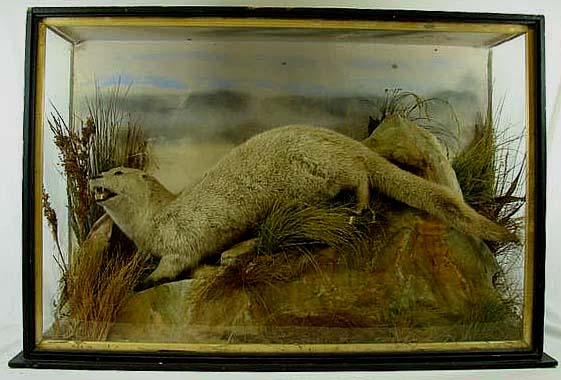 Otter by William Farren of Cambridge.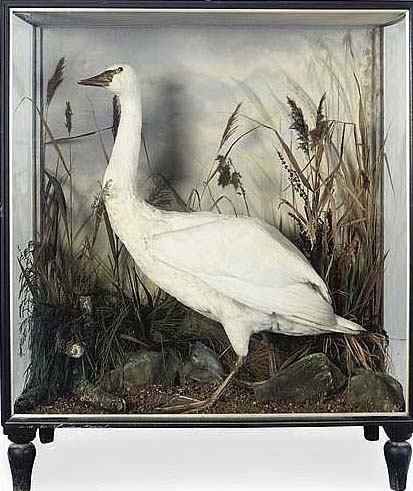 Bewick Swan by William Farren of Cambridge.
Kingfisher by William Farren of Cambridge.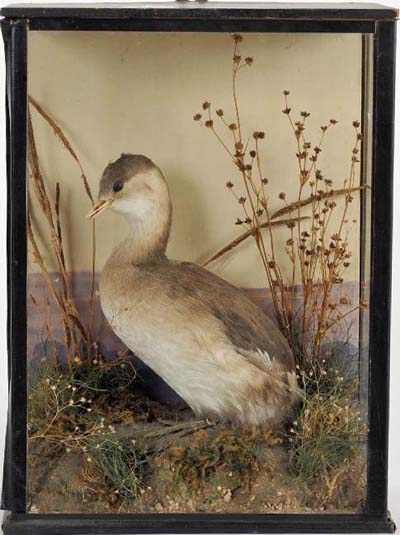 Dabchick in winter plumage by William Farren of Cambridge.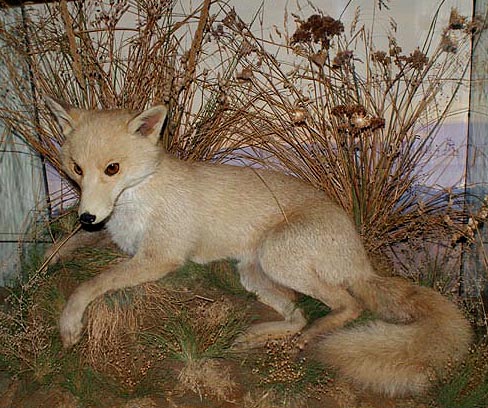 European Fox by William Farren of Cambridge.
Label by William Farren of Cambridge.
Ring necked Pheasant by William Farren of Cambridge.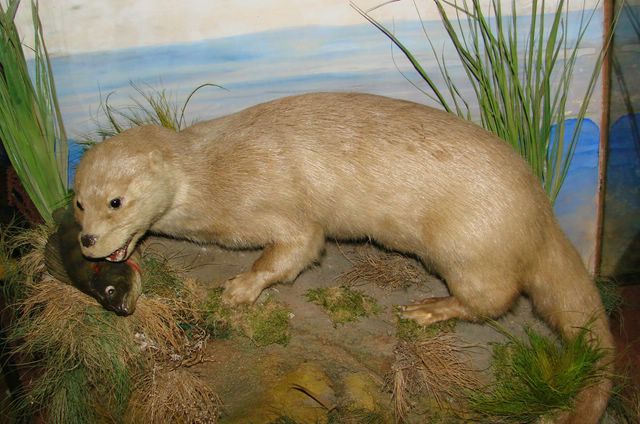 European Otter by William Farren of Cambridge. Like most Otters when exposed to light they will fade. Nice example for the period in which is was completed.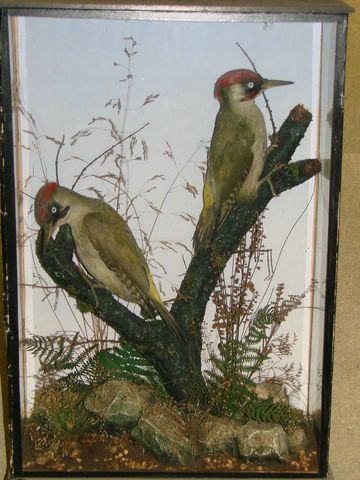 Green Woodpeckers by William Farren of Cambridge.
Pair of Stoats in ermin by William Farren of Cambridge.
Pair of Stoats in close up by William Farren of Cambridge.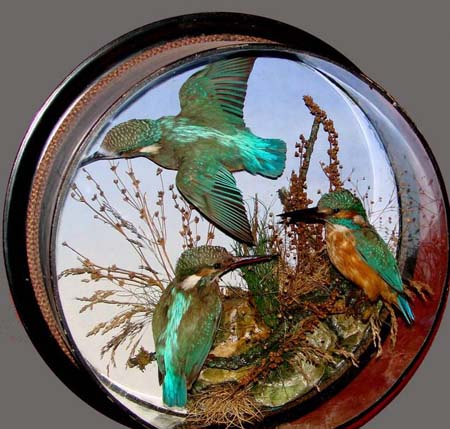 Kingfishers by William Farren of Cambridge.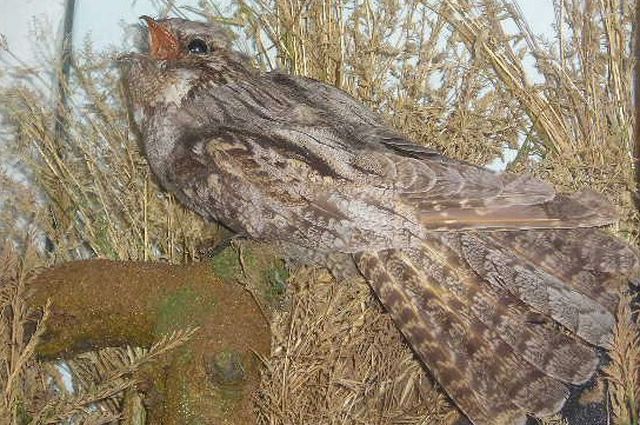 Nightjar by William Farren of Cambridge.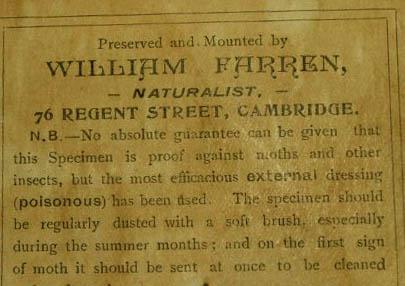 Victorian label by William Farren of Cambridge.



William Farren's cases are distinctive in their abstract. Unlike Spicer and Gunn where they tended to go for a true representation of the groundwork, Farren's cases tend to be more stylised with a subtle abstract watercolour wash to the rear of the case and well executed groundwork. His cases tend to be 3 sided glass in construction. The sides of the cases were nearly always taped also, rather then using perhaps wooden beading. We have however also encountered pictureframe cases, the Bramblings below being an example of this style of casework. The taxidermy is always well observed, very much in the style of Mountney, although there is no suggestion that either ever met. Farren tended to concentrate on small birds and mammals, most likely locally sourced in the Cambridgeshire fens.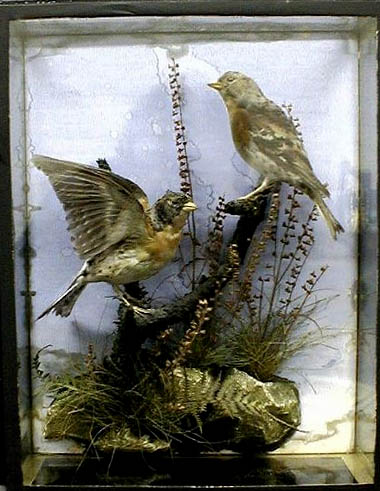 Victorian Bramblings by Farren of Cambridge.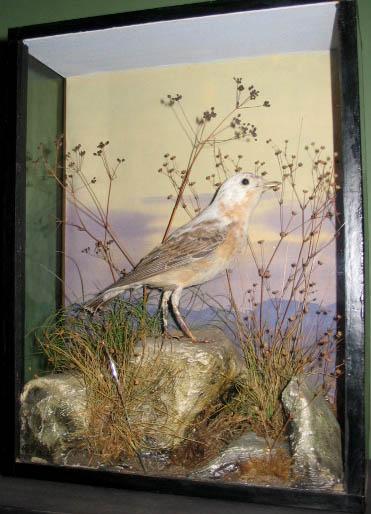 Victorian case of a Wheatear in part abberation by Farren of Cambridge. a rare bird in it's own right and mounted by a competent taxidermist. Wheatears were historically trapped for "the table" in Victorian times. Trappers were employed to work the South Downs in Sussex, often trapping thousands on route during their winter migration to north Africa. Booth writes about his experiences and observations of this event and we understand utilised the services of these people to obtain some of the migratory species in his collection.


We have however seen foxes and Otters by Farren also, confirming perhaps the locally sourced nature of the specimens he used. The most recent being an Otter which was badly faded in line with most Victorian Otters we encounter. Herons with small fish prey also feature predominantly in his work. We have also encountered a large case of two Herons, one struggling with a large eel, but this case was badly faded and showed evidence of moth infestation which is a shame as once it would have made a very dramatic display.
With the exception of fish as prey items, Farren tended to display animals and birds in more naturalistic surroundings with the absence of prey items. We cannot give any particular reason for this, perhaps it was just a personal preference and perhaps reflecting attitudes of the time in that region.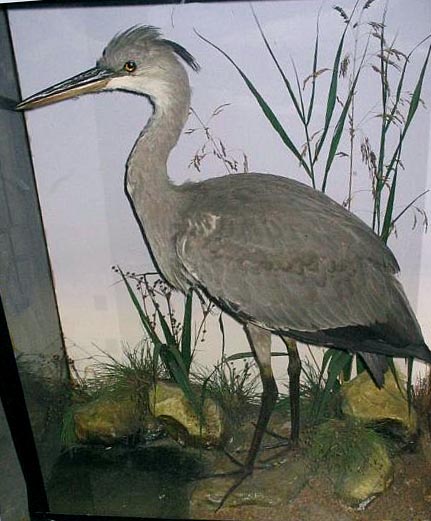 Grey Heron by Farren of Cambridge, Victorian case.
Taxidermy4Cash does not undertaken taxidermy, rather we are collectors of other people's work, both current and historical we also offer web hosting, a search engine submission service and increasingly one of the larger article resource banks on the net. So if your keen to learn about Taxidermy etc, then you know where to look. We are always interested to here about new resource, if you feel a resource should be listed here then please contact us.


ITEMS WANTED. Please respond via this on-line form HERE with a description of what you have for sale.


[HOMEPAGE]

Taxidermy Links. Please double click on the Taxidermy link icon below.