Kestrels, with Starling prey and 3 chicks by James Hutchings. Fresh to the market and not for sale. Unusual in that Hutchings normally created some weird combination, like Common Gulls and Canaries, Red Squirrels with Gulls and Cormorant with a pair of Jays. This is a rare case in many respects.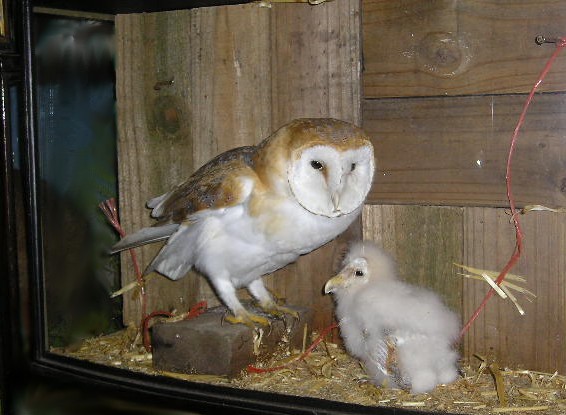 Modern case by Williams, containing a Mature Barn owl and young.
Taxidermy4Cash does not undertake taxidermy, rather we are collectors of other people's work, both current and historical we also offer web hosting, a search engine submission service and increasingly one of the larger article resource banks on the net. So if your keen to learn about Taxidermy etc, then you know where to look. We are always interested to here about new resource, if you feel a resource should be listed here then please contact us.



ITEMS WANTED. Please respond via this on-line form HERE with a description of what you have for sale.


[HOMEPAGE]

Taxidermy Links. Please double click on the Taxidermy link icon below.