Caddo Lake
---
Duck Hunting on Caddo Lake
It is the people that make this place come alive
We are always very interested in Purchasing Victorian Taxidermy, please respond via this on-line form of what you have for sale. HERE



Caddo was first seen by Europeans in the 16th century, but substantial development would only begin with invention of the steamboat and US annexation of both Louisiana and Texas in the 19th century. The cities of Port Caddo, Swanson's Landing and Jefferson in Texas and Mooringsport in Louisiana, had thriving riverboat ports on the lake. Gradually as the log jams where removed in the lake and the Red River by Captain Henry Miller Shreve and then by the Army Corps of Engineers, the lake changed shape and eventually fell over ten feet destroying the East Texas ports and their riverboat industry.

Industry once again came to Caddo Lake with the discovery of oil beneath it. The world's first over water oil well was completed in Caddo Lake in 1911. The Ferry Lake No. 1 was erected by Gulf Refining Company. The well bottomed at 2,185 feet and produced 450 barrels per day. Caddo Lake has been called the most beautiful lake in America by most who have seen it. It is also a lake of mystery and lots of history. Caddo Lake is the largest natural lake of fresh water in the south, covering about 26,800 acres at 168.5 ft (sea level). The acreage can fluctuate easily to over 35,000 acres at times of high water levels. Half the lake is in Texas and half in Louisiana and within 20 miles of southwest Arkansas. There are 4 watersheds that supply Caddo Lake with water: Little Cypress Bayou, Big Cypress Bayou, Black Cypress Bayou, and Jeems Bayou.

There are a couple of opinions on how the Lake was formed. The first is that the1811-1812 Madrid earthquakes was the key to forming Caddo Lake such as it did Reelfoot Lake The other is that the lake was formed from the Great Raft, which was a large mass of fallen trees in the Red River. This was discovered by the Freeman-Custis Expedition, who were exploring the Red River for the U.S. government. They reported the Great Raft was above and below the present location of Shreveport. In1806 they reported that the raft had completely obstructed the channel of the Red River and had caused major flooding on all sides. This was 5 years prior to the Madrid quakes. Even with the flooding, Caddo Lake had actually been forming for many hundreds of years prior to the quakes. There was Fairy Lake ( today we call it Ferry Lake) and Sodo Lake (today it is called Soda Lake) and both were below and above the town of Mooringsport.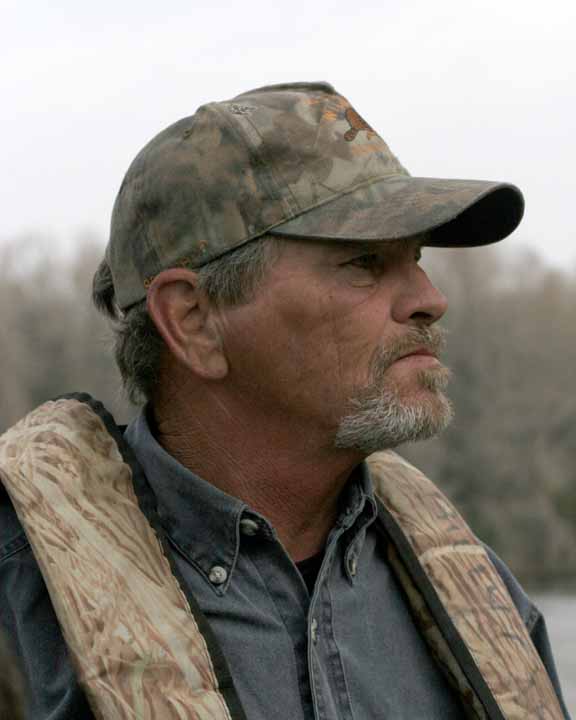 Billy Carter (Man of the Swamp), lived at the lake all his life and has some 35 years plus experience as a guide on the lake. He has also eaten almost everything that lives in and on the lake. Animlas are described by how they eaten rather than how they look or behave. Interesting way to view life, but given the remoteness of this place, its size and diversity this should be no surprise.



They were both backing up with flood waters. Ferry Lake was where the present Caddo Lake is now. Another couple of indicators is that the growth rings on the present day cypress trees have as many as 400-600 years worth of rings on them which shows us they were here hundreds of years before the quakes. A cypress seed will not take root on dry ground, only in the water. Also, drillers and geologists report that no evidence of earthquakes have shown up in their core samples that come from around and under Caddo Lake. So as you can see the physical and documented evidence shows us that the formation of Caddo Lake has been a long process of many events over hundreds of years.


The "Grey Ghost", Caddo lake in Winter.



Oil derricks sprang up throughout the lake, around the turn of the 20th century, further damaging the fragile ecosystem. The oil industry left Caddo for richer fields at Kilgore and other locations in Texas. Texas tried to preserve parts of Caddo in 1934 by establishing a State Park, constructed by the WPA. The establishment of the Longhorn Army Ammunition Plant on the shores of Caddo, in the mid 20th century, polluted large portions of the surrounding wetlands until its closure in the 1990s.


Billy Carter (Man of the Swamp). When asked why he doesn't use dogs to collect the shot ducks came a simple reply. Why loose a good dog to a GATOR!!. Simple really as these can grow up to 16ft here at the lake. Caddo lake looks beautiful all year round with perhaps Winter being the most dramatic. No hoards of insects either.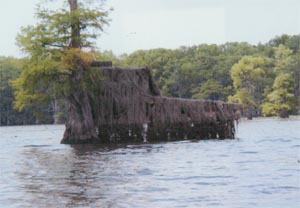 One of Billy's duck blinds where you moor the boat beneath the blind for extra concelment. These blinds have been owned for generations on the lake and offer the best positions through years of observing the birds.
Billy & Dottie Carter, fantastic Southern hospitality in a unique setting.
Duck Hunting. If you are interested in hunting Caddo Lake then respond via this form. HERE and we will pass on your details to Billy. You will not be disappointed.


[HOMEPAGE]
Typical ducks hunted on the lake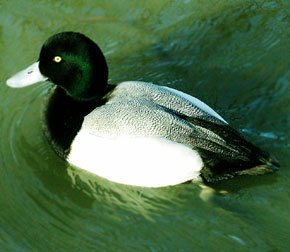 Scaup duck.
Gadwall.
Mallard or Green head as they are known in North America.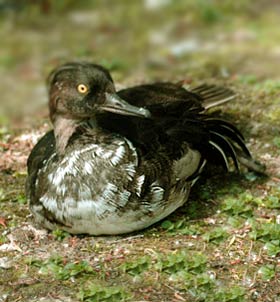 Hooded Merganser.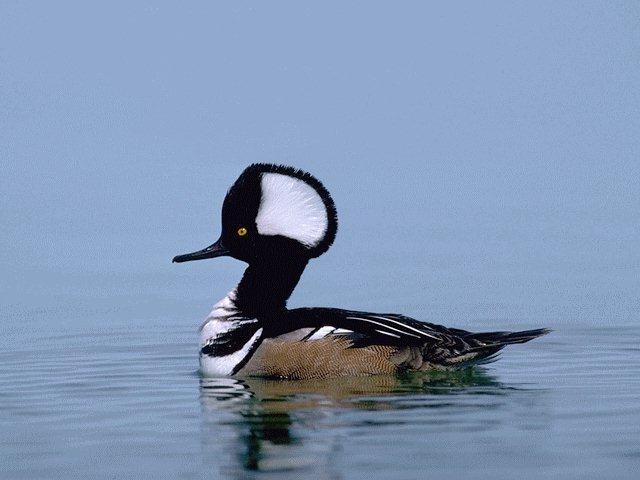 Hooded Merganser.
North Atlantic Eider duck.
Red Headed Duck.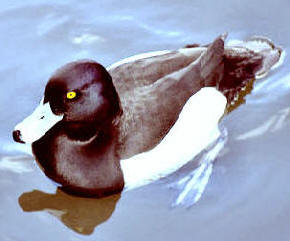 Ring Necked Duck.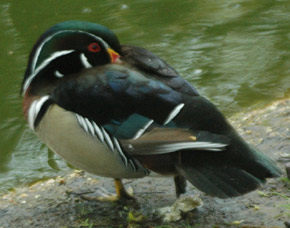 Carolina WoodDuck.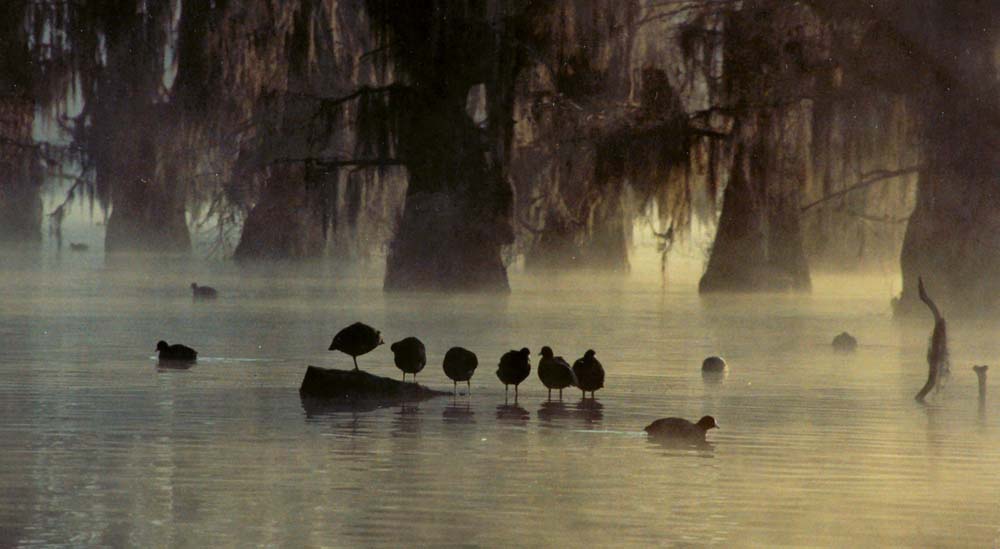 Mud Hens (Coots as we know them). Couple of thousand wee observed on 30th December 2006, when the vegetation had died back.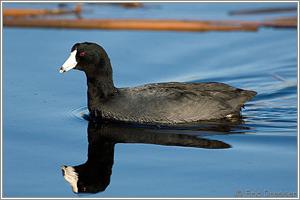 Mud Hens in close up.(Coots as we know them). Couple of thousand wee observed on 30th December 2006, when the vegetation had died back.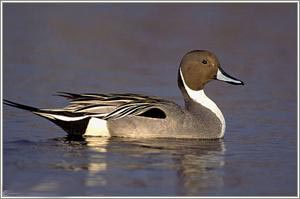 Pintail.



According to US Fish and Wildlife, some 5-9 million ducks migrate through the Centra flight way in the US. There are some 3-4 dinstinct flight paths and this is just one of them. Caddo Lake is one of the final destinations for these ducks. We visited the lake on 12/30/06 and witnessed thousands of Scaup, Red Head, Mallard and Gadwall. Estimattions of ducks on the lake must be in the hundred of thousands, perhaps millions. Duck hunting however is carried out under strict supervision by USFW and the lake guides themselves.
Central flight way.
Scaup ducks on Caddo Lake.
General views of Caddo Lake both Summer and Winter
Caddo Lake Winter.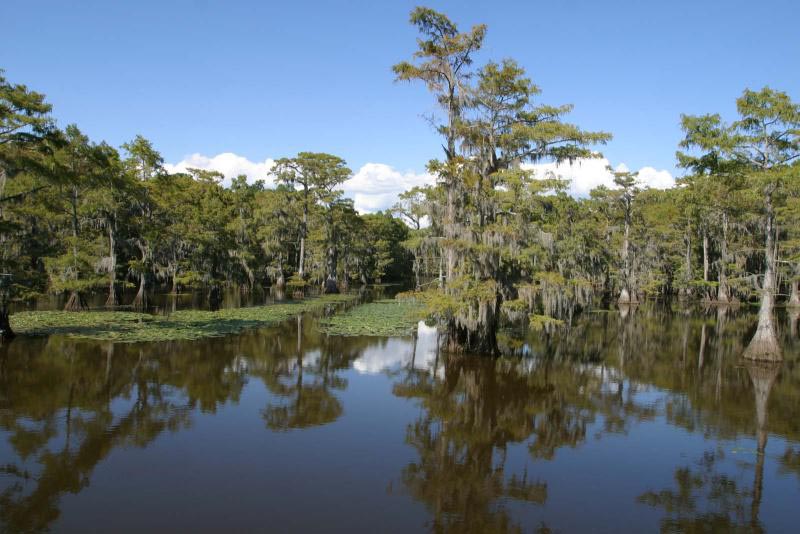 Caddo Lake Summer.
Caddo Lake Winter.
View across Billys pontoons, Caddo Lake Summer.
Caddo Lake Summer.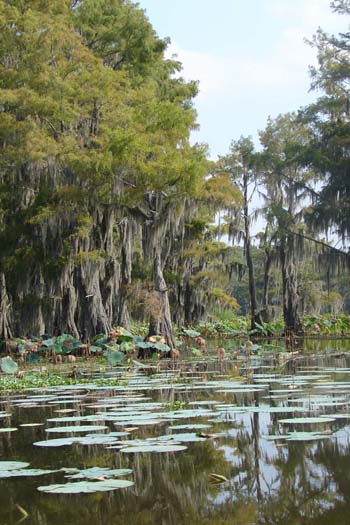 Caddo Lake Summer.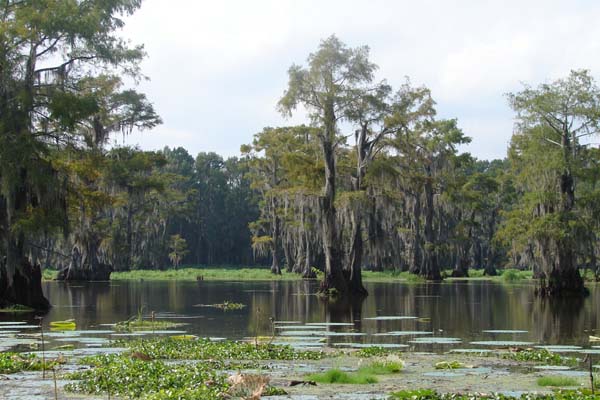 Caddo Lake Summer.
Dick and Charlies tea rooms, Caddo Lake Winter.
ITEMS WANTED. Please respond via this on-line form HERE with a description of what you have for sale.


[HOMEPAGE]

Taxidermy Links. Please double click on the Taxidermy link icon below.