W Barnes, Fish Taxidermy

---
We are always very interested in Purchasing Victorian Taxidermy, please respond via this on-line form of what you have for sale. HERE



We get asked to recommend Fish Taxidermist's and Taxidermy Resources by our friends, we now include below a list of those we have had favourable feedback on this is not a complete list, if you don't find what your looking for then please feel free to contact us. If you also wish to link to us then your taxidermy information shall only be placed in the appropriate class.



W.Barnes, Islington.


W Barnes operated from the premises of 30 Lesley Street, Barnsbury, Islington, North London. This company continued at the same time as Homer, Griggs and John Cooper & Sons. However unlike the work produced by the aforementioned, it appears that Barnes is not a collectable as say John Cooper. This is very much a matter of personal choice as we find the work of Barnes certainly equally to the work produced by Homer, but in terms of attention to detail they are inferior to that of John Cooper. Given the close proximity to the workshop of Coopers, Barnes is very similar in both the species that have been preserved and the use of both flat fronted and bow fronted cases. The groundwork and use of reeds to the rear of the cases tends to be brighter than Coopers as do the general finish on the fish. Barnes cases are brighter, giving the impression that they were recent produced. This page is an attempt to begin compile the work of this taxidermist, to both compare styles and perhaps the changes in style during the period in which Barnes operated.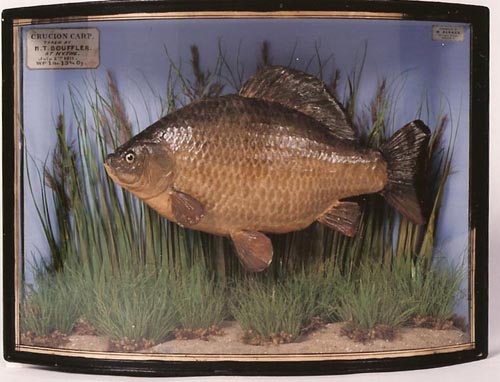 "CRUCIAN CARP". By W. Barnes,1911. With paper label, "Crucian Carp, Taken by H.T. Bouffler at Hythe, July 2nd, 1911, wgt. 1lb. 133/4 ozs." Measures 181/2" x 131/2".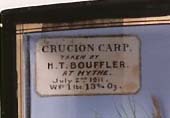 With paper label, "Crucian Carp, Taken by H.T. Bouffler at Hythe, July 2nd, 1911, wgt. 1lb. 133/4 ozs." for the above case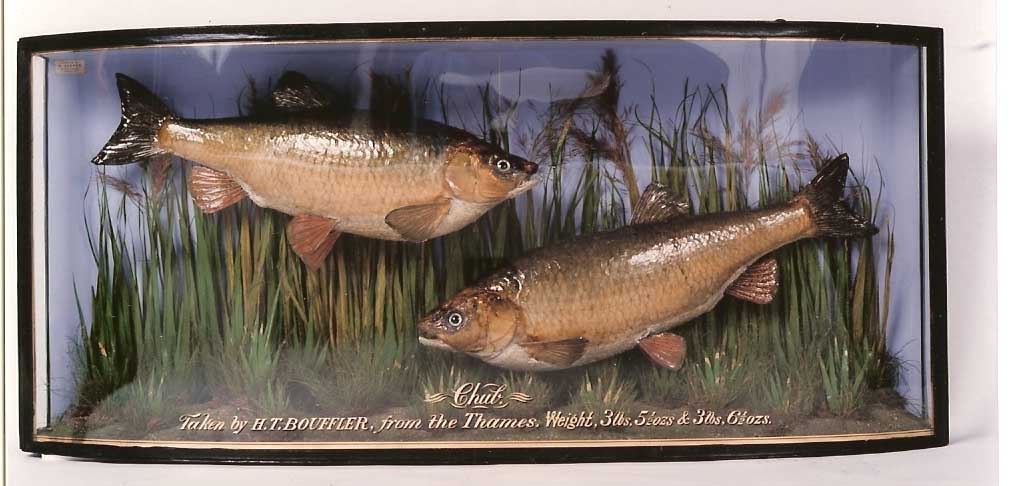 "PAIR OF CHUB". W.Barnes. "Chub Taken by H.T. Bouffler from the Thames, Wieght 3lbs 51/2 ozs & 3lbs 61/2ozs." Inscribed. Measures 361/2" x 161/2"


Shortly after death most fish lose their colour (as, after some days, do the legs, beaks and any fleshy parts of many birds). So when you look at a preserved fish, most of the colour you observe comes from paint applied (with more or less skill) by the taxidermist. For example, early (up to the 1920s) fish by John Cooper) have been lightly painted with a mixture of various golds, yellows, browns and greens, and the residual variation in colour of the fish shows through the paint to give a subtle colour variation. In Cooper's middle, or transitional, period, 1920s to 1940s, the paint is starting to get stronger and more dominating with less of the fish's natural shading showing through the paint. Then in Cooper's late cases the paint dominates totally and the distinction between a skin mounted fish and a plaster cast starts to be lost altogether. Why this change occurred over time in Cooper's work I have no idea, and it was presumably down to the aesthetic judgement of those executing the work. For me early Cooper cases (1850-1920) are the most attractive, but I know collectors who take the opposite view. Indeed, it is the later 'scale-painted' fish which tend to command the higher prices.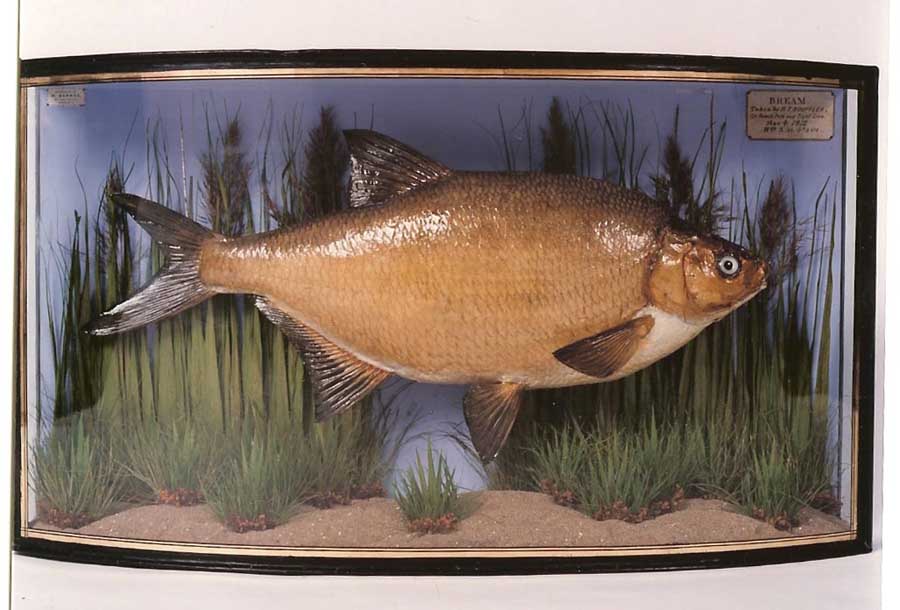 "BREAM". W. Barnes, With paper label. "Bream, Taken by H.T. Bouffler on Roach Pole & tight line, March 4th, 1912." Wieght 3lbs 4ozs. Measures 271/2" x 151/2".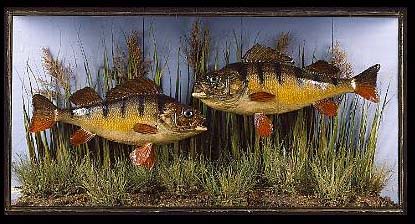 European Perch by Barnes of London.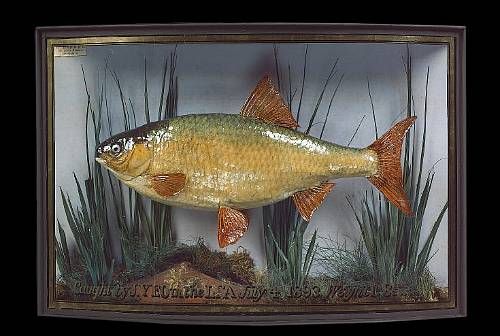 Roach by Barnes.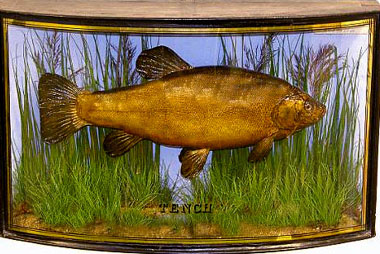 Tench by Barnes of London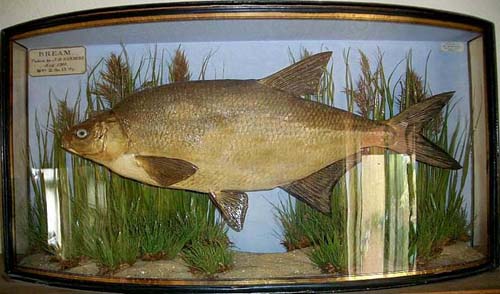 Bream by Barnes.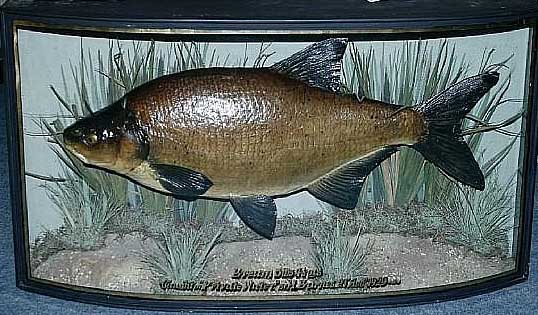 Bream by Barnes.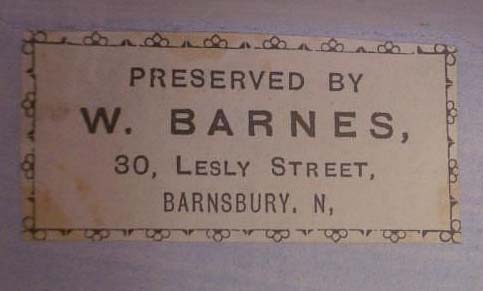 Label by Barnes for the case above.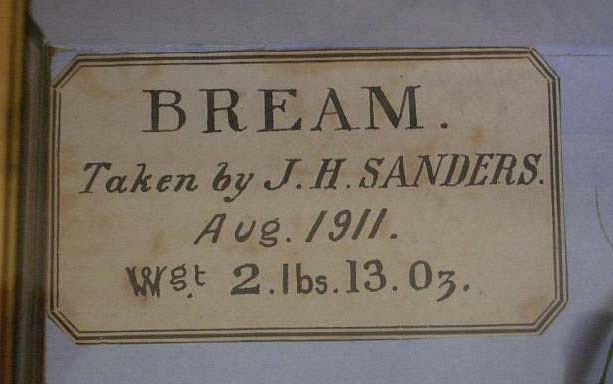 Label by Barnes for the case above.
Common Carp by Barnes of London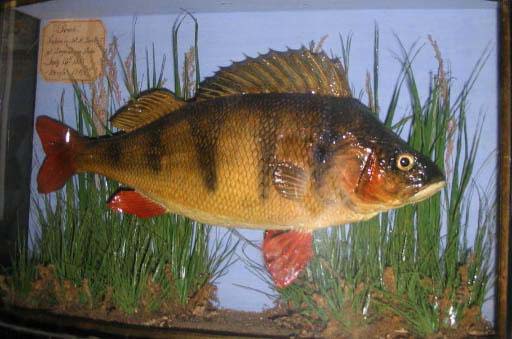 Victorian cased Perch by Barnes of London.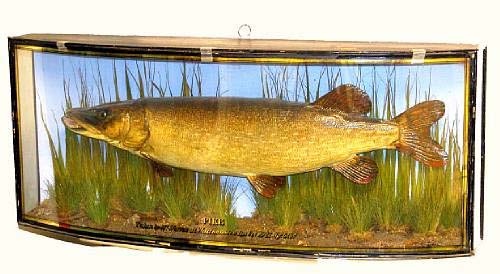 Pike by Barnes of London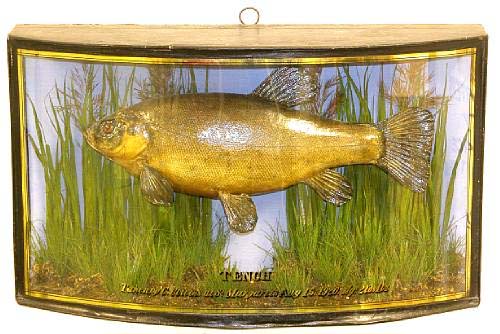 Tench by Barnes.

Pike by Barnes of London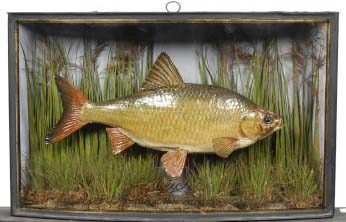 Roach by Barnes of London
Pair of Perch by Barnes.


Taxidermy4Cash does not undertaken taxidermy, rather we are collectors of other people's work, both current and historical we also offer web hosting, a search engine submission service and increasingly one of the larger article resource banks on the net. So if your keen to learn about Taxidermy etc, then you know where to look. We are always interested to here about new resource, if you feel a resource should be listed here then please contact us.



ITEMS WANTED. Please respond via this on-line form HERE with a description of what you have for sale.



[HOMEPAGE]





Taxidermy Links. Please double click on the Taxidermy link icon below.